Christopher Armstrong, UK - Sunday, December 31, 2006 at 22:54:51
My great grandfather, John Nash, was a captain who died at sea in October 1907. I am hoping to find out more information about his ships and the circumstances of his death.
Brian Bannister, UK - Saturday, December 30, 2006 at 19:04:00
My dad sailed with BI, I am trying to trace a photo of the ss Itaura to complete a portfolio of his ships, can anybody help me please.
Sam Taylor, Canada - Saturday, December 30, 2006 at 09:33:48
My father made it off the HMS Rajputana [P&O vessel, see log entry May 23, 2006] when it was sunk. His name was Kenneth G Taylor, stoker, any one with crew pics or ship pics, i would really love it if you e-mailed me.
Ian Tew, UK - Friday, December 29, 2006 at 13:16:21


For Pete Jordan [re log entry Dec 14, 2006, and Dara] Joss Grimwood died two or three years ago in UK. Ian Tew is very much alive! Joss and I prepared the lifeboat and swung it out. As senior cadet he told me to get in and take charge of the lifeboat which i did. It capsized due to the passengers trying to get into an empty boat and I went for a swim with no lifejacket. I met Joss once during the Iran Iraq war in Dubai.
Armand Di Rienzo - Wednesday, December 27, 2006 15:30:21


Rohna was sunk on Thanksgiving day 1943 about four PM, I was on the HMS Banfora. very close to the Rohna , I saw three planes coming at us, the middle plane dropped what looked like a glider, our ship turned hard to port to miss the bomb, it passed us and hit Rohna I did not see any destroyers, all I saw was 4 English corvettes and one submarine, I still remember the sub firing their deck gun, it half submerged every time it fired.
Elder Justo, Brazil - Tuesday, December 26, 2006 at 13:26:30
Congratulations for the history lesson presented in your site.
Andy Sagar, UK - Sunday, December 24, 2006 at 16:05:05
I am trying to contact the family of a man called Frank A Bond who I believe was aboard the hospital ship Rohilla which went down off Whitby in 1914.
Alan Thompson, UK - Saturday, December 23, 2006 at 10:46:06
Sailed on Dunera, Chindwara, Chyebassa, Landaura between 1958 and 1962.
George Tayloir, Australia - Tuesday, December 19, 2006 at 07:12:57


Peter Jordan, the cadet's name was Grimwood, from the book Last hours on Dara, those on board were: Captain C Elson, CO Peter Jordan (yourself), 2O Charles Alexander, 3O Patrick Charles Stonewall Jackson, X3O Heard, Cadets Grimwood & Tew, CEO George Cruikshank, 2EO Ramsey Birrell, 3EO Edgar, 4EO ?, 5EOs Peter Durham & Bhatterchajee, Snr Radio Officer Sinclair. I have read the book over and over many times and to be in such a situation must have been horrific, my personal opinion that you are all to be congratulated for the way in which you carried out your duties. I was 3EO on Bulimba and we were crossing the Bight when the news came through. Again congratulations. [The day after writing this log entry, George Taylor was taken ill and died. As well as being a keen reader of the BIship logbook and contributor, George was an avid contributor to the BI online staff forum. He is already missed - Editor]
Jim Lynch, Australia - Tuesday, December 19, 2006 at 05:20:00
Cadets on the Dara. I think the cadets on the Dara were Ian Tew and Joss Grimwood. Grimwood was from East Africa and I seem to remember he did get a medal or some recommendation from the Maritime community in his East Africa for his efforts on the Dara.
Roger Timms, Australia - Monday, December 18, 2006 at 10:14:44
Ramsay (Freddie) Fernandez, if you're the same fellow that sailed with Bobby Vaid and myself on Dwarka (68) would like to hear from you.
Terry Gardner, Canada - Monday, December 18, 2006 at 00:27:19
Re entry from Chris Wright [Dec 12, 2006], if you can find info re Lawrence Edwards C/E and George Bowie 3/E. I sailed with both on the Okhla, (1960 era) would love to hear about or from them.
Taj Mohammed, Canada - Sunday, December 17, 2006 at 05:48:49
I want to trace the village from where my grand father Amir Khan came to Fiji during the indentured system
Patrick Fox, Ireland - Friday, December 15, 2006 at 12:16:06
Great to see that the BI has not been forgotten
Peter Jordan, UK - Thursday, December 14, 2006 at 01:06:32


I was at sea with BI from 48-68 finally C/O on mv Dara the morning/night she blew up. 2/O Charlie?? (sorry, should remember, his wife was friends with my wife Ann in Bombay). Would love to hear from anyone who remembers me back then. I'm trying to remember the Cadet's name who did a geat job and should have been decorated for his bravery that night, he was only 17 or so, got the lifeboat down on his own and got alot of survivors off. I believe the small boat pulling up on the last photo on the Dara page was the boat I finally had to swim to after the oil tanks blew on the 9th after I'd been back on board - a sad day, after 20 years' service. Many thanks to the Norwegian crew and all their help. Wonderful memories of a time long now gone.
Chris Wright, UK - December 12, 2006 at 21:04:43


A brilliant web site. Really usefull and helpfull information. Proud to be an ex BI shipmate if only for a short time in the 60s. Made a few contacts with 3 old shipmates so far (September 06) but missed the Glasgow (Engineers') reunion owing to family commitments. Have a good Christmas and all the best for 2007 to all.
Ships sailed and shipmates remembered: Pinjarra 1961, self 5EO; Lawrence Edwards CEO, Alan Farley 2EO, John Agar 3EO, Alex Hepburn 4EO, Doug Christie EEO; Queda 1962, self 5EO; Tom Hide/A LeROY CEO's, Tom Rea 2EO, Linsay Robb 3EO, John Langley 3EO, George Bowie 3EO, Bill Shields 4EO, Jim Baxter 5EO, John Swinney 5EO, Tom O'Toole/Sandy Fowlis EEO's, also Bill Noble 2EO; Quiloa 1963, self 5EO/4EO/3EO; ? Buchanan/D E Rathbone CEO's, Doug Christie EEO; Ellora 1964, self 3EO; R S Howie CEO, Charlie Rowntree XCEO ?. The above are all the names I have beeen able to put together these last 4 months, from my own archives. Have made contact with Alex (Sandy) Fowlis EEO Queda 1962 and Bill Shields 4EO Queda 1962 within last 3 months.
David Ramsbottom, UK - Tuesday, December 12, 2006 at 19:12:02


Regarding recent logbook entry from Paddy Mawhirt I remember you on Chantala as 3rd or 4th Engineer when I was a deck cadet probably about 1962/3. I can also remember you in Singapore mid sixties when I was 3rd Mate on Bamora or Chandpara on the Australia trade. I believe you may have been on Bombala shortly sfter her collision in Singapore. I left the BI in 1967 but meet up with numerous ex colleagues at the BI reunions which are most enjoyable. Would be pleased to hear from you.
Somi Hazari, India - Friday, December 8, 2006 at 17:58:16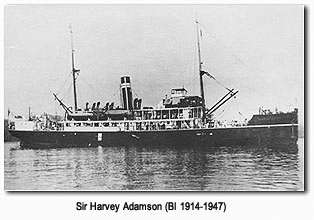 I am looking for my great grandfather who was on the ss Sir Harvey Adamson which went down in 1947. A picture of the ship and if possible a passenger list.
Jane Armitage, UK - Thursday, December 7, 2006 at 18:47:36
My father was Walter Kerr who was the Finance Director at the time of Sir William Curry. I am anxious to trace any family of his. I noted a message from Colin Kerr and would like to get in touch if possible
Ian Turner, UK - Tuesday, December 5, 2006 at 20:27:27
My Grandfather, Thomas Mabe, served as a Captain until the early '50s. I'd be interested in finding out a little more of his career.
Donald Skipp, Canada - Friday, December 1, 2006 at 21:52:26
Returning RAF Police Corporal, I sailed on the Dilwara from Singapore, July 1st 1948. Very Exciting trip, including the rescue of a three year-old girl, who fell from her mother's arms (sitting on the ships rail). Would like to hear from anyone on that voyage. Have written a full account of the rescue in BI Logentries
Quentin Murphy, France - Thursday, November 30, 2006 at 20:32:37


To Jogarajah Appadurai. Yogi I spotted your message of Oct. 25th. I remember you very well, we sailed together on Sangola's last voyage 1963. I was 3/O. Capt. Bob Old, C/O Jan Sakolski, 2/O Ted Rowley. As I recall you had a great facility with the Japanese language. Great trip, great fun. Nice to hear from you.
Christopher Williams, UK - Thursday, November 30, 2006 at 13:59:36
My grandfather worked for BI until the early to mid-sixties. His name was Charles S Mundy. A partner in Gray Dawes in the 1930s and I believe on the board of BI in the 50s. I would be interested to hear of any recollections anybody may have of him.
Jitendra Bhardwa, UK - Wednesday, November 29, 2006 at 18:56:54
My grandfather's passport has a visa stamp "SS Kampala to Porbandar"(India) and dated 6/11/31. He boarded at Dar-es-Salaam, and was travelling with my grandmother and their five children, aged 9 (my dad), 7, 5, 3 and 1. Does anyone have any more info about this ship, crew and passenger list or especially photos at or around this date.
Paul Hugill, Wednesday, November 29 2006, 12:34:15


I have uncovered some more details of Charles Hugill [reference the logentries of Mar 26, 2006 and Jul 3, 2006] from Lloyd's Captains' Registers 1851-1947. He received his master's certificate in Bombay on 25th April 1885 (No. 300 BOM) at the age of 27, and his first command was the Baghdad same year. The names of subsequent ships up to the Umballa in 1904 are hard to read, one looks like the Bulimba in 1886. There are some notes alongside the name Satara in 1910, but impossible to read unfortunately, except for a BB (Black Book?) reference number of 3023. However, Cathy Paul very kindly sent me all the press clippings from the time of the sinking, and these provide a very full and exciting story, including photos. I am trying to find out if he got his master's certificate back, as the court verdict certainly suggested that he would do so.
From the Lloyd's records, it seems that he was also a member of the Royal Naval Reserve, so it will be interesting to find out if he served in any capacity during WW1.
Mike Callaghan, Australia - Monday, November 27, 2006 at 19:45:34
Richard Sandeman Gay. Noted your recent entry - there can only be one with that name. We sailed together in USSCO in the early 1960s
...sign the logbook

Barr (Paddy) Mawhirt, UK - Monday, November 27, 2006 at 06:57:28
I sailed as an engieer for nine very happy years with BI 1961-1970. Any one who recognises me I will be happy to correspond with.Sailed on Busiris, Ellenga, Waroonga, Chantala on home line then Karanga Chakdina and Bombala out east.
Michael Callaghan, Australia Sunday, November 26, 2006 at 01:13:52
I have been compiling a family history and have been trying to trace my maternal grandfather Wilfred Baillie Arkle who served with BI as a marine engineer during World War 1. His daughter, my mother, was born in 1916 and there is no record of him since then.
Robert Jacobs , Australia - Friday, November 24, 2006 at 04:42:47
Very informative. A pity my late father Tom Jacobs (died 1986) who was in the BI 1937 to 1947 and survived the sinking of the Waroonga was able to access this site. He would have loved it.
Peter Dawson, UK - Thursday, November 23, 2006 at 14:32:20


My Uncle Douglas Bell 3rd Engineer on Sir Harvey Adamson, was lost with all others in Indian Ocean 17th April 1947. Would like to hear from anybody who knows of living relatives of crew or knows of living persons who served on the ship.
Ramsay Fernandes, India - Wednesday, November 22, 2006 at 10:54:25
Sailed from 1965 to 1972. Bankura, Santhia, Dwarka, Sirdhana, Nuddea. Nick name in BI was Fred
Ashwin Hansrajh, Australia - Wednesday, November 22, 2006 at 04:43:40
Looking for passenger and crew list [including the band] of the ss Karanja--May-1968. If I do remember I think the Captain was a certain Capt. Raine. I travelled from Durban to Bombay.
Ben Evans, New Zealand - Wednesday, November 22, 2006 at 03:01:28
Pleased to hear from any of my mates who served on Karanja ...happy days !
Jean Tuckey, New Zealand - Monday, November 20, 2006 at 22:21:34
Looking for information on the Ming Sang - Percy Ware Grierson sailed on her until he was interned in Hong Kong 1945. Would like more information on this vessel. (The 1,650 tons gross cargoship Ming Sang was managed by BI for the British government as Kwong Eng from 1919 to 1921 - Editor)
Richard Sandeman-Gay, Australia - Sunday, November 12, 2006 at 05:26:07


Can Linda Spindloe please contact me on email. Would be great to hear from you.
Morris Bruce, Canada - Saturday, November 11, 2006 at 17:00:32S


My father William Bruce served on the VASNA as an Engineer sometime between 1935 & 1944. I'm interested to know if Jack Bond sailed with my father.
Puntambekar - Saturday, November 11, 2006 at 14:40:57
Travelled from Mombasa to Bombay on ss Kampala in February 1968
Ramsay Fernandes, India - Thursday, November 9, 2006 at 06:25:51
Would like to share and communicate with past shipmates.
Colin Mountford, Australia - Wednesday, November 8, 2006 at 07:57:59


George Taylor's log book entry is of interest to me. We must know each other George, although your name does not ring a bell. We must have sailed together as I left Bulimba in Bombay on 26 May 1960. John Bolton and I were junior E/O's on board at that time. I do recall the C/E, and the 2/E, and Charlie the 3/E. Baldy Davis, Jackie Byers, and George Caie, were in Glasgow in 1958 when Bulimba was fitting out, along with John and myself. George, if you know the whereabouts of John Bolton would you let me know? Love to have a yarn with you some time George if you live in Oz.
Pamela Passmore, UK - Monday, November 6, 2006 at 16:30:14


My grandfather William Walton served in BI from about 1900 (probably before) until he died in 1921 in Karachi while Master of Nerbudda. I have names of his ships from 1906 till his death except for 1914 - 1918. If anyone has more info, or can tell perhaps where in Karachi he would have been buried, I would love to know. He died in the Epidemic Diseases Hospital so probably would not have been shipped home.
Colin Mountford, Australia - Friday, November 3, 2006 at 09:15:00
Sailed on maiden voyage on ms Bulimba ex Glasgow on her maiden voyage to Australia in 1958/9, as junior engineer. We had on board a Himalayan lion cub,en route to Sydney Taronga Zoo. In Sydney the local media were there in force to record the event.We were all given a case of "Bulimba" beer to celebrate the ship's arrival. This beer was brewed in Brisbane by a local brewery, long since taken over. A bottle of this beer was used to launch the Bulimba at Harland & Wolff, Govan Cross shipyard in Glasgow in 1958. Did anyone out there witness this event. My seagoing career has been a major highlight of my life. Love to hear from any of my shipmates of the time, especially John Bolton ex of Cheltenham (UK), now I believe living in NZ.
Terry Lilley, UK - Thursday, November 2, 2006 at 13:21:50
Those who knew Henry Severs and Bert Miller can read the appreciation and anecdotes submitted about these stalwarts of the BI cadetships Chindwara and Chantala at Paul Wood's website devoted to British Merchant Navy cadet ships. Click down to therecent PDF files to read the text.
Howard Bartley, UK Thursday, November 2, 2006 at 08:31:44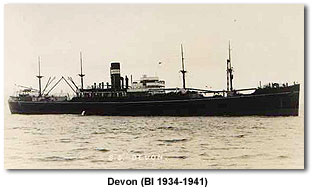 With reference to Hugh Hughes entry - Friday, December 12, 2003 ..... My father also served on both Madura and Devon [pictured] and was in Milag Nord. Sadly passed on, if anyone remembers Roland or has photos of this time, I would be very interested to hear.
Petrina Anderton, UK - Tuesday, October 31, 2006 at 21:36:05
My grandfather Percy Livesey worked for the company around 1900, also my great grandfather Peter Livesey reputedly died onboard a ship travelling from India to England and was buried at sea possibly between 1900 and 1910.
Jack Bond, UK - Monday, October 30, 2006 at 20:10:58
I served on Vasna 1942 to 1945, Interested in contact from old shipmates or their families who can assist with Historic research.
Roger Braga, UK - Monday, October 30, 2006 at 15:35:45
Having come across a small framed photo of Nevasa recently at a boot sale, it took me back to 1958/59 when my mother Dorothy and my younger sister Patricia sailed from Singapore to Bombay to visit my Grandmother. We were an army family, my father Dennis a Warrant Officer in the RAOC, stationed in Johore 1957 - 1959. We all went to the docks at Singapore to see them off and the sight of the Gurka band marching up an down playing all the usual military tunes was a sight one never forgets. I can't remember the date they travelled but if anyone has any knowledge of the troopship runs, or where to find passenger lists I would most appreciate it. I can send you an enlargement of the photo I have in return.
Ronald Knight, UK - Monday, October 30, 2006 at 11:45:02
My mother and myself was a passenger on the mv Dilwara 1957, sailing from Kingston, Jamaica to Southhampton UK. it was a great voyage for me as I had never been on a ship so large, the crew was fantastic and treated us well we stopped off at Bermuda to pickup some more troops, great trip indeed.
Lynne Turner, UK - Monday, October 30, 2006 at 00:40:48
I travelled on the Devonia in May 1964 on an educational cruise to Scandinavia. At the time I was living in the East end of London (Redbridge) and the experience of sailing up the fjords remains one of the most emotional experiences I have had.
Annette Taylor, UK - Saturday, October 28, 2006 at 12:27:06


My great Aunt went to Mombassa in 1934. She sailed on ss Matiana. If anyone can help me locate a picture of this ship, I would really love to hear from you.
George Pearce, UK - Wednesday, October 25, 2006 at 14:16:38
Sailed on ss Dunera's last voyage as a troopship,to Aden in January 1961
Jogarajah Appadurai, UK - Wednesday, October 25, 2006 at 10:33:38


1960 to 1972 was cadet, third, second officer with BI. 1972 to 1982 was chief officer with P&O GCD. Would like to hear from anyone who knows me. I was always known as "Yogi" in BI & P&O
Sybil Stewart, UK - Tuesday, October 24, 2006 at 20:55:49
Great Uncle died onboard the Modasa, on the River Thames, 1939, hoped to find out more about the Modasa's Sailings
Craig Murdoch, UK - Tuesday, October 24, 2006 at 19:02:18


My Grandfather Kazimierz Marian Knyszewski born 20/09/1918 Fled Poland during WW2 and somehow crewed on the Shirala. Ref: Sailed into Durban, South Africa 02 July 1946 from Bombay ( Family Diary input). I am hoping to find any information on him and the circumstances that led him to join this vessel.
Ron Kerr, Australia - Friday, October 20, 2006 at 13:32:00
Was a JOS on the ss Somerset, (Federal Steam Navigation Co Ltd) on its last trip before coming ss Aden of BI in 1954. (This does not appear to be correct as Aden was never a BI name. It could be that Somerset went on short-term charter to BI - Editor)
Graham Allen, Australia - Monday, October 16, 2006 at 14:35:58


BI is very informative. Does anyone have a photo, drawing or painting of the Chyebassa commissioned 1874 and was on the London,Batavia, Brisbane Route.
...sign the logbook

Colin Kerr, UK - Thursday, October 12, 2006 at 18:28:30
My father Walter Kerr was the Financial Director when Sir William Curry was Chairman.
Mike Ellingham, UK - Sunday, October 8, 2006 at 14:38:15
Looking for information on Joseph Urwin Mann Chief Engineer on a number of BI ships in the 20s & 30s
Andrew Matheson, New Zealand - Thursday, October 5, 2006 at 11:51:59


I'd be grateful if Ron McDonald of Australia would contact me. Colin McDonald [re log entry Sep 30, 2005: Captain Colin McDonald, BI and Australian Currie Line], his great-grandfather, is my great-great-uncle, and I'd be interested in sharing family history.
Tony Lister, UK - Wednesday, October 4, 2006 at 14:47:54


If anyone is interested in BI memorabilia I have found www.maganstamps.co.uk has two sets of Dubai stamps on offer commemorating 60 years of postal service issued in 1969 which include pictures of BI ships Bombala, Chandpara, Sirdhana and Bamora
Peter Kirk, US - Tuesday, October 3, 2006 at 14:29:03
Looking for any info./photo's on S.S. Kenya
Lauren Taylor, Australia - Tuesday, October 3, 2006 at 06:32:10
Looking for Lothian and Goodall family immigrant entries into Queensland on Taroba in 1889-1890
Ron Evans, New Zealand - Tuesday, October 3, 2006 at 04:18:32


Sailed on Devonia 1962 to1965 as 5 eng and 4eng with Charlie Glen Willie Cameron George Harper Willie Grant Pete Durham Tony Kennedy Sam Penny C Eng was Ian Mackay.
Morley Prowse, UK - Sunday, October 1, 2006 at 17:04:11
Served 1959 to 1966
Patricia Whitley, Canada - Saturday, September 30, 2006 at 00:52:40


Could you please let me have if you can, the names of the crew of the steamship Colaba in December 1916. I have a letter from someone to my Great Uncle and I cannot make out the name. I would be very grateful.
James Cartlidge, US - Thursday, September 28, 2006 at 21:39:46
An excellent site and full of interesting information
John Leeson, UK -Tuesday, September 26, 2006 at 15:03:15


For Quentin Murphy [re Aug 28, 2006 entry - Barney and Angela Leeson]. The assumption is correct. Mum and Dad still alive and kicking now living near Leeds. My only regret I was too young to remember all on MV Bamora. Think on one occassion managed to cut myself shaving. Sadly the industry I was introduced to is no longer. Certainly miss the classic lines. Nice to hear from you.
Marcelo Gomes, UK - Monday, September 25, 2006 at 19:06:13
I sailed on ss Kampala from Mombasa to Bombay via Seychelles in September 1968. I like to hear from anybody who were passengers on this voyage.
James Michael, UK - Sunday, September 24, 2006 at 10:41:1
Served with BI for about six years, mostly on Eastern Service, which included the Dara just before she blew up off Dubai. A very fine company, which I have many happy memories of.
Ron Evans, New Zealand - Wednesday, September 20, 2006 at 05:13:09
Great memories of a bygone era
Chris Hammond, UK - Sunday, September 17, 2006 at 18:43:31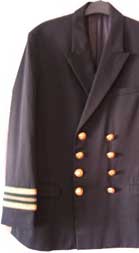 I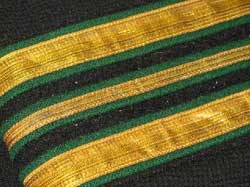 've just come into posession of a BISN uniform jacket. From the information on your website, it belonged to a Senior Electrician. Being a uniform wearer in the same sort of trade (ex-Captain, British Airways, now with easyJet) I'm interested to find out what sort of era this is from. It's a double breasted 4 button jacket with BI Britannia buttons (by Gaunt), and it was made by 'Vashi's Custom Tailor' in Raffles Place Singapore, (which I also know well). There are three sets of numbers written in biro in the top pocket, 854, 523, 347, which are probably of no meaning but the rest is anonymous. It looks 1950's but that's only a guess. Any ideas?
Sam Bedi, US - Sunday, September 17, 2006 at 04:13:30


I sailed on June 10, 1972 on the ss Dwarka from Bombay to Korramshar, Iran. I am interested in contacting the crew members on this sailing/voyage for research purposes. Thank you so very much.
Tony Lister, UK - Friday, September 15, 2006 at 14:37:19


I am inerested to know if James Devine, 3/E/O Kenya sailed on the Uganda in 1965 as 3/E/O and then became 2/E/O on a Ministry of Transport war deparment vessel
Chris Allen, UK - Wednesday, September 13, 2006 at 16:21:15


Whilst researching our family history we came across a telegram dated 12 October 1926 which read: "Mother died Friday. Meet Nevasa tell Graftons. Dad" Obviously not a man of many words. He was in Secunderabad in India and the receipient lived in Southampton. We are assuming that our Great Grandmothers body was shipped back on the SS Nevasa and Graftons were Funeral Directors but have been unable to substantiate either theory. Any help or advice would be much appreciated.
Mike Holt, UK - Tuesday, September 12, 2006 at 16:30:27
Fantastic - just found this site. I have cruised on Nevasa 1972/1973 and also Uganda 1975/ 1975 /1978 as a teenager with my parents
Tom Ball, Australia - Tuesday, September 12, 2006 at 08:20:36
Found this site while researching my grandmother, Mary Ellen Merkara Mathews, who was born on board Merkara 11.03.1885. Very interesting site.
Kirti Patel, UK - Monday, September 4, 2006 at 11:11:26


For Gillian Hughes: You say your father was captain on ss Amra. Can you tell me what year! I am trying to find out more about the ship, who the doctor was on board etc. The reason behind this is I was born on the 24/05/1954 on Amra. My parents are dead now and I am hoping on this site I might be able to contact some one you can provide me more info!
Jim Devine, South Africa, Saturday, September 2, 2006 at 03:01:13


Hiya Sandy, Sailed with you on Kenya in 1962 when I was 3E/O and you were JE/O. Cannot remember who your "boss" was, John Pasco, or the recently deceased Alex Malcolm perhaps? but I do remember the unforgettable Derek Whittaker who I believe settled in Oz, and Jimmy Coyle. Other names I can offer from that magical ship are CE/Os Arnold Emery & Logie Buchan; X2E/O Alfie Luckhurst; 3E/O John Langley; 4E/Os Willie Murray and Jimmy Christie; 5E/Os Jim Meldrum & Ricky Maxwell. The deck guys were equally memorable amongst whom were Captains Cray (who didn't like junior officers attending 1st class functions) & J Bowerman (who did); Tom Kelso, Alistair Methven, Robin Knox-Johnstone, Keith Marks and R/O John Mennel who played the meanest game of deck quoits ever, on any BI ship! And did we not have the wonderful Nursing Sister Francis Reid on board, and Children's Hostess Tess Ralph - a class act, who sang Moon River accompanied by Buck Fernandes' resident band? That was one wonderful ship, Sandy! May I suggest you join the BI online staff group, Sandy, you will be blown away by the old shipmates you will meet there - there are some 450+ of us, and we talk the most amazing rubbish - just like the old days!
Harry Collins, UK - Wednesday, August 30, 2006 at 21:02:39


To Shabia Alimohamed, Santhia sailed from Calcutta to Japan, carrying deck passengers only as far as Singapore. Your relatives probably sailed on Kenya, or Uganda, which at this time sailed between Bombay and East Africa
...sign the logbook

Alex (Sandy) Fowlis, Botswana - Monday, August 28, 2006 at 16:18:09


Sailed as Electrician 1962-1966 on Pinjarra, Queda, Kenya, Devonia, and finally Kampala.Since finding this site a few months ago I have been in touch with many people I had the pleasure of sailing with and who certainly enriched my life in some way. Still looking for Bob May 4E/O ex Kampala who was my best man at my wedding in Mombasa in September 1965. Would welcome contact from any of my old shipmates from the past. Anyone know of Derek Whittaker's whereabouts 5E/O Kenya 1963 and also Jimmy Coyle my Electrician mate about the same time? Salaams to John Prescott for such a great site.
Quentin Murphy, France - Monday, August 28, 2006 at 15:29:26


Noticed an entry from John Leeson on 17th Aug. Are you by any chance the son of Barney and Angela? I have very happy memories of being 3/O on Bamora when you were living in Fremantle in 1961 or 62.
Linda Spindloe, UK - Monday, August 28, 2006 at 08:42:58


I sailed with Dick Sandeman-Gay (ex-BI) when he was Master on the Forum Niugini. Noticed he'd posted here a number of years ago and hoped we might make contact again.
Jim Harvey, UK - Sunday, August 27, 2006 at 21:21:39


I have just seen Roger Timms (June 19th 2006) is looking for old shipmates. Well Roger you and I joined BI and Chantala at the same time, October 1966. As I recall you were in starboard dorm with Bob Hinton, Gordon McInnes, Ewan Robertson, and Robin Crossland. Whilst I was in port with Dave Knight, Dave Guest, Stuart Larcombe, and Harold Holmes. All first trippers together. It is a lomg time since I lost touch with my friends in BI, and like you have wondered about trying to find them. Get in touch with me and we can catch up.
Nicholas Tash, UK - Saturday, August 26, 2006 at 14:41:01
I sailed aged 14 on the Dunera in August 1961 on Cruise K, 13 days from 22nd. August-4th. September. Leaving Southampton and calling at Corunna, Gibraltar, Lisbon, Lorient and returning to Tilbury. I was in Blake dormitory on E deck. I still have some BI advertising material, some photographs of the Dunera and a complete deck plan of the ship. After leaving school I worked for a short time at BI's head office in Leadenhall Street, London.
Susan Hamilton, Australia - Thursday, August 24, 2006 at 10:52:58
I am looking for more information on the Quetta. I know the history of its sinking because my great grandfather Thomas John Brooks died in the wreck. He was listed as Steward and Butcher on the ships list. I am wanting to find out how long he had been employed by BI and if so what other voyages on the Quetta or other ships he made and in which years if possible. Also what other information would the company still have regarding his personal service which may be of interest to my family research?
Ralph Larbey, China - Thursday, August 24, 2006 at 09:11:49
I have enjoyed perusing your web site as my father was at sea (Master) with BI for many years and I spent my a childhood days on BI vessels growing up.
John Callander, Australia - Wednesday, August 23, 2006 at 22:03:28


Re log entry of August 23, are there any references where I could get an image of this wartime livery on any of the HMT BI ships - and excuse my ignorance but what colour is 'buff'? Seems that the ship itself didn't change colour after the war when it became a passenger liner and later an educational ship. [Buff is a slightly brownish yellow. Colour photos of wartime ships are almost non-existent. A colour photo of Nevasa in trooping livery has been posted on the home page of this site (for a limited period). Until the early 1950s there was a big difference in appearance between HM transports and BI passengerships, as the latter then still had black hull with a narrow white band. When BI changed the passengerships to white hull with narrow black band, the main differences were then the broad blue band and buff funnel of the troopships. It could be argued that in the transition to educational cruising their appearance was altered quite markedly - Editor]
Wendy Mills, Australia - Wednesday, August 23, 2006 at 05:34:03


My grandfather Ernest Daniel Pratt was Master of several vessels in the BI company. I have photos of him with his crew on Umaria in 1915, and another on Oolobaria circa 1919. Are there any photos available of either of these vessels? Would love to hear of any other vessels he is known to have commanded. [E D Pratt is listed on the BI commanders' page of this site]
John Callander, Australia - Wednesday, August 23, 2006 at 00:57:26


Hi, great website. I've just returned from Hay in New South Wales, where the Dunera internees ended up. I'm trying to establish the correct livery for the wartime Dunera when it was HMT Dunera. Was it the black hull? Where can I find an image of the wartime Dunera? [It is very regretable that Dunera's name has become attached to these unfortunate people; they were government internees who happened to be carried by Dunera, that is all. As far as is known, Dunera had the standard trooping livery of white hull and upperworks, with navy blue band at the sheer strake, and buff funnel - Editor]
Vicky McKenzie, UK - Thursday, August 17, 2006 at 16:39:48


Hello Cris Dawson. Thanks for replying to my message re James Calam. He was my father's great uncle though of course he never knew him. What connection do you think we have? I didn't realise until last year that James emigrated along with a brother and two sisters. Where James settled in now called Calamvale - a suburb of Brisbane.
John Leeson, UK - Thursday, August 17, 2006 at 16:15:09
As a young lad walking at least one pace behind my Father I can recall many happy memories on board the ships. Saturday mornings in the Dock Office then onboard for a quick curry. SS Uganda not to be forgotten having travelled both as a student and a passenger. Since then I have not had any inclination to cruise. Fond memories of a company sadly missed.
Cris Dawson, Canada - Thursday, August 17, 2006 at 05:05:28


Message for Vicky McKenzie re message left Sep 2, 2005, about Bulimba carrying Uncle James Calam and family. Please contact me. I think we may have a connection.
Christine Wright, US - Saturday, August 12, 2006 at 07:06:02
My father, James W Smith - Seaman, was on the Dunera from Southampton to China, 1942 WW2. I want to find more information as he is now deceased
David Davies, UK - Friday, August 11, 2006 at 20:28:47
I did two spells on Eastern Service 1956 to 1962 as 3rd and 2nd Mate. I left the Merchant Navy in 1963 after 14 years at sea when I married and settled down in Suffolk and retired in 1984.
Peter Fielding, UK - Tuesday, August 8, 2006 at 09:42:35


Salaams, Tony. Nice to make contact again. You are probably right about us sailing together in Nevasa, but I think I was probably 4th then. I quite like the "dashing" bit, though. I trust that all has gone well for you over the years, and you're enjoying life. Keep in touch, and if you're in contact with anyone else from BI days, pass on my salaams. All the best.
Tony Brooke, UK - Monday, August 7, 2006 at 21:52:51


Peter Fielding. I just picked up your message from 13th June. I remember you very well. Or at least you as you were in the role of the dashing young officer, sometime in the late 60's. I think you were 3rd Engineer on Nevasa, where I did a couple of cruises as a very anti-social 2nd Electrician, before escaping back to cargo ships. I hope all is well in your world Peter. Best regards.
Robert Vaughan, UK - Sunday, August 6, 2006 at 18:48:36


re the log entry from Mary Watson dated July 30th 2005. i was on Dumra during 1969/70. I certainly remember Tony Henley, he was 2/O at the time. I think I may have a photo of you when we were anchored off Muscat.
Julie Spencer, Australia - Wednesday, August 2, 2006 at 11:17:41


Wishing to contact Christopher Rickman, who mentions his great grandfather Harry Robbins, who was lost on the Rohilla [see log entry of Nov 27, 2002] . Harry was my great grandmother's brother.
David Ramsbottom, UK - Tuesday, August 1, 2006 at 20:44:48


Noted entry 25th July from Alun Williams ex Chantala cadet 1959-1961. I was a Chantala Cadet 196 -1964 and cetainly remember you. I attend the BI reunions and next one in September at Glasgow. Peter Jennings and Glyn Williams both attended the last reunion in Portsmouth two years ago. Numerous other ex cadets also attend and they are most pleasant weekends. Would be pleased to hear from you.
Terry Lilley, UK - Sunday, July 30, 2006 at 19:21:24


Calling all Chindwara and Chantala cadets and anyone else who sailed with Henry Severs. Brian Agnew and I have been asked to compile an appreciation of Henry Severs for the BI cadetship section of Paul Wood's website dealing with British Merchant Navy cadetships. (www.rakaia.co.uk). A visit is recommended. Both of us met Henry Severs as first trippers aboard Chindwara on her maiden voyage. We both left BI after 2nd Mates, but in recent years met Henry for an annual lunch in London. To do justice to the task, we need YOUR help. We have in mind an introductory section and an ending paragraph but we believe the main part of the appreciation should be made up of as many memories and comments Paul Wood will allow. (He is usually very generous). So, please help us with your thoughts about this kind and dedicated man, whose life had BI Cadetships as a constant theme and whom we believe, contributed to the formative years of many of us. We have the support of his son Robert. Send them via BIship (this site) or direct to my email address tdlilley@tiscali.co.uk. Include your name, the ship on which you served with Henry and the dates. There has to be a closing date of 30th August please.
Robert Vaughan, UK - Sunday, July 30, 2006 at 11:54:18
A wonderful 8 years at sea, especially at the end of the "Golden Era" Many fond memories wish I could turn back the clock.
Alun Williams, UK - Tuesday, July 25, 2006 at 18:14:51


Was a cadet on board Chantala from 1959-1961 - would love to hear from any old colleague. Does anyone know contact details of Jumbo Jennings or Glyn Williams?
Bob Tween - Friday, July 21, 2006 at 14:32:00
My father sailed on the Morvada as a steward,1920 -1925 approx.
Neil Winnan, Thailand - Wednesday, July 19, 2006 at 14:56:58
Delighted to find the site. Would wecome an email from any of the ex MS Dunera's officers and crew.
Jane Harding, UK - Wednesday, July 19, 2006 at 01:51:22
I am researching my family tree and I have come across a postcard which has my grandmother's writing on the back. The postcard has ss Mandala under the picture of the ship. I think my grandmother went sometime between 1930-1934 to India and lived in Bombay. Is there any way of researching the passenger list for the vessel? Her name was Alice Mirriam Drew and her son was Frank Edward Drew. On the reverse she writes about sitting near the captain etc. There is no date on the card. [Passenger lists for all vessels are quite difficult to find; they occasionally come up for sale. Considering she was a war-built passengership, Mandala had a long career. Having been delivered in 1915, Mandala sailed on until 1934, becoming one of the last of the nine-ship M class to survive - Editor]
Geoff Warren-Smith, Australia - July 18, 2006 at 08:12:05
I have a photo taken of me in the late 1940s/50s of cadets Lott, Cosoor and Scott on the fore deck of ss Talma in Fremantle harbour and am wondering where those chaps are today, if in fact are still with us.
Arthur Sweeney, UK - Monday, July 17, 2006 at 17:46:50
I travelled on ms Dunera on an educational cruise in July 1965. We sailed from Greenock in Scotland on a two week cruise calling at Vigo in Spain, Lisbon in Portugal, Funchal in Maderia, and finally Brest in France.
Peter Glass, France - Monday, July 17, 2006 at 15:03:17
Very pleased to have made contact through the logbook with Phil (Nibs) Penn after 55 years. Well done.
Keith Heesom, UK - Monday, July 17, 2006 at 13:46:23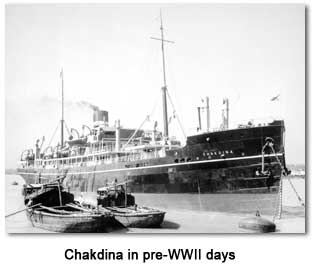 Looking for information on Chakdina which was sunk off Tobruk 1941. My uncle Private Harry Blears, Kings Own Royal Lancashire Regiment, lost his life in the action. Any information would be most helpful, particularly a photograph. Excellent site! [Among the many print and web references to the Chakdina incident, is a complete chapter in the biography of Johann von Ravenstein, a German general in World War II, by Rowland Ryder. Having been taken prisoner in North Africa, Ravenstein was shipped on board Chakdina at Tobruk for transport to Alexandria. The book gives his account of the sinking - Editor]
Karen Poulin, Canada - Sunday, July 16, 2006 at 20:51:05


I am looking for a passenger list for the ss Dacca leaving London, England on November 14, 1888 to Queenland, Australia. Could anyone assist me in this matter? It's very important.
William Wilkie, Canada - Thursday, July 13, 2006 at 05:56:37


Sailed on Bulimba 1965...1966 as 4EO, then 3EO until 8/3/67. I think Jimmy was on board as 3EO when I joined. When he had a few he would sit and laugh and when asked what about it was a joke he remembered. But a very nice person.
...sign the logbook

Rosalie Enstrom, Australia - Sunday, July 9, 2006 at 05:56:49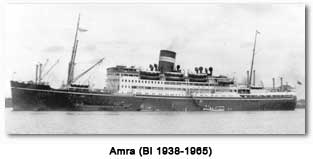 Many thanks for the info regarding the Amra which served as a Hospital Ship during WWII. I was wondering whether in fact you would have a photograph of the ship.
Haroon Tar Mahomet, South Africa - Saturday, July 8, 2006 at 14:24:37
My family was on SS Tilawa which was torpedoed and sunk on 23rd Nov 1942. I have done some research on this. You are invited to contact me and also visit the Tilawa website
Trevor Larbey, Australia - Friday, July 7, 2006 at 00:49:18
Looking for feedback, connections, crew lists with my father Capt William (Bill) Larbey, master Chandpara, Chakrata, Chilka among others during the 50-60-70's
Afshin Maaf, Iran - Wednesday, July 5, 2006 at 09:05:25
I am wondering if you could give me any information about Persian Gulf Steam Navigation Company incorporated under the Indian companies act 1882. My friend M abrishamkar, grandson of haji ismail abrishamkar has bought share number 0390 of above company in the year 1914 and he has asked me to research about it. Could you please help?
Ian McWhannell, India - Wednesday, July 5, 2006 at 18:16:48


I just noted that Brian Agnew was looking for a contact from me. The orchard is long gone and New Zealand is a long way in the past Brian. Life has treated me very well and I keep excellent health and have lost many ship mates like Alan Aberdeen Chantala and Chick Hendrickson (died in his mid 40s) so count myself lucky.
Tony Brown-Beresford, Australia - Wednesday, July 5, 2006 at 07:44:37
Brings back very happy memories.
Rosalie Enstrom, Australia - Wednesday, July 5, 2006 at 05:38:49
I was interested in the ship named Amra and whether it was the same ship which served as a hospital ship in WWII off the coast of South Africa. Father worked on this ship. [Amra (the second BI ship of this name) was requisitioned as a hospital ship (No 41) in December 1940 and was in service off east Africa and South Africa until 1943 - Editor]
Paul Hugill, UK - Monday, July 3, 2006 at 15:00:24


Very interested to see the postings from Cathy Paul [Mar 24 & 26, 2006] regarding the gold watch awarded to the Captain of the Dorrigo for his part in the rescue of the crew of Satara. It was one of my ancestors, Captain Charles Hugill, who was held responsible for the sinking of the Satara in 1910. Fortunately he survived and eventually retired to live with his sisters in Marlborough, UK. He is buried in Marlborough cemetery.
Phil (Nibs) Penn, South Africa - Sunday, July 2, 2006 at 15:33:41
I left Marine School South Shields end 1950 and joined F.C.Strick and Co while a number of my shipmates went to BI. Peter Glass and Ken Harle being two Senior Cadets with me, but it would be great to hear from anyone of that era, as I have lost all contact.
Feizal Waffarn, US - Sunday, July 2, 2006 at 15:31:22
I am interested in maritime postal history and collect mail carried on steam ships. I was born in Ceylon and I have particular interest in BISNC and its coastal steamers that carried mail between Ceylon, India, and Malaya between 1850s and early 1900s. I would love to get in touch with those who are interested and could provide me with related information or mail.
George Taylor, Australia - Sunday, July 2, 2006 at 09:45:23


William Wilkie, when were you on Bulimba? I was 3EO Feb 22, 1960 - Jul 7, 1962. Others on board were CEOs: Jackie Byers, George Caie, Hughie Cain. 2EOs: George Caie, (Dunkie), Willie Barnes. 3EOs: Charlie Glen, George Taylor, Alex Craig. 4EOs: Tam McKenzie, Jimmy ? Fifth Engineers: Jimmy Shearer, John McNaught, Ivor (the fiver) Langley, Wee Tam. Electricians: Ronnie Reed, Owen Thomas. Radio Officer: Richard Organ. Captain (Baldy) Davis. First Officer:Bill Fullagar. 2/O: John (Buzz) Bee. 3/O: Paddy Michaelson.
Jim Pryce, Australia - Saturday, July 1, 2006 at 07:25:29
My uncle Capt. Fred Rendall was with BI before the war. I have a photo of a three funnel BI ship, anyone know the name of this ship he was on? [Would have been one of the T class, either Tairea, Talamba or Takliwa - Editor]
Brian Agnew, UK - Thursday, June 29, 2006 at 19:08:09


Have just learnt of the death of Henry Severs on 13 December 2005, age 88. Circumstances discussed with Terry Lilley who referred me to this web site and Ian WcWhannell with whom we both sailed on Chindwara. Ian I thought you were apple farming in NZ when you flew over me in Gothic in '68 after the fire? Delighted if you can get in touch.
James Maingay, Belgium - Thursday, June 29, 2006 at 12:09:07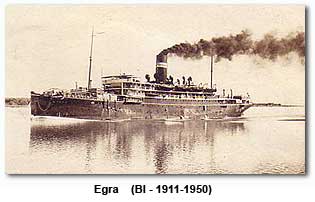 Evacuated November 1945 on board ss Egra with parents and two sisters from the port of Semarang, Java, to escape murderous hostilities. This followed 1943-1945 interment by the Japanese in one of the Semarang prison camps. Disembarked in Batavia (now Jakarta) late November 1945. SS Egra was heaven to us after hellish Japanese camps etc. Does a model of SS Egra exist? And her logbook 1945? If so where can it be seen or studied? My background. Dutch, b. 1929. Ancestors originate from Guernsey, Channel Islands. Naval Architect.
Sylvia Pugh, UK - Wednesday, June 28, 2006 at 19:23:13


Would like to contact Neil Malcolm, Canada with a view to his listings of officers aboard the vessel Chinkoa. My father-in-law was captain of the Chinkoa 1952-1954.
Bill Hall, UK - Tuesday, June 27, 2006 at 18:41:36
Have just come across Janet Wood's note of 29 Aug. 2003. My father was on board the Barjora when trooping on the E. African coast 1917. If a photograph of the ship is available I would be very grateful.
Ian Stacey, UK - Monday, June 26, 2006 at 00:44:59
What a great photo of Chindwara in Suez Canal on the Home page, I bet that churned more than a few hearts over!
William Wilkie, Canada - Friday, June 23, 2006 at 03:42:11
Sailed with BI from 1961-1968 mostly eastern service. Chupra. Bulimba, Warla, Carpentaria, Amra, Nevasa. Cannot remember lots of the names of shipmates but going through I recognized J.McNaught from Bulimba.
Roger Timms, Australia - Monday, June 19, 2006 at 11:49:14
For many years I have wondered how to be in contact with old shipmates from BI. Somebody told me about this site, and when time permits, I'm looking. Started as Cadet in 66 ended up as C/O in 75. Ships: Chantala, Nevasa, Dwarka, Barpeta, Kampala, Chinkoa, Chakrata, Waipara, Zaida & Merkara.
Cor van der Ploeg, Netherlands - Wednesday, June 14, 2006 at 20:57:56
Wonderfull site. Sailing Dutch merchant navy for 23 years as 'sparks'. Re uniform buttons looking for small and large Marconi buttons in exchange for small and large Radio Holland Button.
Peter Fielding, UK - Tuesday, June 13, 2006 at 15:02:13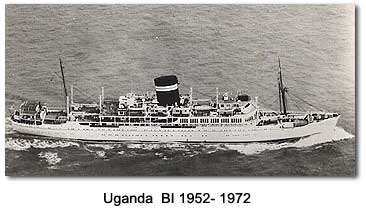 Like Tony Brooke, I too remember Alex Malcolm, but from Uganda, late '60's/early70's, and would like to offer my condolences also. Tony, you and I also sailed together, but damned if I can remember what ship or when. Maybe your memory is better than mine.
Louise McIntyre, UK - Monday, June 12, 2006 at 15:27:55
During my childhood had the occasion to travel often on these fine vessels. Never to be forgotten.
Katrina Wheelans, UK - Sunday, June 11, 2006 at 16:11:35
I would like to hear from any Nursing Sisters or Cadets who were on Strathconnon in the 70's
Tony Brooke, UK - Sunday, June 11, 2006 at 13:51:14
I was sorry to see from your web site that Alex Malcolm (ex Senior Elect.Off. SS Kenya, etc.) was committed to the deep, today. Perhaps the reason I visit the BI site so infrequently is because each time I do so I seem to find news that one more old shipmate has signed off for good. I did not know Alex well, but was also an E/O on Kenya for a while in the 60's, and know that he was well liked and respected. My sincere commiserations to his family and friends.
Robert Doran UK - Saturday, June 10, 2006 at 22:33:22
I am looking for a sailmaker called Doran who was drowned of the Cape of Good Hope between 1861 and 1871
Catherine Britt, Australia - Saturday, June 10, 2006 at 06:20:24


I wanted to know if anyone knows the name of the ship(s) that carried passengers to Malaya from Negapatinam from 1900 to the 1926 (before the Rajula).
Neil Malcolm, Canada - Wednesday, June 7, 2006 at 17:29:55
I served on the Chinkoa 1967-1969 and a few weeks on the Chandpara in 1969. I have a number of the BI magazines which I brought to Canada with me back in 1989 which I have not looked at since then. Remember they list all the serving officers etc. I could look at scaning them if anyone is interested.
Judith Matthews, Australia - Sunday, June 4, 2006 at 13:26:04
I am looking for details of the Bulimba and Waroonga Portsmouth to Queensland, Aust 1883. A passenger list of both ships and details from the Courier Mail of their arrival.
Catherine Britt, Australia - Friday, June 2, 2006 at 08:22:32
It is a great site. I learnt a lot about the different lines. My parents travelled in the early 1900's to Malaya. But I could not find what boats actually went to Penang and Port Swettenham from Nagapatiman before the Rajula and I could not find where the early passenger log books were. Thank you. What a great web site.
...sign the logbook

David Flack, UK - Wed, 31 May 2006 21:51:09
I was a friend of the late Alexander D. Malcolm an electrical engineering officer on the Uganda and other BI ships. We have arranged for a short ceremony and the spreading of Alex's ashes on the sea. This will take place 'Mid- Channel' from the ferry Pride of Canterbury on the 11th June on the 13.00 sailing. It may well be that some of Alex's old ship mates will wish to be present. Should anyone require further details please contact either Jim Stevenson 01702 230156 or myself on 01702 231704.
Robert Mitchell - Wednesday, May 31, 2006 at 00:24:33


I seem to have discoverd a large collection of photographic negatives of the Inchcape family doing a grand tour in a steam sail ship around the British Isles stopping off at many UK ports and off to Venice in the 19th century, there are pictures of Looe in cornwall which show lifeboatman and the lifeboat is named( boys own 1) and I summise that the boat was named after a magazine of that era of the same name probably paid for by them as well, the lifeboat looks brand new in the photos! Can you put a date to this venture?
Julian Edgoose, US - Tuesday, May 30, 2006 at 17:48:06
My maternal grandfather, John E (Jack) Edmunds was a Marconi operator on BI ships for many years. All I know at this point was that he was on the Nirvana for much of that - he later named his house in Surrey, England after it. He went to sea in 1917 and ended his seagoing career in 1937.
Steve Hunnisett, UK - Mon, 29 May 2006 14:37:54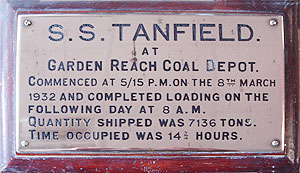 My father, Ron, worked for Trident Tankers from the late 60's right through to his retirement in 1979, by which time he had transferred to the P&O General Cargo Division. He was Spares Superintendent, and later became Head of Spare Gear based at the Royal Albert Dock offices. He passed away in 1990 but I have come across a brass plaque regarding the ss Tanfield which seems to commemorate some sort of loading record in 1932 at the Garden Reach Coal Depot, Calcutta. I wondered whether you or any of your members are able to throw any light on this. [Confirmation is contained in Laxon & Perry: "TANFIELD's inter-war years were largely spent in the unglamorous but necessary duties of carrying coal cargoes around the Bay of Bengal. In the course of these she established several records at the Company's Garden Reach Coal Jetty at Calcutta, where without any mechanical aids she twice loaded over 7,000 tons of coal in the space of 13 hours 45 minutes [sic] and 18 hours respectively."]
James Devine, South Africa - Saturday, May 27, 2006 at 18:13:51


Malcolm MacDougall - have just found your message of November 5, 2005 and am happy to let you know that I am Allan Devine, your late father's friend! Your dad, Ian, emigrated to Canada round about the time I went to sea with BI in October 1957. We corresponded for a couple of years, but then as these things sometimes happen, we lost touch with each other. I am so glad you have taken the trouble to try to contact me. This is an amazing contact, reaching out over almost 50 years and I certainly wish to continue it with Malcolm.
Alan Marshall, UK - Saturday, May 27, 2006 at 15:37:27
I spent a wonderful 10 days on board Nevasa in may 1969 on an educational cruise to Andalsnes, Bergen and Copenhagen (In Dormitory Dampier E3). I was 11 years old but these 10 days were only a start of my love for the sea. After leaving school I joined the Mechant Navy and spent 8 years aboard many wonderful ships working my way up from Galley Boy to Chief Cook. So I would like to say thankyou BI and thankyou Nevasa.
Gopinath Choyi, US - Saturday, May 27, 2006 at 13:59:00
My father had worked in a ship named ss Goshen and ss Irwin which worked as part of indian railways. This ship used to ply between Madras, Dhanushkodi, Talai Mannar, Colombo. The period was beween 1935 to 1967. If you have any information reg these ships, info reg the the crew, sketch of the ships, (any info) please forward it.
Mary Keenan, UK - Friday, May 26, 2006 at 16:48:05
I am researching diaries from an Expedition round Sudan in 1933-34. On the way home to UK the two diary men boarded S. S. Rajputana at Port Said on 15 April 1934, disembarking at Marseilles on 20 April. If there are passenger lists I would be very interested to hear. The 2 men were Dandy, J. E. and Skilbeck, D. Any information would be most welcome. Also, if anyone knows anything about Simon Artz Store at Port Said, I would be very interested to hear. [See the May 23 entry for information regarding Rajputana. Simon Artz was the famous department store on the waterfront at Port Said. It no longer exists but in its heyday was the place for passengers from passing ships to equip themselves with tropical gear: solar topis and the like. For colonials travelling to Europe for the first time, Simon Artz was often their first taste of what a western department store might be like - Editor]
Phillip Massaad, Australia - Friday, May 26, 2006 at 02:21:26
This is a marvellous site and a fitting tribute to a titan of British shipping. I have learnt a great deal from this website, but is there anywhere I can access more inforamtion about the Dara: photos, reports and a ship's plan? [The Dara page on this site has some of Gary Ruaux's photos, and the Last Hours of Dara book contains a general arrangment plan of the ship's accommodation, albeit in very small scale. Probably the best primary source for information now will be the report and supporting papers of the enquiry by the Wreck Commissioner, which sat in London during March 1962 - Editor]
Ray Shiel, UK - Tuesday, May 23, 2006 at 03:29:20
I'd like to contact anyone who served on HMS Rajputana. Does anyone remember RC Wharton who went down with this ship? [Rajputana was not a BI ship but, rather, a P&O vessel of similar name to BI's Rajpootana (1874-1902). Rajputana was torpedoed by U108 to the west of Ireland in April 1941, with the loss of 41 people - Editor]
Ian Ferguson, UK - Monday, May 22, 2006 at 15:55:21
Reminder for Lindsay Copeman. Hope you are still ckecking the site, do you remember Uncle UFF and the Bluff Oysters? Zira 74/75. Dave Jackson was the mate, Captain Raine in command
Richard Mortimore, UK - Monday, May 22, 2006 at 13:55:12
I was on a school trip from Cardiff in 1967 (aged 11)when we sailed on the Devonia Cruise 61A. I still have the certificate that confirms my enrolment as a member of the Devonia Shipmates Club! I don't recall the exact itinary but do remember visiting Copenhagen, Denmark and possibly Kristiansand, Norway. If anyone has a better recollection I would be interested in hearing from you.
Ian Ferguson, UK - Monday, May 22, 2006 at 13:49:01


To Lucy Veiqaravi. Both Zira and Zaida on the Japan/New Zealand run in 74/75.They carried 2 chinese engineroom fitters and 1 chinese chippie (joiner) These locally engaged from Hong Kong, think the agents were Swire McKinnon in HK. The name Victor seems to ring a bell but all a long time ago. Good luck with your search.
Ramendra Chand, New Zealand - Monday, May 22, 2006 at 01:11:40
I would like to get any information on the ship called Virawa. Would also like to get the passenger lists of Virawa which carried indentured labourers from India to Fiji. Your answers will be much appreciated.
Kim MacDonald, UK - Friday, May 19, 2006 at 21:56:45
My grandparents sailed to India on the Neuralia in the 1920's. I would love to see any pictures of the ship in this period.
Sam Michael, US - Friday, May 19, 2006 at 21:17:23
My friend, Michelle Dennis, has a painting she got from her folks, Jim and Joyce Dennis. It is a portrait, in oil, of what appears to be an oriental man. The canvas is rather darkened and it is signed "D. Crow" with the lower part of the letter "C" continuing to form a line under the letters "row." The signature looks similar to the one(s) on the paintings by Richard D. Crow that are on this website. I'm wondering if this is a painting by Mr. Crow. Jim Dennis had a large interest in building model ships. He was also in the United States Air Force, during the 1950's, and was stationed in Japan among other places. Anybody that might could help identify the painting we have will be greatly appreciated. [Richard Crow has written to say the portrait was not painted by him - Editor]
Premvanti Sanghani, UK - Thursday, May 18, 2006 at 18:34:24
I was talking to my father today about his time in Kenya, specifically as a young man growing up in Mombasa. He told me that his father and uncle owned some farms in Likoni, Mombasa. He said that his father regularly supplied fresh fruit and vegetables to the BI ships. I had never heard of BI so was prompted to look on the Internet and consequently found this very interesting website. I thought it was worth mentioning this humble but important contribution my father's family made to the BI company. [Thank you for this interesting insight and, yes, we are very pleased to have your contribution and all others like it - Editor]
Lucy Veiqaravi, New Zealand - Wednesday, May 17, 2006 at 01:33:41


Very nice website Would like to know information about the ship Zira which stopped over in New Zealand 1974/75? If there were any engineers of Chinese/Asian Descent named Victor Wong? as part of the crew please! I am tracing information about my biological father.
Maurice Brew, UK - Sunday, May 14, 2006 at 15:56:38
interesting site
Nick Harding, UK - Thursday, May 11, 2006 at 22:24:22
Happy days
Angus McDonald, Australia - Thursday, May 11, 2006 at 12:47:02


Trying to find any record of my grandfather, Angus McDonald, a chief engineer in the BI, understood to have died of heat exhaustion in Kuwait and buried there in July 1917 while shipping supplies to the army in the Mesopotamia campaign. Ship name unknown. Any advice on how to trace details appreciated
Colin Richards, UK - Friday, May 5, 2006 at 10:53:44
Spent some time on troopship Nevasa. Sailed from Southampton 1959 to Singapore. seeking info about sailing dates and gen info of this ship.
Peter Fielding - Tuesday, May 2, 2006 at 16:27:59
Ref. Keith Wood's query (26th. April), I remember Capt. Harry Busfield, known as "Harry the Bus". Dac Brown doesn't ring a bell, but there was a C/Eng called D.A.K. Nelson, (Commodore Chief as I recall), and his son Peter was an Engineer Cadet in the company.
Ian McWhannell, Goa - Monday, May 1, 2006 at 10:02:20
Does anyone remember the voyage made by the Dwarka in about 51/52 when some officers got in trouble with Iranian officials in Bushire, compelled the vessel to sail with officials still on board. Radio contact with the head office as we sailed to Basra and I suggest the British Foreign Office told us to proceed direct to Basra avoiding the usual stop at Korramshar in Iran, and to fly one officer to the UK. I was moved to the 3rd officer's cabin from my cadets cabin and was appointed act.3rd. In Bombay, my vacated cadet's cabin was, for reasons unknown to me, searched by customs and found to contain a large shipment of gold bars. I was 18 years old and as I was on arrival transfered to the Orna as acting 3rd with Captain Cooke and Jan Sokalski (again spelling may be wrong) I never found out all that happened over the gold, other than it was not a happy ship. Captain Curry I feel was captain of Dwarka. Captain Cooke had his teeth removed in Colombo and the false teeth took months to catch up with him and he suffered discomfort and give me a hard time as a result. Going through the swept mine fields in a Japanese winter with poor visibility was no joy and caused short tempers. I think we were the first BI ship after the war to enter Moji.
Keith Wood, UK - Wednesday, April 26, 2006 at 20:33:18
Noticed Andrew Sims's comments on the 27th Oct 2005 re his Father and Grandfather. I worked with his Father, George Sim, when we were converting the North Atlantic weather ships in the 1970's at the old Manchester dry docks. George was the "main man" heading up the project for the then "Three Quays" ex P&O TSD. I was the Electronics guy covering the job. I can say your father George was one of the greats! I always remember when we had a sticky time he would bring out the tin of "Old Holborn" and roll one !! Always got the management's eye and all the problems were solved. I was actually an ex BISNCo "Mas Marconi Sahib" and sailed on the Nuddea in 1965/66 on the Aussie run. Then transferred to P&O direct serving for the next nine years in Passenger Division and finally ending up in P&O TSD Beaufort House ashore till 1984!! Introduced to this site by Dick Martin a fellow shipmate who I served under in the Spirit of London. Does anyone remember Captain Harry Busfield and Cheng "Dac" Brown and his sons?
...sign the logbook

Melvyn Cox, UK - Monday, April 24, 2006 at 20:19:00
Fascinating Website. Used in conjunction with Family research. tracing ancestors who went to Austrailia on the Bulimba in 1883.

Re Gillean White's entry of Feb 14, 2006, C S Forbes was a BI captain, and James Henderson may also have been. In 1904 C S Forbes was in command of Warora while a J Henderson was in command of Yamuna. See the newly posted page of BI Commanders - Editor
Angus Ferguson, UK - Thursday, April 20, 2006 at 19:59:13
A great site! I'm looking for any information about James Ferguson, a Chief Engineer with the BI between 1920 - 50. James may have been the Chief Engineer on the SS Manela/SS Mulbera in the 1930's - 40's. James was a close, but unknown cousin to me.
Ian McWhannell, Goa - Friday, April 14, 2006 at 04:46:05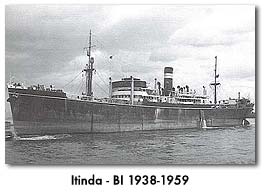 I have been retired for many years in Goa and live in a beautiful Portugese home in a very large garden with swimming pool. I served on Chindwara in its very early days then out to Bombay and was both cadet and act 3rd on Dwarka, Orna, Itinda (shown in this picture) etc.
As have guest cottage in the garden would enjoy meeting any old BI friends who may remember me who have the Indian bug that forces them to return on visits to India. In my Cadet days my nick name on the Chindwara was Angus.
Mohamed Dawood, UK - Tuesday, April 11, 2006 at 21:29:11
Very impressed with wealth of information. I am looking for a passenger list for ss Karanja about 1962. That is when my dad arrived in port of Mombasa. Please help.
Jeremy Rickford, UK - Tuesday, April 11, 2006 at 16:33:25
My great grand-father, Richard James Rickford, held masters certificate from 1884 to 1909. First ship, aged 16y, was Cornelius according to 1871 census. Last was Waipara. [It is known that Capt R J Rickford was in command of the 1,695 gt Dumra in 1904 and of the 2,171 gt Linga in 1906. Like many of his fellow BI commanders, he was in the Royal Naval Reserve - Editor]
Clive Nicholls, UK - Monday, April 10, 2006 at 13:03:32
Michael [Greenwood], thanks for making contact. Brilliant to be able to find out more about your grandfather and my father
P E Burton, UK - Sunday, 9 April 2006 09:48:00
I recently contacted you regarding ms Dilwara 12,555 ton ship. I would be grateful for any information you can give me on her. I have recently met up with some ex-National Service mates, who sailed on her and travelled with me on our posting to Aden in 1958, returning to the UK in 1960.
Michael Greenwood, UK - Friday, April 7, 2006 at 19:21:56


Re Ekma [logbook, Clive Nicholls, Aug 22, 2005] and ex POW passenger Nicholls. I presume your father was in the RIASC? i have just come back from the Imperial War Museum where I have read the letter of RIASC Captain Arthur Weale. He gives a nominal role of passengers which includes Lt FJW Nichols - is this him? My interest is that my grandfather was also on board - ex Changi POW - Lieut CDA Greenwood 2/9th gurkha rifles. From Mr Weales account they were amoung a very small number of officers, most on board being Gurkha soldiers. If you have not read the Weale account I can let you have a copy of my p/copy when it arrives from the IWM. I don't suppose your father's diary mentions my grandfather or anything about the Gurkhas on board? There is a good account of the Ekma's return to Madras in the 9th Gurkha rifles regimental history. Please get in touch.
Judith Matthews, Australia - Thursday, April 6, 2006 at 09:35:46
Do you have a photograph of the Bulimba that came to Queensland, Australia in 1883
Ramendra Chand, New Zealand - Wednesday, April 5, 2006 at 10:08:56
I am looking for my ancestors' connections. My great grand father came from india in a ship called Virawa. his name was Jaggan and his brother's name was Budhu. Jaggan's sons were Gauri Shankar and Sukhu. Any details would be very appreciated. [Virawa was employed at times during her career (1890-1921) in the Fiji trade, carrying indentured workers to and from Calcutta - Editor]
Shirley Scott, UK - Monday, April 3, 2006 at 16:38:10
I am so grateful to Richard Crow and Derek Ings for their logbook entries which have answered my questions concerning my uncle, George Suter. Their entries have suppled all the informatio I required. To Hugh McIntyre - I do not know if George was related to Sandy but I have not come across his name before in my family history research. Thanks again to all who replied.
Maureen Orr, Australia - Saturday, April 1, 2006 at 07:49:36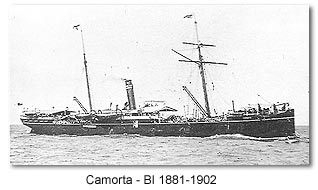 Enquiry if anyone has been able to track down a photo of the Camorta - my ancestors immigrated to Australia in 1882 on board this ship
Richard Crow, UK - Fri, 31 Mar 2006 21:14:42


When I joined the cadetship AUSTRALIA in September 1932 there was a cadet Suter doing his second voyage, I cannot remember if his name was George. My recollection of him is a short thickset chap with dark hair and he was a good shipmate. He was in the starboard watch, I in the port and we fought each other in an inter watch boxing competition. He won. If he was the same George Suter Derek Ings mentions who joined the BI as an Officer in1936 the times fit in perfectly.
Sandra Evans, UK - Friday, March 31, 2006 at 20:10:57
This site is pure nostalgia, and I love it! My family was returning from a tour of duty in Cyprus when we sailed on the Dunera in early October 1959. I was sixteen years old, and the ten day voyage was to be my last taste of freedom before I entered the world of employment. They were happy days that left good memories.
Hugh McIntyre, UK - Thu Mar 30, 2006 2058


I wonder if George Suter was any relation of Sandy Suter on Chakdara, vanished without trace like most I sailed with?
Derek Ings, UK - Thu, 30 Mar 2006 17:55:01


The only reference which I can find in BI NEWS is the obituary contained in no.21 dated July 1957 which states that Mr G Suter, who joined on 1.4.1936, died on 14.3.1957, aged 42. (He may have been a BI cadet, but the joining date would have been that as an officer i.e. for purposes of seniority).
Dick Turner, UK - Wednesday, March 29, 2006 at 20:47:38
Joined BI from School of Navigation in 1958 - first ship Nevasa then a string of Eastern Service ships: Sangola, Sirdhana, Dumra, Dwarka, Daressa, Karanja and Amra to name a few. Promoted Ch.Officer to Bamora in 1970. Spell in Trident Tankers 1964 to 1965 (best forgotten! ) English Channel Hovercraft and Ferries until 1974 when emigrated to NZ with family to join Union Steamship Co and then Shipping Corp of NZ as Master. In 1987 returned to UK with a desk job in London and back to sea with P&O Containers in 1985. Retired 2002 - now refurbishing a house in the village of Stock near Chelmsford - after three years have nearly finished so will be looking for a new project soon although I think my wife has had enough!!
Shirley Scott, UK - Wednesday, March 29, 2006 at 19:58:21


My uncle George Suter served with BI from approx, mid 1940's to mid 1950's. He passed away in Africa whilst waiting for his first ship as captain. Looking for information. Can you help please?
Derek Davidson, Australia - Wednesday, March 29, 2006 at 10:37:53


My father was Captain William A Davidson R.N.R. I am endeavouring to put together a family tree but all I have relating to my father is his birth and marriage certificates and a few letters he wrote to me in the 50's and 60's prior to his death. He was born and educated in Glasgow, met my mother on a BI passenger ship bound for India and married after a seaboard romance! During the war he took Command of a troop ship and was torpedoed in the Med. He survived and eventually retired. When we made contact in the mid 50's he had already retired. The purpose of this entry is to find out how I should go about obtaining details of his BI and RNR service. Any suggestions will be much appreciated.
Brian Knight, UK - Tuesday, March 28, 2006 at 17:32:40
Roger Elliott posted a reference to his research re Dunera, on Dec 2, 2005. I would be interested to hear if he has details of the Dunera's visits to Karachi
Ian Ferguson, UK - Monday, March 27, 2006 at 17:25:06
Far East with BI from 1966 to 1975 then P&O General/Gas/Bulk until retiring in 1996. BI vessels Waroonga, Nuddea, Nowshera, Rajula, Chindwara, Zira, Zaida, Merkara
...sign the logbook

Jan Jones, US, - Monday, March 27, 2006 at 04:43:17
Message for Kathleen Snelleksz: Are you the Kathleen Snelleksz who lived in Washamulla building across from Dharamtalla school? If so, you are my mother's cousin. Joyce (Farlam) Grieff. Tom Snelleksz was Joyce's uncle. His sister's name was Mercy. Joyce lives in Sydney, Australia.
Cathy Paul, Australia - Sunday, 26 Mar 2006 12:46:05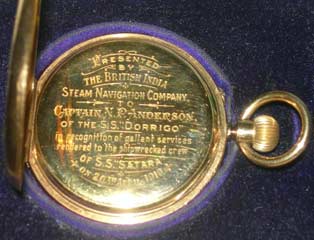 This is the watch presented to Captain Neils Peter Anderson. The inscription is clear, it was Dorrigo which made the rescue of the crew of Satara. Maybe the history books will have to be rewritten! Details of the watch are 18ct yellow gold, by Kelvin and James White Les & Hutton, 38730, demi hunter pocket watch, London. (The inscription reads: "Presented by the British India Steam Navigation Company to Captain N P Anderson of the ss Dorrigo in recognition of gallant services rendered to the shipwrecked crew of ss Satara on 20th April 1910") [The rescue was started by Orara, then Dorrigo arrived and rescued five people including the commander, Captain Hugill, the pilot, Captain Frank Binstead, Chief Officer Hughes and two Indian seamen. All 89 hands were saved plus two passengers. Even the ship's dog, at first believed missing, was found by the lighthouse keeper at nearby Sugarloaf Point several days later. At a subsequent court of inquiry, Capt Hugill was held responsible for the casualty, though there was a Torres Strait pilot on board - Editor]
Gillian Hughes, UK - Saturday, 25 Mar 2006 19:05:56
My father was Captain W.R. (Robin) Popplewell, who died aged almost 92 in 1999. He commanded Daressa and Sangola and was Chief Officer of Chantala in the 50s, and Amra. My mother and I were in Bombay 1958-60 and she accompanied him to Singapore in the early 1960s when I joined P&O sea staff!
Cathy Paul, Australia - Friday, March 24, 2006 at 09:32:45



My great Grandfather Captain Neils Peter Anderson was presented with a gallantry award from the British India steam Navigation Company in 1910 in recognition of Gallant services rendered to the shipwrecked crew of the S S Satara on the 20th of April 1910. Would anyone have any idea if records were kept pertaining to these gallantry awards and if so,where would I conduct my research. [According to Laxon & Perry, it was the Australian coastal steamer Orara which picked up all those who were on board Satara when she struck Seal Reef off New South Wales and sank - Editor]
Sally Lawrence (nee Charlwood), UK - Friday, March 24, 2006 at 09:29:38
Sailed on Nevesa from 1968 till she was taken out of service and then on Uganda until 1978 mostly on IAPS educational cruises. Lovely to find a web site for the amazing ships. Would love to hear from anybody who were aboard at those times.
Hugh Rayner, UK - Wednesday, March 22, 2006 at 01:01:03
I worked as Ship's Photographer on the Nevasa in mid 1974; fascinating to find so much information about her her; and to see a few familiar names from those days!
Alan Parkes, UK - Tuesday, March 21, 2006 at 20:48:17
Trying to research captain Christie 1875 with a wife or relation of "JC"
Mustaq Din, UK - Tuesday, March 21, 2006 at 19:51:42
Good site to check details on
Brian Knight, UK - Tuesday, March 21, 2006 at 12:57:12
I have a postcard of HMT Neuralia at Karachi. Can anyone who travelled on this ship to Karachi, get in touch.
Peter Fielding, UK - Monday, March 20, 2006 at 13:58:49
Engineer with BI from 1967 until merger with P&O, then continued with that company until coming ashore in 1980. Served in steam and motor ships, freezer and general cargo, and educational cruising in Nevasa and Uganda.
Derek Spedding, UK - Sunday, March 19, 2006 at 19:34:33
Just found a diary of my late Father. Seems he sailed on the Empire Trooper from Durban in 1943 to Bombay. Was trying to find more info on ship.
B Locke, US - Sunday, March 19, 2006 at 18:17:17
My father traveled on the ss Sofala in the fall of 1943 from Lisbon to New York. I was interested in any information on this ship, including a photograph and other details on what it was like to travel across the Atlantic during the Second World War. [This Sofala is quite possibly not the BI ship of the same name - Editor]
Rebb Robert, UK - Saturday, March 18, 2006 at 19:44:52
This is an exellent collection of information on the past merchant marine society of Britain
Alvit Fernandes, India - Friday, March 17, 2006 at 05:01:56
The sight of a B.I. ship (picture only these days) never fails to give me a nostalgic feeling. Lovely ships.
Chris Shelbourn, UK - Wednesday, March 15, 2006 at 15:52:27
Cadet/3rd Off. till the takeover then stayed with P&O till 1982
Toni Hull, US - Saturday, March 11, 2006 11:07:21


Re Karoa and convoy KMF-26 [log entry Mar 5, 2006], I found Banfora was a French ship in the same convoy [as Karoa]. I am hoping someone will have the roster on the Karoa as I truly believe my father in law was put on that ship instead of the Rohna. His parents recieved an MIA [Missing in Action] when Rohna was sunk so there has to be some kind of documentation that he was there the day Rohna was hit. In all the books I have read my father in law, Spencer G Hull, is not listed on the survivor or casualty list. He will be 82 in June 2006 and we are trying hard to find the documentation.
Derek James, UK - Friday, March 10, 2006 at 20:20:12
My first brief trip was on Madura in 1951 but though I went on for 24 years I will always think of her as really special.
Alan Flux, UK - Thursday, March 9, 2006 at 09:40:41
Is it possible to get in contact with people who have made comments. One person writes about having photos of the ss Waipara and I would like to get in touch to see about getting a copy. [We cannot publish correspondents' contact details but in all individual requests we will try our best to put parties in contact with one another - Editor]
Dawn Hope, Australia - Wednesday, March 8, 2006 at 10:29:47
Very glad to come across your website. I am searching for information on the Madura, which I think may be the ship which my family came to Australia on after leaving India in 1946.
Derek Hargreaves, UK - Monday, March 6, 2006 at 14:48:00


Reference to Gillean White's query of 14 February 2006. As a BI Master there is an obvious connection between her Grandfather and Islay Kerr. According to George Blake's BI Centenary book, the latter was, at one time, responsible for the management of the original office of the company W. Mackinnon & Co, at 203 West George Street, Glasgow. The book has a paragraph - "New tonnage for the fleet was still being built almost exclusively on the Clyde, and the Glasgow establishment included a supervisory engineering drawing office and staff. It was also an important centre for the recruitment of likely young men willing to go east." As five new ships were acquired during 1906 this office must have been incredibly busy. Glasgow archives could reveal launch/handover dates to tie in an event. Other signatories - Shipbuilders? Launches? Note that the date 15/06 is stamped as opposed to engraved. Is this also evidence of a ship launch event due to uncertainty? [We cannot find any BI launches or deliveries on June 15, 1906, the nearest date of this kind being the delivery of Rewa on June 7 - Editor]
1906 was the 50th anniversary of the formation of BI. Is this significant?
Elsewhere in George Blake's book is a further reference as follows "The Malayan agencies at Singapore and Penang are carried on under the unexpected name of Islay Kerr & Co, a compliment and reward from the first Earl of Inchcape to an old friend and colleague."
...sign the logbook

Toni Hull, US - Sunday, March 5, 2006 at 23:31:50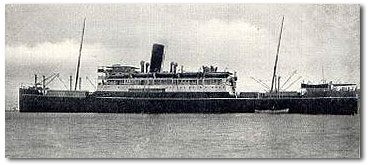 I am looking for any information on the convoy KMF-26 [Oran, bound India, Nov 1943], especially the ships Karoa [pictured] & Banfora. These ships were present when the HMT Rohna was sunk on Nov 26, 1943. My father in law was mistakenly put on one of the above ships instead of the Rhona. Any info on the structure of the convoy and/or roster list would be appreciated.
Clive Stubbs, UAE - Sunday, March 5, 2006 at 02:01:57
Ken: Good to see your response. Look forward to catching up with you [in the BI group]. All the best
Ken Whitehead, Australia - Saturday, March 4, 2006 at 06:32:30
That is me Clive. Have travelled far over time but now reside only 2 1/2 hours from Warrnambool. You keep good records!
John Hudak, US - Thursday, February 23, 2006 at 01:17:59
I was aboard the USS LAFFEY DD724 and had boarded the Dara to fight the fire. I was in damage control 5 aboard the USS Laffey. [Photographs of Dara on fire have been added to the Dara page of this site - Editor]
Richard Akehurst, UK - Wednesday, February 22, 2006 at 18:19:13
My grand-uncle, Arthur George Akehurst emigrated to Australia. He departed London on 21 August 1911 aboard the ss Torilla. He emigrated as part of the Church Army's 'Lads' Ladder Scheme'. I am trying to find out when and where in Queensland he disembarked, and where he went to. He died somewhere in Queensland on 7 Feb 1914, as the result of drinking contaminated water. Any information will be appreciated. [This was, in fact, Torilla's maiden voyage, in which the ship carried the then largest number of emigrants to reach Queensland in one ship - Editor]
Aisha Ashraf, South Africa - Wednesday, February 22, 2006 at 07:51:22
I am currently looking for passenger records of ships that sailed between India and Kenya around 1895-1910. Any help would be highly appreciated.
Myles Stephens, UK - Monday, February 20, 2006 at 19:30:12
Searching for deatils of my cousin Aln Buckingham Stephens ship captain sunk during WWII and then POW
Kevin Prentice, UK - Saturday, February 18, 2006 at 23:28:45
Would Jack Safaric like to contact me re pix of the Dwarka
Abdul Rauf Bhatti, UK - Saturday, February 18, 2006 at 20:28:41
When serching for info regarding my dad, when entering my dads name fazaluddin 1943 [in this logbook] Bandra from Bombay to Calcutta from May to July 1943, ss.....This is to certify that Fazaluddin was a passenger booked to Mombasa.... by a ...
Is there any one there can help as to how i can find more info as to what ship etc
please.
Michelle Reid, UK - Thu, 16 Feb 2006 15:16:31 +0000
I'm loking for information on the Montseratt ship my grandad was on. I would be greatful if anyone has any photos of ship or crew or on the act ship. It would make my day and and grandads face light up.
Gillean White, UK - Tuesday, 14 Feb 2006 17:37:32


My Grandfather's name was Maurice England, who lived from 1855 to 1918. The story goes that he ran away to sea aged 14. The other thing I remember hearing about him was that he was most upset at not being allowed to serve in the First World War. Would he be too old at 59? Perhaps the ashtry was a retirement gift. I enclose a couple of photos - I hope they are clear enough as the ship is suffering from 100 years of polishing! [We know that Maurice England was a BI commander and that he retired about 1911, but the significance of the silver dish - which could be a scottish quaiche - is unclear. It appears to have been presented to Maurice England on June 15, 1906. Does anyone have any ideas? Or does anyone know the connection between Maurice England and the people whose signatures are inscribed on the base of the dish - James Henderson, Islay Kerr and CS Forbes? - Editor]
John Overton, UK - Tuesday, February 14, 2006 at 13:28:14
Passenger as a boy on ss Nevasa in the 50s from Cyprus to the UK with the MOD.
Mitch Smailes, UK - Sunday, February 12, 2006 at 08:32:25
Salaams to all ex. seagoing shipmates, I see a couple of familiar names on the log book list of 2005 - Eric Moar and Steve Moss, I remember these 2 gentlemen from the "CHAKDINA" days when we sailed from Liverpool to Australia via South Africa - "WILD BUNCH" is the memory i have!!! I wonder where the rest of that ship's complement of 71 have got to? I have lived in N.Z. since 1976 been back to the old country twice (97 & 2004) and it is just as i left it ---nothing has changed!!! Will be good to hear from any other "CHAKDINA" boys of 1971!!
Akber Shamji, US - Friday, February 10, 2006 at 16:56:56
Excellent website, brings back the memory of life time.
...sign the logbook

Brian Warburton, UK - Friday, February 10, 2006 at 09:45:45
Maurice Deans. Re your entry of 21st Jan 2006, I have most names of officers on Woodarra 1958, including Eric Deans, was he related to you? If you require some names mail me on brian.warburton2@btinternet.com
Gillean White, UK - Friday, February 10, 2006 at 09:34:30
I have a silver ashtray presented to my grandfather who was captain of the Mashobra. On the front is a picture of a steam ship surrounded by a garland of thistles. On the back is a message in gaelic which apparently means health and happiness, signed by James Henderson, CS Forbes and ? Kerr, dated June 15th, l906. Does anyone know what happened on this date?
Gordon Bradshaw, Australia - Wednesday, February 8, 2006 at 04:43:46
Lost contact with old mate Bill Power, 2nd Engineer BI 1952, maybe you know his whereabouts? [ I believe you have now made contact with Bill after a gap of 50 years - Editor]
Brian Scott, New Zealand - Monday, February 6, 2006 at 07:18:02
Always keen to hear about Indian crewed ships.
Gordon Hall, UK - Sunday, February 5, 2006 16:00:34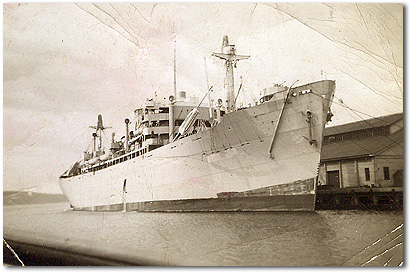 I have only one very old, battered photo of the Chanda taken at Hobart in 1944. It may be of some interest since it shows war time grey paint being touched up and the anti-mine paravanes at the bow which I believe were fitted as we travelled alone a great deal, as we were considered "fast". [The photo is shown here with some minor repairs in way of the ship herself. Many thanks, Gordon, for this interesting and quite rare wartime photo - Editor]
Eric Voorn, Netherland - Saturday, February 4, 2006 at 09:58:28
Thank you for the opportunity. Will you please remove my subject from the forum. It's dated november 13 2003. There is a fault in it ( clincker built ) should have been double diagonal. but there has not been response to it. I found a photograph of the boat in the private pictures of one of your members. Thank you very much. [See corrected entry of Jul 31, 2005 - Editor]
Michael Tilling, UK - Thursday, February 2, 2006 at 19:55:49
Sorry for not seeing this earlier. For Richard Barratt re-Thomas Porter Tilling master of the Abhona which was lost in 1910. He was my great uncle and my Grandfather, his brother, kept records including original telegrams which came to the family to tell them of the tragedy.
Jack Safaric, US - Wednesday, February 1, 2006 at 17:20:34
Looking for photos drawing or paintings of Rajula and Dwarka
Derek Hargreaves, UK - Friday, January 27, 2006 at 21:19:20
The Home page tells me that the site was updated on 6 January 2006 but the latest log book entry seems to be 6 December 2005. Have I missed something?
Eric Ramsay, UK - Friday, January 27, 2006 at 15:11:09
Radio Officer on Sangola 1956
Bruno Carbonell, France - Tuesday, January 24, 2006 at 12:13:49
Thank you for this interresting site. One thing seems missing : how can we contact someone who sent a message on the list? [We cannot publish correspondents' contact details but in all individual requests we will try our best to put parties in contact with one another - Editor]Hemraj
Dudnath, Canada - Saturday, January 21, 2006 at 15:14:24
Trying to trace ancestors who were passengers on board either on the "Whitby" and/or the "Hesperus" enroute to the then British Guiana
Maurice Deans, Australia - Saturday, January 21, 2006 at 02:25:34
Very interesting - been searching for some time on B I information regarding the vessels & officers of ss Woodara & M V Chanda 1957- 1960
Sarah Wootton, UK - Friday, January 20, 2006 at 16:03:57
I would love to find some passenger information from around 1910 - 1914 from Bombay India to England. Do you know where I should start looking? any information would be of help. [Passenger manifests are notoriously difficult to find. You could start at the Public Records Office at Kew - Editor]
Graham Hellewell, UK - Tuesday, January 17, 2006 at 23:58:08
As ship's photographer on board Uganda and Nevasa, swopping from one to the other during l970 to l974 I thoroughly enjoyed my time aboard both ships, and made many friends both with officers, crew and passengers. I met my wife to be on the Nevasa and have spent the last 30 years happily married with three children and many fond memories. Thank you BI.
David (Dai) Evans, UK - Tuesday, January 17, 2006 at 13:35:27
Would like to hear from any old shipmates in Durenda, Garbeta, Empire Trooper, Madura or Chilka. Has anyone a photo of Durenda ?
Valentine Duggan, Ireland - Tuesday, January 17, 2006 at 02:24:39
Great Site. Full of memories
John Todd, UK - Sunday, January 15, 2006 at 12:56:29


My G/G/grandfather was drowned on the HMHS Rohilla in 1914 and I was trying to find his records from the Merchant Navy, can ANYONE lead me in the right direction to getting these?
Tony Brown-Berresford, Australia - Sunday, January 15, 2006 at 07:15:27
Excellent. A pleasure to look back on old times.
Mike Farlie, Canada - Saturday, January 14, 2006 at 21:50:57
Can you pl give me the e-mail address for Andrew Sim for his log entry below dated Oct 27th [2005]. I knew both his mother Audrey and his father George when I was serving with Mackinnons in Bombay 1962-69, and I will be pleased to contact him, [We cannot give correspondents' contact details but will try to make contact for you - Editor]
Kirti Patel, UK - Saturday, January 14, 2006 at 14:23:13
Shamb Purchit of USA who advertised on 22 JULY on this site that he or she was born on ss Amra, Please get in tourch with me on kirti_1@hotmail.co.uk I would like to get in touch as I was also born on ss Amra
Ian Wilson, US - Monday, January 2, 2006 at 21:55:44
I stumbled upon this site accidently and was more than interested in the Logbook having served as a Purser with BI from 1963 through 1972, principally on the educational cruise ships. I also spent time aboard the Kenya (indeed I was aboard for her final voyage to Italy), the Cadet ships, Chantala and Chindwara and many other vessels, including the Nowshera, Nuddea, Woodarra, Karanja, Kampala, Tairea and I was briefly seconded to the LST Sir Percivale. Many happy memories and, indeed, I recognise more than a few names referenced on the site. I now live in Florida, USA and manage a condominium.