...sign the Logbook anywhere you see the

icon
Michael Tilling, UK - Tuesday, December 29, 2009 at 15:08:09
For Peter Hackling. My apologies for not picking this up sooner. SS T.P. Tilling was not a BI ship. The boat was named after a Great Uncle who was lost with all hands on the Abhona (a BI ship) in the Bay of Biscay. It was a thank you for T.P. Tilling (Thomas Porter) and to the Tilling family for their support to the ship building company (Monks). A picture does exist. I found one simply through carrying out a random Google of the ship's name. John Tilling (distant cousin) has much more information than I. Hope this is useful. Please don't hesitate to e-mail me for further information.
Robert Kilburn, UK - Tuesday, December 29, 2009 at 10:41:32
Looking forward to catching up with news of old friends after so many years.
Ben Davis, UK - Saturday, December 19, 2009 at 18:26:38
I believe my Grandfather worked for BI in the 60's, 70's and perhaps the early 80's. I was trying to track down any information about him. His name was Edward Denis Davis, he lived in Twickenham, London
Bryan Zetlen, USA - Saturday, December 19, 2009 at 01:44:05
My father Rudolph Wihl was interned during WW2. He was a jew of German/Dutch/Swiss ancestry and it is likely that he was shipped via HMT Dunera to the internment camp in Melbourne, AUS. I am looking for any information about this subject.
Derek Hargreaves, UK - Tuesday, December 15, 2009 at 15:08:37
For Lyn Turner - message of 1.11.09. Regarding your search for Martha Elcoat's grave, some details and photographs of the bombing of the Domala appear in Valiant Voyagingí, BI (out of print books) with paragraphs from the WW2 Naval History (Internet) by Don Kindell and the Wikipedia website. The incident was widely reported in the press.
To summarise, the attack took place 24 miles east of St. Catherineís Point at 5 am in moonlight, with a cold, heavy sea running. The enemy aircraft was misidentified as friendly on account of flashing its lights. The engine room was hit, damage to the central superstructure appears to have been severe with the resultant fire out of control.
Lifeboats and rafts were launched which were raked by machine guns from the Heinkel 111 bomber. Exposure to the weather was another factor which accounted for the 108 deaths.
By 1245, 3 destroyers, 2 tugs, an anti-submarine trawler and a Dutch merchant ship were standing by. The destroyer Viscount picked up 120 survivors and the Dutch ship Jong Willem another 48 plus 3 found dead in lifeboats, the latter being landed at Newhaven. Other survivors may have been rescued by shore based lifeboats. The small number of dead reported as recovered, could account for the absence of a land based grave for your grandmother. It may be significant that her fellow Stewardess, Mrs Violette H Wymer, lost her life in the same attack. The PRO at Kew may have more details and a search of newspaper archives could provide pertinent clues.
John Malcolm Craik, UK - Monday, December 14, 2009 at 17:55:22
I sailed on ss Uganda in 1965/66 from London to Durban S/Africa. I did six trips as 2nd Chef, mainly looking after 1st class passengers. Each trip was of approx ten weeks duration. Hard work, but enjoyable P.S. I find the word "Other", somewhat degrading.
...sign the logbook

| | |
| --- | --- |
| | |
| | Purnea BI 1888-1923 |
Mark Fysh, South Africa - Wednesday, December 9, 2009 at 13:26:51
My paternanal Grandfather, Robert Parker Fysh, worked for BI from about 1890 to 1921? First Mate Sept 1890. Master on Bengal no 178 in 1895. From an inscribed serviette ring, I have a list of the ships he served on up to 1908.
Celestial Empire 1883 (training sail)
Milton Park 1887
Craigend 1888
Wirawa (or Virawa?) 1890
Bagdad 1893
Warora 1894
HMS Oalatea 1896
HMS Barfleur 1897
Matiana 1898
Hindu 1901
Africa 1902
Bulimba 1903
Sirsa 1904
Katona 1905 [probably Katoria - Ed]
Kola 1905
HMS Hawke 1906
Orissa 1908
Purnea 1908
He was at some time in the Royal Naval Reserve with the rank of Commander.
I have very little further information on the ships, but have a log book (day book?) that charts a few of his trips round Ceylon and to Beira (Mocambique.
I would really appreciate some info on those ships. If I can be of assistance, I will endeavour to forward what I have.
Angela McLean, USA - Wednesday, December 9, 2009 at 00:31:44
I am trying to find out about my husband's great grandfather Kenneth MacLean he apparently was a ships carpenter on the Java which was built in 1872 and scrapped in Bombay in 1904. We are trying to find out when he would have been on board the ship, if that information would be in any logbooks that might still be around.
Colin Brittain, UK - Tuesday, December 8, 2009 at 20:11:06
I would like to offer an open invitation to anyone with information related to the former hospital ship ss Rohilla who has not conversed with me. I am working on updating my book "Into the Maelstrom" and would welcome any additional information.
Geoffrey Haskins, UK - Friday, December 4, 2009 at 08:56:19
I am researching Old Conway Wilton Vivian Wood who died accidentally, aged 53 years, at Kilindini Wharf in Mombasa in 1941 and is interred in Mbarak cemetery. He is described in the records as "Captain in BISNC". Anyone heard of him?
Roger Julien, UK - Thursday, December 3, 2009 at 14:55:26
Looking for anyone who may have heard of ELIJAH JULIER mariner, my g g grandfather b1841 in Caister,Norfolk d 1925 in Dover. Believed to have worked the Indian routes at some stage. Reduced to mate from Captain after grounding on Goodwin Sands! Looking for ships he was on after the age of 27. Died aged 84.
John Leeson, UK - Thursday, December 3, 2009 at 10:25:45
For John Macleod : Will do, seeing them both this weekend. FYG Barney and Angela will be attending the Newcastle reunion next year.
Cyril Cooper, UK - Monday, November 30, 2009 at 18:31:22
I trooped out to Singapore in Dilwara in 1952. Great ship and a great time.
Jack Whitaker, UK - Monday, November 30, 2009 at 02:03:12
Was Radio Operator (BMN) onboard:
Baron Scott 20/4/40 to 4/9/40
Vulcain 1/10/40 to 18/12/40
Algerian 23/12/40 to 23/12/41
Nailsea Meadow 20/6/41 to 28/9/41
Karoa 9/1/42 to 14/1/43
Nirpura 26/1/43 to 3/3/43 (torpedoed and sunk in Indian Ocean)
Arosa (served on Norwegian Merchant Navy ship back to London)) 29/3/43 to 28/7/43
Ettrickbank 25/9/43 to 21/3/44
Dalcross 13/4/44 to 19/10/44
British Princess 27/11/44 to 3/5/45
Pachumba 23/5/45 to 1/8/45
Masula 7/8/45 to 15/2/46
Cambridge 2/10/54 to 10/11/55
Surrey 13/11/55 to 23/7/56
Northumberland 24/7/56 to 7/12/56
Peter Harvey, UK - Sunday, November 29, 2009 at 12:56:51
A first class company and the end of an era.
Carol Holmes, Portugal - Saturday, November 28, 2009 at 19:49:57
Wondering today what had become of the ss Karanja, I browsed through the internet and very happily came accross this site. I had a wonderful voyage from Bombay to Mombasa via Karachi in the mid 70's ('75?) on my slow journey from Tokyo to Rio. One of the scenes I remember vividly to this day was of a fish eating a chapati in Karachi harbour!
John Warner, USA - Wednesday, November 25, 2009 at 01:51:28
Seeking any information about Captain Frederick Fleming Flack. Active until about 1896. Associated with Calcutta. Built a house in his retirement in Woodhall Spa, Lincolnshire named "Dhoblat" after a village on Sagar Island, south of Calcutta on the Bay of Bengal. [The photo (right) you sent of a ship in the Suez Canal is of a Royal Navy ship, and not BI - Editor]
Michael Jones, UK - Tuesday, November 24, 2009 at 20:21:56
Sailed from Cardiff Wales October 1964. Aboard Devonia on a Staffordshire schools cruise. As a 14 year old pupil at Park Lane Secondary. Was supposed to visit Madeira. Unfortunately the "rough" sea conditions forced a diversion to Vigo north Spain. Tangier, Cadiz & Lisbon were also visited. Happy days!
Catherine Morris, South Africa - Sunday, November 22, 2009 at 08:40:41
My father was on the Amra as a patient and later a nurse. I would like to know more about him.
Vicky-Lee Blann, South Africa - Tuesday, November 17, 2009 at 20:55:06
I am researching my Grandfather's past. My grandfather was born out at sea, some time in the 1900's, his parents surname was Quinn they were on their way to Kyna (Africa). My mom does not recall much information about her father as she lost her father at a young age.
Susie Yates, UK - Thursday, November 12, 2009 at 18:16:54
Trying to find anything about my great grandfather Capt Robert Stewart Shannan Maclachlan.
...sign the logbook

Alana Houston, UK - Tuesday, November 10, 2009 at 17:37:49
We are seeking information on ships on which our uncle, Alexander T Adams (d.o.b 7/12/1929) served as an engineer between approximately 1947 to 1983 in order to prepare a tribute for his 80th birthday. Any help you can give would be much appreciated
| | |
| --- | --- |
| | |
| | Carpentaria (BI 1949-1973) |
| | |
Annette James, Australia - Monday, November 9, 2009 at 00:48:28


Does anyone know the whereabouts of Captain Micheal Gordon 1965 Carpentaria?
Melanie Melis, Germany - Thursday, November 5, 2009 at 20:15:00


Hello, i've just been to Torquay in devon and there i bought an old travel box on a flea market. i'm really anxious about getting to know something about its former owners. i've got their name and adress in london on the box and some stickers saying they had been sailing with BI's Kenya. I've been looking for a passenger list or other information allover the internet, but i couldn't find any more, so I wonder whether anyone of you could help me out and give some ideas where to look...furthermore there was written the name as well as p.w.d. Tanga on the box before it was painted over with the new adress in london and i wonder what that means?! I'd be really glad if anyone could help me in finding out more details. thanks.
Herbert (Bert) Smith, UK - Wednesday, November 4, 2009 at 22:39:07


I was an Engineer on board Aconda [Aronda?] in 1947 and would like to hear from anyone who knew me or was on this ship. I am now 83 years old and have just cam across this site which is fantastic and very interesting. Please get in touch. I was on a few of the BI ships.
Colin Govier, UK - Wednesday, November 4, 2009 at 15:52:58


I was on a school trip on the ms Devonia, it was cruise 57-1967. We went to spain portugal and france, lisbon vigo and brest anyone remember the cruise please contact.remembering some of the crew they were brilliant,I would also like to know more about the ship.
| | |
| --- | --- |
| | |
| | Quiloa (BI 1925-1941) |
| | |
Frank Quinlan, Australia - Wednesday, November 4, 2009 at 08:38:15


I have a photo of Dad with some officers off the Quiloa on Flat Top island off Mackay Queensland in , ahem 1928. I spent most of my life at sea in ANL from tripehound to master and met many English officers with BI experience from 1957 through 1997.
John Macleod, UK - Monday, November 2, 2009 at 21:37:44
To John Leeson; Of course I remember your Dad- and your Mum (who I believe came from Central Scotland)- Good to see that they are up and about. Please pass my sincere regards to them both.
Lyn Turner, UK - Sunday, November 1, 2009 at 02:33:22


Hello, trying to track down where my grandmother Martha Elcoat is buried. She was a stewardess on the mv Domala which was bombed just off the Isle of Wight on 2nd March 1940. Do you have any clues where I could find out more? Thanks
John Hulett, UK - Wednesday, October 28, 2009 at 18:38:14


I went on a school cruise on the Dunera in 1964 and on the Nevasa in 1967. I have some memorabilia from those trips.
Don Pescud, Australia - Wednesday, October 28, 2009 at 10:16:12
I am trying to get in contact with Matthew Dunnachie from the U S
Pip Dealtry, UK - Friday, October 23, 2009 at 09:50:23


I was one of the PE students from Dartford College who was lucky enough to be chosen to help run the deck games on the ss Uganda for an educational cruise. I went in May/June 1970 and the ship sailed from Tilbury to Casablanca, Madiera, Tenerife and Lisbon. It was the most wonderful experience, teaching the children by day and socialising with the passengers and crew at night... and it counted as teaching practice!
Robert Bradsell, UK - Thursday, October 22, 2009 at 16:05:05


My father served as assistant engineer on the Domala between 1937 and 1939. I have one or two photos of crew , the domala, insignia, and places he visited whilst serving on this vessel, these i can share if anyone is interested, my dad sadly passed away in July 2002 at the age of 89
James (Paddy) Devlin, UK - Thursday, October 22, 2009 at 10:03:05


Looking for news of Peter Freeborn (Fleeby) who was 2nd.0 when we sailed on Bombala in the '60s
Gray Newnham, Australia - Wednesday, October 21, 2009 at 23:52:18


Just browsing your site for info re ss Tanda. My father, Arnold Newnham, sailed on her, on what I believe was the ship's penultimate voyage from Sydney. He passed away 19.10.09; we may have been without him altogether, had not the MP's removed him from the Tanda on its arrival back in Sydney. He was serving in contravention of Manpower regulations in force at the time.
Colin Baker, UK - Wednesday, October 21, 2009 at 10:32:57


Help, please. I am writing the biography of an East African Governor. He sailed to Mombasa in 1931 I think on the Modasa. From which port did the Modasa sail, please? Professor Colin Baker.
Peter Brown, Australia - Sunday, October 18, 2009 at 22:33:06


Michael King [Jan 15, 2009] asked about me. Contact would be most welcome. How does one go about contacting others through this site?
Lillian Toberer, US - Friday, October 16, 2009 at 19:18:13


I have found a painting of a woman sitting in a deck chair with the inscription ss Dunera, September 27, 1902. The initials S.D. were above the date. The painting was originally in the possession of a man from Edinburgh, Scotland. If there is a passenger manifest for that sailing it might give me a clue to the identity of the woman or perhaps the artist.
Thank you, in advance, for your time.
Ramsaran Maharajh, US - Thursday, October 15, 2009 at 14:37:02


Hello , looking for information regarding indentured workers to Trinidad 1904 from Calcutta. Any info or direction will help just starting out.. thanks
Ajay Sharma, Canada - Wednesday, October 14, 2009 at 00:13:54


If someone has picture of ss Virawa can you please let me know.
Melody Cotterill - Monday, October 12, 2009 at 15:35:23


I went on a school cruse No 55 on Devonia to Scandanavia in 1967 with Engayne junior school - great sucess and fond memories.
Colin Govier - Sunday, October 11, 2009 at 20:14:52


Sailed on the ms Devonia school trip (cruise 57 1967) Spain, Portugal and France would like to find out more about ship and what happened to it. From Tilbury to Vigo, Lisbon and Brest on school trip. It really was the best trip i've ever been on. i would love to hear from people who were also this trip.
Saleh Alblushi, Oman - Wednesday, October 7, 2009 at 08:45:37


On 28 June 1943 a Japanese submarine torpedoed a British merchant ship owned by the British India line in Muscat harbour. I would highly appreciate if you kindly guide me where to find more information about this accident. Thanks a lot.
Morley Prowse, UK - Monday, October 5, 2009 at 14:46:27
A message for John MacLeod---- we sailed on the Canara in '63/64 and downed many a beer together? It would be good to make contact.
David Bell, UK - Wednesday, September 30, 2009 at 20:22:44
Reply to John Robertson 25th. September. What Ho Robbo, Still on this mortal coil then!
You almost got it right, but it was early 70s. I think I also gave you a large painting of an island sunset which I picked up in Djakarta when we were there. Jock Sturrock was C/E/O/ -- we sailed together for bloody years! ! Yes, I do remember Anne very well, her surname is actually Goulet ! Good to hear from you , and not a little surprised ! Give me a buzz or e-mail. All the very best.
...sign the logbook

David Humphreys, US - Tuesday, 29 Sep 2009 12:25:18
In reply to Mick O'Donnell, Australia, May 14, 2009, regarding the end of the horse trade between Australia and India, pre WWII. Actually the last BI ship to sail from Australia with brumbies was in late December 1949, when Querimba loaded several hundred horses in Sydney for Bangkok. I was one of two 16 year-old cadets. Growing up in South Australia, I had some knowledge of wild horses (brumbies) and many of the horses being loaded in Sydney were in poor condition. As we sailed north through the Barrier Reef, sickness among the horses spread. The Australian grooms did their best, but a number of horses died, passing Rockhampton in Northern Queensland, a launch came alongside and dropped off a supply of antibiotics, unfortunately, more horses died before we saw any improvement. The dead horses had to be dragged through the Shelter deck by way of an elaborate system of blocks and pulleys. The heat, stench, kicking horses in the stalls and the sound of stretching necks as the horses were winched through the shelter deck made for many miserable afternoons. Once on deck the horses were hoisted about ten feet into the air, the boom was swung out over the side and a slip knot released the carcass into the sea. After nearly three weeks at sea, we berthed in Singapore and the remaining horses staggered ashore; they completed their trip to Bangkok by rail.
Ten days later Querimba tied up at Garden Reach Coal terminal In Calcutta. On the dock was a 10,000 ton mountain of coal. Loading the coal into the ship's six holds was handled by 2,000 women. They walked up and down the dozens of narrow wooden ramps erected between the dock and the deck of the ship, carrying the coal in baskets on their heads. Covered in coal dust they worked through the night and as the mountain of coal receded back from the ship more women were added. The 10,000 tons of coal was loaded in three days. Querimba sailed shortly after for Madras and as we pulled away from the dock the Chief Officer made the comment, "like the horses, the women will soon be replaced." Well Mick....This time it really was the end of an era!
John Aitchison, New Zealand - Monday, 28 Sep 2009 16:44:50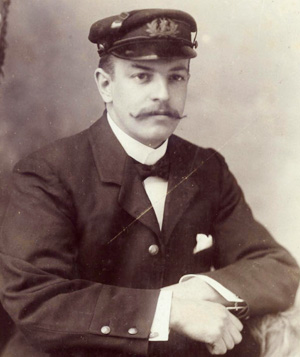 I would be grateful if you could tell me if the gentleman in the attached photograph is wearing a BI uniform and if so what his position was. I would guess the photograph was taken about 1900. If you know who he is that would be even better! My grandfather, John Mckinnon Aitchison. was a chief engineer with BI, spending part of his career based in Rangoon, where my father spent the first 6 years of his life from 1911, and where by pure chance he met up with his brother, David Livingston Aitchison, in 1946. David was captain of the Orna, I think with BI. [As he appears (on close examination) to be wearing a BI cap badge, he is almost certainly a BI officer - Editor]
Arthur Wood, UK - Sunday, September 27, 2009 at 14:49:55
Reading through log book entries i came across the entry from Brian Young,Australia March 23rd 2008. Regarding his father Joe Young, who had sailed with BI,i know Joe Young very well,i served my apprenticeship with him,also sailed with him on MV Sangola Joe was 4th engineer. I still have the Christmas day menu from 1951, the following where the ship's company:
Mr R F Weatherseed Commander
Mr J D Sleigh Chief Officer
Mr J M Woolock 2nd Officer
Mr J R D Mcleod 3rd Officer
Mr W J Backman Purser
Mr S K Sen Surgeon
Mr R G Smith Radio Officer
Mr R G Smith Cadet
Mr R H Irving Chief Engineer
Mr W Whittaker 2nd Engineer
Mr W Rice 3rd Engineer
Mr J W Young 4th Engineer
Mr I J May 5th Engineer
Mr K A Hambridge 5th Engineer
Mr A Wood 5th Engineer
Mr J Lindsay 5th Engineer
I still keep in touch with Kieth Hambridge who lives in N S W Australia. I am looking forward to the reunion at Gateshead 2010 my home town.
John Aitchison, New Zealand - Sunday, September 27, 2009 at 05:49:22


To John Aitchison, USA - I came across your entry of 08 April 2009 when looking for information about my grandfather and your father's father. The last time we met was in Torrance in 1978 or 7.I would be very pleased if you could contact me
Roy Reardon, Azerbaijan - Saturday, September 26, 2009 at 19:33:50


Very Interesting site, main interest BI Troopships & LST's. Joined BI in 1969 as 5EO serving on the LSL Sir Geraint and transfered to the RFA in 1970 with the "Sir Boat" fleet also served in the RFA Sir Galahad(1) and RFA Sir Percival (but only for a very short time)
John Robertson, Australia - Friday, September 25, 2009 at 05:52:57


David Bell, UK (Sunday, May 3, 2009) - Dave, I think you may be the one who gave my kids a baby goat (you were looking for a camel) as a going away present!! mid seventies. Would be after the Bamora??? Frank Heard was the old man I think. Does the name Anne Gourlet ring a bell?
David Hulme, UK - Wednesday, September 23, 2009 at 16:23:55
Fascinating website - just discovered it. I worked in (Educational) Cruising Department from 1963-67 - mainly with Special Boat Trains and Flights. Lots of great memories. Anybody around who was there? or any questions? Great to hear from you.
Stephen Benham, UK - Wednesday, September 23, 2009 at 11:25:19


Re. Captain Harold Goater (Alan Williams's query dated 24 April 2008 and Derek Hargreaves's reply of 8 July 2008.)
I have Capt Goater's copy of 'Valiant Voyaging', including his comments on several pages. On page 74, where the book says "On 25th July [1942] the ship ahead of her blew up and the force of the explosion lifted the Warfield almost out of the water ...", Goater adds: "Empire Hawksfield from Belfast. No survivors. Three plans for Italian landing fell on Warfield. Sealed up by me & given later to Capt. R.N. Cape. Very Secret. Note date! Amio Farm house [ranges?] etc.!!!"
At the end of the same paragraph, "but not a soul in the ship received so much as a scratch." he has added "again, Goater touch!"
The passage on pages 101-102, including "The last bomb of the last stick fell very close to the Warfield", he has underlined "lifting her out of the water", and added "I said: 'Lifting her considerably'. Land lubber tripe again!!! The ruddy book is full of it!"
And finally, on the photograph of SS Varela opposite page 134, he has written "Trooping under my command until I was asked to Viceroy Staff, Delhi (Rajah of Khota's residence, N Delhi) (S. Block, Sect Office). Capt. Sir [illegible] Brookes relieved me!"
Roger Muir, UK - Monday, September 21, 2009 at 16:12:26


Whilst doing family history research, I discovered that a distant great uncle was a marine engineer with BISN. His name was Alston John Muir and he died in 1966. He was a engineer with this investigation:
The Marine Court of Inquiry appointed to investigate the circumstances attending the accident to the ss Sarvistan of Hong Kong.
Chief Presidency Magistrate's Court,
Bombay,
30th August, 1927.
Pursuant to Government Resolution No. 783-1328, dated the 19th August, 1927, Marine Department, Bombay, appointing Mr. H. P. Dastur, Acting Chief Presidency Magistrate, Bombay, Captain Lionel Arthur Beytagh, Master s.s. "Chakla," and Mr. Burns Crosbie Sharpe, Assistant Mechanical Superintendent, Bombay Port Trust Workshops. Mazagaon, to conduct an inquiry into the circumstances attending the accident at Sea to s.s. "Sarvistan," the Court assembled on the 24th, 25th and 26th day of August, 1927, for the purpose stated.
As it appeared that this investigation was likely to involve the consideration of the question as to the cancellation or suspension of a certificate or certificates, the Court, under Section 254 of Act 21 of 1923, constituted as its Assessors Mr. Alston John Muir, Superintending Engineer, B.I.S.N. Company, Limited, and Mr. George Batton Shuttleworth Roberts, Chief Engineer, s.s. "Barala."
[This entry has been edited to show the parts of the court document most relevant to BI and BI personnel - Editor]
...sign the logbook

Bob Rodgers, UK - Monday, September 21, 2009 at 15:30:21


I have a letter sent to my Grandfather in 1902 from J Walker, purser, on the Arratoon Apcar. Also I believe I worked on a couple of BI ships when I was apprentice welder in Smith's Dock North Shields during the late 60s.
Chris Adams, UK - Saturday, September 19, 2009 at 21:25:28


Very interesting site and some amazing memories. My Gt Uncle ERNEST GILES was a Supt Eng with BI in the early 1900s, based in India for a time, and his late widow used to talk about the port of Dhanushkodi in the 1920s. They returned to UK on the ss Mandala from Colombo in July 1920. Are there any elements in the archives or people's recollections relating to the way the company shore management worked in southern India? I was told that he had a private railway coach paid for by BI to "undertake his duties" - would this be a likely story or just a fable?
Peter Scott, UK - Friday, September 18, 2009 at 09:08:17


Sailed on the Dwarka most of 1980 as a junior engineer.
Shrey Tayal, India - Wednesday, September 16, 2009 at 18:01:15


THIS was formerly the The "River Steam Navigation Co" in India , which was used transport TEA from ASSAM to CALCUTTA. [This entry is from Shrey Tayal of CENTRAL INLAND WATER TRANSPORT CORPORATION]
Keith Walker, UK - Tuesday, September 15, 2009 at 23:51:32


To John Soares [log entry Aug 1, 2009], Have for many been trying to contact you John, please can you get in touch lots of news.
Ramendra Chand, New Zealand - Thursday, September 10, 2009 at 10:11:48


hi there, my great great grandfather came to fiji from india in the ship Virawa. His name was jagan and his fathers name was Javabar(i think). he came in 1902 from jabbulpur, thana shapura. If you have information regarding our search please contact us. Anyone from jabbulpur can help us.thanks.
Peter Johnstone, US - Thursday, September 10, 2009 at 09:19:48
I have always wanted to thank 'someone' for the absolutely fantastic 'school' cruies I had on the Dunera in 1964-66-ish as high schooler from Dalkieth, Scotland. The first took us from Grangemouth up to Norway and Denmark (Trondheim, Aldalsnes, Bergen then Copenhagen) and back into Greenock and home by bus ... what a trip! The next was (I think) out of Grangemouth also and on to Cherbourg, Lisbon and Tangier. What a fine effort made by the ship's and school staff which now later in life I have come to fully appreciate. Thank You for the great experience and memories. Too bad the world has changed - BI made it great!
Peter Griffiths, Canada - Monday, September 7, 2009 at 13:41:56


Great to see John MacLeod's message. I was Junior Cadet on Bamora's maiden voyage in Jan 61 and remember John Gunn Mcleod well! Happy Times. I would like to be in touch with John? [Your contact details have been sent to John MacLeod - Editor]
Andrew Bunyan, UK - Sunday, September 6, 2009 at 23:14:54
I sailed on the 1965 schools cruise to Madiera, Tangiers and Lisbon that set sail from Avonmouth docks. My dorm was called Gaggarin after the Russian spaceman and I was seasick for the first week but I enjoyed it all. I would love to hear from anyone who also made that trip especially anyone from Priorwood Secondary Modern School, Taunton.
Alan Rossiter, Australia - Friday, September 4, 2009 at 08:47:03


I am trying to find out anyone who may have sailed with my father Frederick Rossiter, Marine Engineer. He may have been second engineer. He was torpedoed twice while serving with the BI in WW2. I beleive one of the ships was the Dumra sunk in 1943. Can anyone tell me the name of the other ship? He also sailed on the Mulbera, Palikonda and Dilwara.
John Leeson, UK - Wednesday, September 2, 2009 at 14:32:07


For John MacLeod re entry 18th August Bamora. You must remember my father
Barney Leeson served as Ch. Officer. I was on board at some point with my younger brother, sadly too young to remember all the antics.
Michael Brand, UK - Monday, August 31, 2009 at 10:22:06
BI Engineer cadet from 1965, still at sea working for P&O Ferries as Chief Engineer
Alan Chambers - Saturday, August 29, 2009 at 12:14:20


Regret to inform your visitors of the passing on 21 August 2009 of Capt Harry Chambers - my father in Fremantle WA aged 84. Commanded amongst many Orna, Purnea, Bombala, Nuddea (first voyage to Japan) Morvada? P&O Strathconon. Attended BI Reunion in Fremantle Oct 2008.
| | |
| --- | --- |
| | |
| | Nerbudda (BI 1919-1936) which, for a very brief period in 1934, was employed as one of the company's cadet ships |
| | |
Pamela Passmore - Wednesday, August 26, 2009 at 08:30:43


Replying to Janet Waring from April 10, 2009. Her grandfather might have been on Nerbudda in 1922 when my grandfather (master) died of cholera in Karachi in 1922. Does she have any more information?
Mike Holt, UK - Monday, August 24, 2009 at 10:08:50
i sailed as a child with my parents on crusies from 1972 to 1978 on Nevasa and Uganda. Please [leave a message for me here] if you remember me.
Mitch Smailes, New Zealand - Friday, August 21, 2009 at 22:53:39
I could not believe my eyes when i saw where the next U.K. reunion is going to be held (the town of my birth) so in 2010 i must make an effort to attend this one!!
Philip Povey, UK - Friday, August 21, 2009 at 01:50:03


I am currently trying to piece together a complete record of my service with BI. The one year that I have not been able to complete is 1967. Is there anybody out there who has a record or part record of the cruises carried out by the Devonia and Dunera during the course of that year. Thanks in anticipation
John MacLeod, UK - Tuesday, August 18, 2009 at 22:22:56
Sailed as Radio Officer on Bamora`s maiden voyage. Joined her in Glasgow Jan 61 and signed off in Calcutta in July 63. Happy days
Kishore Jeram Katechia, UK - Monday, August 17, 2009 at 16:55:13
My father travelled on ss Tairea on 5/01/1939 from Porbandar (Gujrat, India) to Mombasa, Kenya.
Mohammed Janif, Australia - Monday, August 17, 2009 at 05:35:32
Where can I get more information about passenger ship ss Fazilka III, which used to transfer passengers from India to fiji in late 1800's & early 1900's? Need to get hold of ship log, Passengers & there address in India? [While Fazilka was a name used by BI for one of its ships - a 4,155 gt vessel in service from 1890 to 1923 - Fazilka III was not owned by the company - Editor]
Inderlall Kissoon, UK - Sunday, August 16, 2009 at 12:46:45
Please let me have any information on the ss Congella, if its on your record. I am trying to trace my ancestory. She sailed from Calcutta in 1892 to Natal/South Africa with my grandmother (6 years then) and her parents/ Look forward to hearing from you. [Congella was not a BI vessel - Editor]
...sign the logbook

Paul Butler, UK - Sunday, August 16, 2009 at 10:45:57
I am looking for any pictures of the ss Tanfield. My next door neighbour (Bob Mcpherson aka Daz) used to serve on the cargo vessel during WWII as a gunner, and has fond memories of both ship and crew. Has he has no pictures as they were not allowed take any for security reasons, I would like to surprise him with a picture if possible or any history of the vessel. Any help with this would be much appreciated.
Nathan Heal, UK - Wednesday, August 12, 2009 at 21:51:53
I was a passenger on a school trip to Norway, Denmark and Holland. I was 11yrs old. It was brilliant. I remember the crew were from Calcutta.
| | |
| --- | --- |
| | |
| | Torilla (BI 1911-1927) |
| | |
Bernice Ganley, UK - Wednesday, August 12, 2009 at 02:07:10
My grandfather sailed on the ss Torilla for the Mesopotamian Campaign in WW1. He was a volunteer in Dunsterforce. He died and is now buried in Iran. I would really love to have details of the ship's route and a picture of the vessel.
Odette Mayne, Australia - Sunday, August 9, 2009 at 03:49:56


I am researching family history with a view to writing a book. My grandfather William Horace Walsh was an engineer on BI ships in the early 1900s. I am not sure when he started, but was born in 1895 and by 1926 was back in Australia and died in 1964. I remember as a child he used to talk to me about the exotic places he visited - he talked a lot about India. Also have the feeling he may have worked up the eastern coast of Australia to Thursday Island. My grandparents travelled to England in 1956 and they may have been there for the centenary of BI. I am interested to know if there is a way I can access my grandfather's crew records from Australia and re-trace some of his voyages to include in a book about his family. Thanks. [Official crew records of all British ships are archived at the Public Record Office, Kew. These are the records and documents of the Registrar General of Shipping and Seamen. A personal visit is necessary but it should be possible to trace all a seaman's ships from these records. Some BI personnel records are held at the National Maritime Museum, Greenwich, and, again, a personal visit is necessary - Editor]
Helen Neville, UK - Thursday, August 6, 2009 at 10:42:30


I was so thrilled to find your website when entering on Google the name Tahsinia [some of the crew of which were rescued by Nevasa (1943)] - I note that a Cynthia Wilson wrote to you in 2008 requesting research information: my Father, Archibald Campbell Henderson, was a Third Engineer aboard the Tahsinia and a survivor on a lifeboat (#4). I would love to make contact with Cynthia as I have documents relating to the incident which may be of interest. Please would you be kind enough to put me in contact with her and anyone else who may have knowledge of the event or where I may find more information? Many thanks.
Paul Raper, UK - Wednesday, August 5, 2009 at 22:41:40


Does anyone remember me Strathmore Jelunga
John Soares, India - Saturday, August 1, 2009 at 10:42:57
Glad to have found this website. Have sailed with BI as Purser from 1956 to 1979 on various vessels. Nice to see some familiar names after such a long time.
Francesca Kirby-Rose, UK - Tuesday, July 28, 2009 at 22:30:05
I am researching the original Teesta, as my Great Grandfather was its Captain from 1903 to 1904, Alexander MacDonald Rait. Any one who has any pictures or information on this shipping would help me so much if they could contact me.
Joe Walker, UK - Sunday, July 26, 2009 at 01:32:26


Does anyone have details of an accident aboard the Orna when she was in Dundee April 1966
Christopher Shaw, UK - Thursday, July 23, 2009 at 22:33:41
Regarding the Baroda, destroyed in the Fort Stikene disaster in Bombay, 1944. If anyone is interested, I have some information from a Fire Service publication, supplied to me by an old friend who was in a submarine in Bombay at the time, and who was one of the many servicemen called on to unload ammunition and explosives from one of the ships while the fires were raging. Fortunately, I was busy elsewhere at the time.
Subhash Rughani, Australia - Thursday, July 23, 2009 at 01:34:42


I was a passenger (at the age of 6) on the ss Uganda on her maiden voyage in 1952. I was with my grand parents and family travelling from Zanzibar to England
| | |
| --- | --- |
| | |
| | Tanda (BI 1914-1924) pictured after the ship was sold in Oct 1924 to associate Eastern & Australian Steam Ship for Australia-China/Japan services |
| | |
Harper Wright, UK - Wednesday, July 22, 2009 at 20:34:30


I am trying to identify the signature of the Chief Officer of HMAT Madras (ss Tanda) in July 1919. Are there any lists of officers that could help me identify this person? [Harper adds that there are photos of the ship as HMT Madras, including loading troops in Egypt in 1919, available at the Australian War Memorial site (http://cas.awm.gov.au) refs B01339A, B01339C, B01339B] [From information provided by Harper Wright, it appears likely that the officer in question is S N Inman who is referred to on this site as being in command of Chilka in 1930 - Editor]
Denis Turner, UK - Monday, July 20, 2009 at 20:18:48


Served on Nevasa on her last trips as trooper. Laid her up in River Fal then transferred to tankers starting with Busiris, Foyle etc before transferring to Trident Tankers. Keen to contact EO Micheal Cunningham if anyone knows his location
...sign the logbook

Christopher Shaw, UK - Monday, July 20, 2009 at 14:18:28


Joined mv Orna in Bombay, 1942. Chief R/O was Jack Ashcroft from St Helens. Cadet Jack Dalby. Had a wonderful 18 months aboard, including up the Med where we had an interesting time in Sicily - 'Rockery' and Syracuse. Salaams to one and all (including our DEMS gunners - especially Titch, whose head I banged under the ammo table when we heard that Stuka coming down! Sorry, Titch, but I was a bit busy on the Oerlikon after that.)
Last heard GJGK on the air 'QTP Curacao' when I was crossing Atlantic after the war. Thought she was a bit off course but couldn't QSO to ask why. Teen No Marconi Sahib
Tom Allison, UK - Saturday, July 18, 2009 at 15:04:05


I served my apprenticeship and worked as a ship d'man at the Clydeholm shipyard of Barclay, Curle. BI ships I worked on were: Kenya (719), Uganda (720), Chakdara (722), Chinkoa (723), Nuddea (732), Nevasa (733), Nardana (736), Woodarra (737) and Waroonga (738). Of these ships, despite the fact I came near to being killed during her construction, was Nuddea. The last BI ship I actually saw, was Uganda (after her conversion) when she appeared out of the mist one morning on the Clyde on a visit to Glasgow.
Amy Bruce, Australia - Thursday, July 16, 2009 at 19:31:14


Recently a friend gave me a copy of a photo of the ss Waipara from your logbook along with enquiries from folk comcerning the ship. This was of great interest to me because my mother & I sailed from England to Australia on the Waipara in May 1916. We disembarked in Brisbane and the ship went on to Townsville before returning to England. I still have, and cherish, a letter written to me from the purser of the Waipara and posted from Townsville. His name was W J Perkins (who I called Uncle Billy). In his letter he also sends "Best Wishes from Uncle Chris". I don't know Uncle Chris' surname. Although I was aged only two and a half I have some memories of incidents on the ship during the voyage and I still remember Uncles Billy and Chris. My mother told me it was a rough voyage as we were chased by German submarines for a fortnight and it was only the superb seamanship of our Captain that got us safely through. He zig-zagged the ship 24 hours a day for two weeks. Crockery was broken, passengers seasick and their bunks due to the tossing of the boat. Passengers were told that we were weathering severe storms and weren't told the real reason until the ordeal was over. I guess the Captain had enough trouble to take care of without hysterical passengers to deal with. Maybe some descendents of W J Perkins will read this memory of the Waipara and if so I would love to hear from them.
Tallal Malik, US - Thursday, July 16, 2009 at 17:47:31


May I get the contact information of Mr Ciraz Mussa Mahomed, UK? Per this log, few of his relatives survived ss Tilawa and one of them is still alive. My grandfather's brother was one of the passengers on SS Tilawa who unfortunately went missing as the ship sank. I am very much interested in talking with Mr Ciraz Mussa Mahomed's relative to ask him about his experience and inquire about my grandfather's brother Mr Mohamed Din.
Mike Adair, Thailand - Thursday, July 16, 2009 at 12:24:12


I am looking for a picture of the ss Aronda 2 that took the 42nd Royal Tank Regiment from Gourock to Tewfik, Egypt in April/May 1941. Any ideas?
Thamarashan, Malaysia - Thursday, July 16, 2009 at 08:01:41


Can anyone enlighten me about the voyage of ss Jalagopal (ex Edavana) from Madras to Singapore in late 1952 when the ship was caught in a storm. Possibly a photograph as well.
Noor Ismail (Parker), South Africa - Thursday, July 9, 2009 at 07:22:05


Travelled Durban to Bombay 1959 and back in 1961. As I get sea sick the only pleasure I had was seeing all the different countries on the journey. I'm particularly interested in the Tilawa sunk in 1942 by the Japanese as there were a few family members and neighbours on board
Tony McDonald, Canada - Tuesday, July 7, 2009 at 01:28:29


I'm trying to find out some details on the origin of the word "POSH". I believe it originated with BI, referring to "port outbound;starboard home" which became "posh" on the person's ticket - hence more comfortable as the cabin would be on the cooler side of the ship in the days before air-conditioning. Could I get more details, please - times to sail from England to India, ports, costs of a "posh" ticket vs a regular ticket, etc?
Roger Richards, Australia - Monday, July 6, 2009 at 06:43:45


In response to Jane Bateman, Australia Jan 18, 2009 re Mike Cullerne, I was a cadet on Garbeta for the whole of calendar 1961 when Mike was 3/0. He was good friend and slipped me many a beer! Met Mike again at the Penang reunion and he was then working in the off-shore supply boat biz for Swire ex HongKong. Subsequently tried to contact him at his N. Devon home without success.
Louise Smith, Canada - Friday, July 3, 2009 at 16:30:32


Sailed on Cruise # 56 in 1964 with others from my school - Eastwood Senior Secondary. Our itinerary was Greenock, Vigo (Spain), Gibraltar, Tangiers, Lisbon and (I think) Leith. We had a fabulous time.
Frank Schofield, UK - Wednesday, July 1, 2009 at 09:00:04


I collect maritime postal history and recently picked up 5 envelopes from Capt D Barling to his wife? in South Africa in each case the name of his ship has been cut out by the censor. From your excellent site I know he commanded Ethiopia in 1939 and Khandalla in 1940, but the postmarks on the covers were used in 1944/45 can anyone help me on this one? Thank You
Mahaletchumi Nagalingam, Malaysia - Monday, June 29, 2009 at 04:42:19
My elder sister, Rajula Devi was born in 19 June 1964 on board of Rajula ship on the way to Malaysia. A birth certificate was issued to her at that time. On October 2008 her purse was snatched by snatch thief where her birth certificate was in it. She has made enquiry with Birth and Death Department in Britain that apparently there is no whatsoever record with them. Please help us on the matter. [British ships are required to file returns of births and deaths ocurring on board. This is done at the earliest possible opportunity via the British Consulate at a port of call. If Rajula (the ship) was en route to Malaysia, the first port of call would probably have been Georgetown, Penang. The necessary return may have been filed at Georgetown or at, for instance, the terminal port of Singapore. Such returns are then sent to the Registrar General of Shipping and Seamen in Britain, whose archives are now held by the National Record Office at Kew near London. The return form which the master completes (B&D1) is supposed to be complete with the nationality of the father and mother of the baby. Masters of British ships are not licensed to issue official birth certificates. It is most likely that a birth certificate would have been issued by the government or consulate of the country of nationality of your sister's parents, or possibly by the British consulate at the port where the return was filed. In passing, your sister belongs to a small, select band who are for one reason or another named after BI ships - Editor]
| | |
| --- | --- |
| | |
| | Built for and operated in the fast Gulf mail, Vasna (BI 1917-1951) spent all World War II as a hospital ship, having been converted in 1939 at Mazagon Dock. She was the first hospital ship into Japan after the surrender and carried a full complement of PoWs to Sydney |
| | |
Andrew Bond , UK - Friday, June 26, 2009 at 10:38:47
My late father Jack Bond served on the Hospital Ship Vasna from 1942 until the end of the War. I am compiling a brief history from notes he has written. Any information or photos of the ship would be of interest.
Ian McWhannel, India - Friday, June 26, 2009 at 07:12:00
Joining back after sme years off this web page.
Elizabeth Stich, Germany - Sunday, June 21, 2009 at 15:42:13
My grandfather sailed on the ss Dumra in July 1915. He left Karachi on July 6th 1915 and sailed through Muskat, Basshire to Busra (Basra) on July 11th to join his regiment there.
Terry Dockery, UK - Wednesday, June 17, 2009 at 22:17:44
Joined P&O GCD but had the pleasure of serving on a few BI ships, Chakdina (74-75), Karanja (75) and Strathmore (Morvada 76-77) recognise a few names,
Roger Julien, Spain, Wednesday, June 17, 2009 at 17:57:12
Looking for imfo. on my g grandad Elijah Julier b1841 d 1925, believed to have been on the east india line. He was a 2nd officer, progressing to Captain. Looking for his ships & where he travelled to? [Is it possible to be more specific? The East India Company ceased existence in the 1830s. British India SN was formed in 1856 and had no connection with the East India Company - Editor]
...sign the logbook

Raymond Clark, UK - Tuesday, June 16, 2009 at 10:12:30
I served with the BISN from 1947 - 1962 and have worked on the Vasna, Modasa, Pachumba etc and enjoyed every minute of my navy life i am now 79 yrs of age and have excellent memories of my time there.
| | |
| --- | --- |
| | |
| | Rajpootana, one of BI's early ships, part of a series of six vessels of about 2,030 tons gross, built in the mid-1870s by Denny of Dumbarton |
Nikkie Burke, UK - Tuesday, June 16, 2009 at 02:10:21
I am interested in the HMS Rajputana, My Great Grandfather went down with this ship when it was torpedoed in 1931, his name was Reginald Wharton, any info would be appreciated. [The ship referred to by Nikkie Burke is the P&O vessel of 1925-1941(with similar name to BI's Rajpootana, but which was in service much earlier between 1874 and 1902) - Editor]
Diane Cornell, Australia - Monday, June 8, 2009 at 10:21:51
My 87 year old mother has been compiling her family tree for the past 30 years. I believe she is so active today due to the intense research she has done and still is conducting. My mother is becoming very frail and weak but her mind to try a different avenue to find him never stops. His name was Francis (Frank) Wardes and he married Amelia Townsend. Other information we have so far is: He was born around 1823, this was determined from his son's Charles Perry Wardes marriage certificate which states his father's age. He worked as captain and eventually a commander on steam tug boats in Calcutta India. The boats Rattler, Electric and Union and the company he worked for was Apcar between 1850 and 1869. We desperately need any information we can get about him my mother, has his death certificate, marriage certificate but not his birth certificate. If there is any way anyone has the records that you are able to assist my mother.
Bertram Wilton-King, UK - Monday, June 8, 2009 at 16:52:19
Grand/Father Bertram King, Engineer 1913-1919. Died aged 33 in Rangoon 1919 married to Maragret Bennett in Calcutta 1912. i would like to know where i might locate records for my grandfather. i have a photo of him in his uniform, with the Insignia of the BI Ship line on this Cap !!!!!, i therefore assume he was employed by the BI, is it possible someone can advise me?
Tim Parsons - Sunday, June 7, 2009 at 20:48:25
Great to find this site. My Father set out for Hong Kong from the UK on the HMT Neuralia in I think 1937. I have a photo and postcard of the ship. If anyone can help me pin down the dates more exactly, that would be welcome.
George Wallace, UK - Saturday, June 6, 2009 at 12:22:28
Very interesting site. I am looking for info on the old Amra, a Schooner of 518 tons, owned by BI between 1890 and 1907. [Amra was the third of three small, shallow draft ships of around 500 gt and 190 ft loa ordered by BI for Ceylon-south India services. First was Aska, delivered in 1889. The second was laid down as Amra but was transferred (as Juba) to the Imperial British East Africa Company. The third in the class was the second Amra, a ship of 518 gt, 450 dwt with a draft of 11.8 ft. She had a three-cylinder steam engine of 875 ihp giving a trials speed of 12.79 knots and auxiliary rig of two-masted schooner. Employed initially on the Colombo-Tuticorin route, she was transferred to the Tenasserim (Burma) coast service in 1904, and sold by BI in 1907 to subsidiary Australasian United SN. Still named Amra, the vessel remained in AUSN's South Pacific island trades until sold to a Singapore owner in 1923 - Editor]
Tom Kelso, UK - Sunday, May 31, 2009 at 19:48:00
For John Page, Well remember you in Chantala, 1955/57 and in the ship's soccer team. A check on my memory..did you hail from Stanford-le-Hope (very handy for Tilbury)? If you are new to this site, suggest you enrol in BIship where you will be able to contact quite a few Old Chantalians, both in UK and in OZ. Kind regards
David Keighley, US - Thursday, May 28, 2009 at 03:04:15
Just found this website after many years, will have to check it out regularly now. If anyone remember Glanville Phillips, who was with the BI at one stage, he is now living in Floral City, FL in his mid 70's and still going strong. Will happily pass on any messages to him. Looking through some of the reunion photos and found Bill and Di Blake. I don't know how you get email addresses or phone numbers without having to spell them out in the log book entry, Bill but if you can email or phone us, Wendy and I have been in Florida for the last 27 years.
UK Debbie McKenzie, UK - Wednesday, May 27, 2009 at 17:14:02
Fantastic site, found info on one of the ships my grandad was 4th engineer on in 1939. would love to contact anyone who may know more of him: Frank Ross from Newcastle UK
Mike Ratcliffe, UK - Monday, May 25, 2009 at 22:21:09
Our Battalion, 1/3 East Anglian Regiment, sailed home to UK on the Nevasa in January 1962. The ship broke down in the Indian Ocean for 8(?) hours and evidently drifted 10(?) miles off course during the breakdown. It was a lovely voyage, one that an everyday person could never afford at that time. We arrived in a freezing UK still dressed in tropical uniform! When our Battalion travelled out to Singapore in 1959,a soldier was evidently killed by a watertight door during a drill. I was lucky enough to be shown around Nevasa's engine room. Brilliant! We did rifle shooting contests at balloons from the stern. I saw a Giant Manta Ray swimming close by during the breakdown plus the usual flying fish! A wonerful experience, the whole voyage. I still remember a Tannoy command to the crew that sounded like " Angle peachel stations jail serang". Is my memory playing up? Thank you, Nevasa, and the crew. Thanks too, the crew, for the adult film shows! Oh, I do have photos and berthing card from the trip. [Your memory worked pretty well! Argil pichul stations jow = Crew to stations fore and aft]
Denis McGuckin, Canada - Sunday, May 24, 2009 at 16:54:04
Looking for John Davidson from Durham County. Believe was AB and deck officer around early 1950 until? Thanks.
Gary Bateson, UK - Thursday, May 21, 2009 at 21:20:27
In respones to the comment by Lynn Claridge-King (October 2, 2003), about a film crew who were on board her [Nevasa] cruise in 1972... The film crew was there to make a promotional film for BI Educational cruises to be shown in schools and was subsequently called "Where In The World...?" I happen to know this as I went on the same cruise with my school and unwittingly got put forward to be 'The Boy' featured in it. I've never lived it down since and all that 70's hair and slang has been the source of much ribbing. I was lucky enough to sail on the Uganda and the Nevasa and enjoyed every moment of both cruises. They were truly excellent and the quality of the ships was only matched by the excellent crew and staff on both vessels who worked hard to make it a truly memorable experience for us. Well done to all of them wherever you may be.
Carlos Collaco, Portugal - Monday, May 18, 2009 at 17:55:30
It's been a great experience browsing through these BI pages to reminisce the days of a bygone era of sea transportation along so many routes. I feel privileged to have been one of the 'last' passengers to travel on board a BI ship - the Karanja - at age 2-3 between my hometown of Beira and Bombay and then on to Goa. The year was 1967 and to this day I keep vivid memories of that pleasantly eventful return trip mainly as a restless toddler on the ships decks! Would any of your many readers post some pictures of the Karanja as well as her sister-ship Kampala? I will, nonetheless, keep coming back to visit the site showing it to my father who is anyway much better acquainted with BI than me. Thank you all for such a wonderful job!
Vijai Ramkissoon, South Africa - Saturday, May 16, 2009 at 15:20:41
I traced my roots to India including ship name and dates, however, I could lay my hand on any photographs. I am aware that the British kept very good records. Has anyone come across photographs of indentured Indians that came to South Africa between 1860 and 1911. The ships included Merchantman V, Pongola, Umzinto, Glenroy.
John Page, Australia - Saturday, May 16, 2009 at 00:00:45
I sailed on Chantala, Uganda. Warla, Garbeta, Aronda, Chakdara, Olinda, mid 50s to early 60s if any old shipmates about would be glad to hear from you
| | |
| --- | --- |
| | |
| | A BI ship which saw long service, from 1919 to 1952, the 7,261 gt Masula |
Mick O'Donnell, Australia - Thursday, May 14, 2009 at 08:42:22


I am doing research on the shipping of remount horses/Whalers from Melbourne to India during the late 30's. My father, John O'Donnell travelled onboard the Querimba and the Masula to Calcutta many times until the demand stopped at the beginning of WW2. Love to hear any stories from that era. Great site. Thank you. [You could take a look at the BI history on this site (www.biship.com/history.htm) which has a reference about halfway down to Archibald Currie and Co (which was acquired by BI in 1913) and the brumbie trade. Can you add any stories from your father to the Logbook? - Editor]
...sign the logbook

Munir Ahmad Qureshi, Pakistan - Thursday, 14 May 2009 10:24:21


Could you please advise whether the mv Dwarka was a BI Ship plying between Bombay & Karachi in October 1947. I remember my father talking about the ship [if I recall the name correctly] while narrating our return to Pakistan from India at the time of partition. If we did sail on this ship it would have been the 8th or 9th of October 1947 as he reported to GHQ Rawalpindi (he was a major in the army medical corp attending a training course in psychiatry at the Military Hospital, Jalahalli, Bangalore, India) on the 11th Oct '47. His name was Muhammad Yusaf Qureshi and accompanying him, my mother, Shamim Qureshi, myself and his Batman. Is there any chance of tracking down any record regarding BI Ship sailings in Oct 1947 - and the passenger manifest? [According to Laxon & Perry, Dwarka certainly participated in the refugee operation in 1947. Eleven BI ships were involved and they carried approximately 200,000 refugees between them - Editor]
Peter Morris, UK - Monday, May 11, 2009 at 16:39:18
I sailed as a navigating officer on Chindwara, Uganda, Juna, Bulimba, Sirdhana, Bombala, Chinkoa, Tekoa, Karanja, Wild Auk and Huntingdon in the late 60s and 70s and would like to hear from any of my old shipmates.
| | |
| --- | --- |
| | |
| | Coconada (BI 1910-1933) at Aden. A view from an old postcard |
Maria D'Mello, India - Saturday, May 9, 2009 at 01:21:29


I want to know more on Coconada. My great grandfather Richard Greenwood passed away at sea or river somewhere in the Madras presidency. It is not clear to us whether he died when the scaffolding of a bridge or scaffolding of a ship fell on him causing his death. Would you have an idea? If any records would be available on sailors or their captains etc would be availabe. This should have taken place somewhere 1920-26 We have been trying so hard to complete our familytree...in anticipation
David Humphreys, US - Tuesday, May 5,2009 14:35:55


In reply to Rachael Utting [Logbook Mar 17, 2009] and requests for information regarding Captain Parkes and the ss Querimba, I can't add very much but you may find the following of interest:
The one time I was in Captain Parkes's old cabin on Querimba was the day I went to sea, September 23, 1949. The ship was ready to sail from my home town - Port Adelaide. Captain Lyles invited my parents and myself to his cabin, and while my parents enjoyed a couple of beers with the Captain, I had time to look around the cabin. It was quite large, heavy port-hole curtains, dark paneling, a number of brass fittings and a very large desk. The cabin was filled with smoke from Captain Lyles pipe and my parents' cigarettes - it was every 16 year old's idea of a Captain's cabin. Did I notice any of Captain Parkes favorite pieces? I would like to think so - but 15 years, a world war, and half a dozen Captains separated us. Rachael, I'm not sure it's about Captain Parkes life on the ss Querimba so much as the memory of a young boy who knew his vocation was to go to sea, and if you and I are talking about him a hundred years later, he probably made the right decision. Incidentally, I just checked out [this site] and your inquiry is the only time my old ship has ever been mentioned. I would like to hear more about Captain Parkes.
Muneer Ahmad, Pakistan - Monday, May 4, 2009 at 06:26:13
I am doing research on my family's departure from Bombay to Karachi in Oct 1947 by sea route.
David Bell, UK - Sunday, May 3, 2009 at 19:49:57


Entry by Michael King [Jan 15, 2009]. I was indeed 3/E/O on Bamora at that time - I spent 32 months on her covering a full Eastern Service "spell". If you do not remember me, you might remember my cockatoo called Hermann. Regards
Batu Radia, UK - Sunday, May 3, 2009 at 11:26:54
wonderfull source of history
Sajid Parvez, UAE - Wednesday, April 29, 2009 at 10:43:22
I am very much intrested in photographs of the old vessels and pepole traveling during early 1900. I am fascinated by the history and means of transportation in the past. Brother of my great grand father travelled to Australia, most probably to Sydney by Sealda.
Phillip Drummond, UK - Tuesday, April 28, 2009 at 20:36:02


My father was Lewis Drummond sailed 59-63 on the Dumra just to say he is coming home from Trinidad where has passed away in 2008 Dec. Hs ashes will be scattered on the banks of Loch Lomand at Balmaha, Drymen. Kind Regards Phillip, his son, love him and miss him so much.
Ruth Hayes, UK - Tuesday, April 28, 2009 at 19:16:20


My eldest brother has just given me this information: we were in Shanghai at the outbreak of war and travelled on the ss Tanda on the 16.9.1940 to Australia, I was two years old the youngest of six children, my father was left behind and taken prisoner when Singapore fell, what happened to this ship and where did it serve after we travelled on it. [At this time and throughout WW2 BI did not have any ship named Tanda, so I believe the ship to which you refer was the 7,174 gt Tanda, owned by Eastern & Australian, which was torpedoed on July 15, 1944. She was built in 1914. By a stroke of fate, the sinking of Tanda was preceded by similar action against another of E&A's ships. Nellore, was sunk by torpedo 17 days previously. BI had had a major stake in E&A since 1919 - Editor]
Mary Glanville UK - Thursday, April 23, 2009 at 12:42:49


I read with interest Andrew Laurent's query dated 29 December 2008 and see that his father joined the BI in 1948 as a cadet. Please refer him to my log entry on 23 February 2008. I should be interested to hear from his father as to whether he met John?
Abdool Aziz, South Africa, - Thursday, April 23, 2009 at 10:03:38
I am looking to track down my ancestors. My parents travelled on a ship from India to South Africa. They came as passengers not indentured labourers. They came towards the end of 1937 or early in 1938. Is there any way possible that i could get information on the ship that they came in or a passenger list as I am not sure of the name of the ship. Please if anyone could help me I would really appreciate it.
Tony Fernandes, Canada - Wednesday, April 22, 2009 at 19:36:00


I sailed aboard the Sirdhana from Bombay to Dubai via Karachi and Muscat. The journey lasted 5 nights and 6 days, 2nd Septemebr to 7th September 1967.
Jeremy Rickford, UK - Tuesday, April 21, 2009 at 17:22:08


Guildhall and NMM have been major sources for me to build a fairly comprehensive picture of my g-grandfather's career in BI from 1871 to 1909. Richard James Rickford. (1854-1909. Master's 1884). Logbook-interesting!
Richard Ellerington, UK - Sunday, April 19, 2009 at 21:52:46


I am looking for information on Harry Sladden who sailed with BI in the 40ties and 50ties.
Janet Sharpe (nee Bibbs), UK - Thursday, April 16, 2009 at 22:05:18


I was an educational cruise passenger on ms Devonia in 1964 or 65 from Tilbury to Vigo in Spain, Lisbon in Portugal and Amsterdam. On route the ship recieved an emergency call from another ship, so we had to turn around. we sailed alongside a merchant ship and a line was set up between the two ships. First the doctor from the Devonia crossed over in a bosun's chair and after a short time an injured crew member was winched back on a stretcher. This delay meant our stay in Spain was shorter than it should have been, but no-one minded as we had been part of a mid-sea rescue.
Anthony Roper, UK - Friday, April 10, 2009 at 11:09:43
On 10 Aug 1943 I sailed in ss Talma from Sfax via Tripoli (11-12th), Malta (13-14th) and the North African coast to Alex[andria] arriving at 1030hrs 19 August. During the invasion of Sicily the West-East route through the Med was broken 'twixt Algiers and Sfax which was done by road and rail. Any chance of a photo of her please? It would complete my war record.
...sign the logbook

Janet Waring, Australia - Friday, April 10, 2009 at 04:14:24


My father Thomas Archibald Smith was an engineer with BI from approx 1920 to 1936. He served on ships Nerbudda, Nuddea, Mantola and Chyebassa, plus other ships whose names I can't remember.
Louise Richards, Australia - Wednesday, April 8, 2009 at 09:09:40


My grandfather worked for BI in India 1920's as an engineer. I am not sure of the location, I have photos of ships of that era but only one is named Aronda. His name was James Ellison, any information is welcomed.
John Aitchison, US - Wednesday, April 8, 2009 at 08:01:06
Dear Mr Crow [re log entry Mar 23, 2002], I believe you sailed with my father on the HMT Talma, his name was David Livingston Aitchison, from Scotland. I may have some of your early sketches. I will search for them. Is my father's name familiar to you?
Margaret Mouser, Australia - Friday, April 3, 2009 at 09:54:29


Re Helen Windle (March 19, 2009) My great great grandfather was a passenger on the Nuddea 1883 Scotland to Queensland. I have the diary he wrote during the voyage.
John Pinder, UK - Thursday, April 2, 2009 at 22:08:31


Just found the BI site. Was amazed to see my photo in the rogues gallery, Sir Bedivere 1967. Brought back happy memories.
Kenneth Miln, UK - Thursday, April 2, 2009 at 21:41:03


Message for Shyamal Banerjee - Germany [re log entry Dec 24, 2008]. Namasti Shyamal and my apologies for not replying sooner. I lived with my jute wallah parents at Megna Jute Mills, Jagatdal, 24 Parganas - 1937/49: & returned as a jute wallah myself in 1959. I last visited Kolkata in 2002. I look forward to hearing from you in due course. Retired, I am living at Monifieth, Angus, Scotland.
Vidya Sagar Chet Ram, India - Monday, March 30, 2009 at 12:20:12


I sailed by ss Amra when I was 14 years old. in December 1960. We used to live in kenya. My father retired from East African railways and Harbours and we sailed for the last time from Mombasa. It was a journey I can never forget in my life time. I always wanted to buy a toy ship moded of this ship but I have been unsuccessful. Would you know where I could find it. If there were any other passangers like me on this voyage I would love to hear from them. Best Wishes
Dean Birch, UK - Sunday, March 29, 2009 at 21:10:28
Travelled with the family on the Uganda and Kenya 1960-61 and 1964
| | |
| --- | --- |
| | |
| | Chakdara at Trincomalee, from a cover photo for BI News, Jan 1967 |
Alan Huddart, UK - Wednesday, March 25, 2009 at 11:50:16
I was the Radio Officer on Chakdara from July 1965 until August 1966 and sailed under Captain Roger Monk. It was during this period (15th May 1966) that we had the explosion in the Indian Ocean and were towed to Mombasa and subsequently towed to Glasgow - quite a trip.
John Horrell, UK - Monday, March 23, 2009 at 13:53:07


I sailed on ms Devonia in April 1965 as a 17 year old student at Cornwall Tecnical College. We travelled by overnight train to Gatwick Airport and flew out to Venice to board the ship. We then went to Athens, Sardinia, Tangiers, Lisbon and then home to Falmouth. I met people then that are now close friends 44 years later. It was a trip of a lifetime and I can still remember details of the trip as if it were just e few years ago.
Donna Jenner, UK - Saturday, March 21, 2009 at 19:06:07
My grandfather was George Suter who died in Dar es Salaam on 14/3/1957 aged 43. He was the Chief Officer of the mv Mombasa. I noticed that several people were talking about him on the 2006 logbook so if you happen to read this it would be great to hear from you. I have the British India Steam Navigation Co Ltd silver commemorative coin that was issued to staff in 1956 along with his war medals, several photos and the newspaper cutting of his death.
Tom Kelso, UK - Saturday, 21 March 2009 15:00:35


I noticed your reference [log entry and comment of Feb 21, 2009] to an obituary [of Captain James Donnelly] in the Belvedere College which claimed that Angora, carried King George V and Queen Mary to India for the Durbar in 1911. That honour, I understand fell to the new P&O Medina, both outward and homeward.
John Calwell, US - Friday, March 20, 2009 at 19:22:53


As a child of seven, I was a passenger on the Madura travelling from Tanganyika to Falmouth. My memory is that we started up the East side of Africa and then turned to go round the Cape of Good Hope, put into a port on the west coat of Africa to be fitted with degaussing gear as a protection against magnetic mines. My belief is that we were attacked by a German submarine and that two ships in the convoy were sunk. In or near Bordeaux, the ship was overrun with refugees, and a company of Royal Marines had to keep order. They were commanded by a Captain Woodhouse. At Falmouth, everyone but our family disembarked, and the vessel proceeded to Greenwich, where my dad was taken ashore to an ambulance, and then to the Dreadnought Seamen's Hospital. Where do I go to find out if my memory of the loss of two ships from the convoy is correct? [You are probably referring to Madura's voyage and call at Bordeaux of 1940 when she picked up soldiers and civilians fleeing France. Log entries of Nov 28, 2004, Jan 3, 2005, Feb 22, 2005 and June 23, 2007 refer to this wartime event. A picture of the ship appears against the Log entry of Mar 27, 2007 - Editor]
John Leeson, UK - Thursday, March 19, 2009 at 13:53:35


For James Gray [re log entry Feb 16, 2009]: Are you the young managment trainee from P&O GCD, who would nod off in the afternoons in the offices of ELS London.
Helen Windle, Australia - Thursday, March 19, 2009 at 02:23:26
My ancestors James Windle, wife Sarah and sons Thomas, Joseph, Ernest & James came to Queensland, from Manchester on the Nuddea in November/December 1883. The Captain was Smith and the Doctor was McDonald. I am interested in researching about the journey. Can I get any information through this site?
| | |
| --- | --- |
| | |
| | Querimba - BI 1925-1951 |
Rachael Utting, UK - Tuesday, March 17, 2009 at 11:43:31


I am searching for information on Captain Charles Edmund Parkes on the ss Querimba about 1934. He was a particually avid collector and had a small 'museum' aboard the boat. Does anyone have any details of this? Thank you!
Celia Adelaide, UK - Sunday, March 15, 2009 at 18:01:07
I am trying to track some of my family members who worked for British India steamship company probably in the 1900's. Surname of Adelaide. Any info gratefully recieved. Thanks
Roy Duxbury, Canada - Friday, March 13, 2009 at 21:20:24


Radio Officer Homefield early 1940-41 through to sinking by Stuka dive bombers eastern Med
| | |
| --- | --- |
| | |
| | One of Robert Mitchell's images which is believed to include, second and third left, Sir William Mackinnon and James Lyle Mackay (later Lord Inchcape); one the founder of BI and the other who became chairman of the company and the person responsible for combining the shipping empires of BI and P&O |
Robert Mitchell - Thursday, March 12, 2009 at 20:29:24
I've contacted you in the past about James Lyle Mackay and Sir William Mackinnon negatives. I contacted many museums the past couple of years and Inchcape plc who first seemed intrested and an author of historical maratime books who proberbly thought i was a crank then backed off with out seeing my images so I finally decided to put them on ebay. I have included a ebay item number for you to look at which is without no reasnoble doubt James Lyle Mackay 1852-1932 this was confirmed by one of my ebay buyers who's great granfather had James lodging with him in his cottage at Lulworth Cove Cornwall c18870s-80s i had the pictures of the yacht moored at the cove and i also supplied her with the only known image of her great grandfather as a young man. I still have a few glass negs of Mackay and Mackinnon and 100s of other negs I leave this number for ebay reference number to a picture of Mackay please look you will be fascinated at the images ebay item no:150330359478
...sign the logbook

Roger Howsam, UK - Wednesday, March 4, 2009 at 21:15:47
Worked in 122 Leadenhall St. and One Aldgate for about 6/7 years
David Roden, Hong Kong, China - Saturday, February 28, 2009 at 17:13:53
Joined BI Nyanza 1960 left 1963 having sailed on Ordia, Bankura, Warora and Socotra
Hubert De Castelbajac, France - Friday, February 27, 2009 at 14:59:49
Hello and thank you for having such a nice site! I had the pleasure to sail from Mombasa to Bombay (Mumbai) via Karachi on the ss Karanja in 1974. Would you be able to help me about the dates of Karanja during this period? Is still ss Karanja sailing? I had a fellow passenger called Vince Dayot ... maybe this can help? Hoping to read you soon.....All the best to you. [By 1974 Karanja had passed formally into P&O hands but was returned to BI ownership in 1975. Fifteen months later she was laid up in Bombay and sold shortly afterwards to the Shipping Corporation of India and renamed Nancowry. The ship was broken up in Bombay in December 1988 - Editor]
Nicholas Dobie, UK - Wednesday, February 25, 2009 at 16:06:07
There must be someone out there that knows about naval odds and sods, re the box I sent a photograph of, ss Neuralia. [Re entry of Aug 26, 2008]
| | |
| --- | --- |
| | |
| | Manela - BI 1921-1946 - from an old postcard |
Richard Woodham, UK - Monday, February 23, 2009 at 16:48:56
My Great-grandfather L T Bergemann sailed with BI in 19th century - Chief Officer on the Chyebassa in 1880. Skipper of the Merkara. As a deck officer with Bibby Line 1959-1969 I was often in company with BI ships and crew.
Frank Mayberry, US - Saturday, February 21, 2009 at 20:57:41


Seeking info on Eric Willis Cholerton who served on BISN ships and probably the Apcar line, 1930-1936. He took his discharge in Calcutta abt Feb 1931 from the Manela and doesn't show up again until signed on Modasa as 3rd Officer from Santhia Apr 1934.
| | |
| --- | --- |
| | |
| | Captain James Donnelly |
Cormac Kilmurry, Ireland - Saturday, February 21, 2009 at 19:32:03
I keep coming back to read the stories. I am going to send you an obituary of my grandfather, Capt James Donnelly, of whom I gave you a logbook entry in 2002. [From additional information supplied by Cormac Kilmurry, James Donnelly obtained his Extra Master's ticket with record marks and at an unusually early age and was promoted to his first command by BI at under 33 years of age. Two years later he was given command of the new vessel Angora and took her on her maiden voyage out to Calcutta but shortly afterwards, on May 17, 1911, died suddenly of heart failure. As a footnote to this story, a contemporary obituary of Captain Donnelly published in the journal of Belvedere College, Dublin, indicates that Angora was the vessel which carried King George V to India after his coronation in June 1911, a claim disputed by the Logbook entry of Mar 21, 2009 - Editor]
Simon Harding, UK - Saturday, February 21, 2009 at 00:50:56


My great-grandfather (a Bengal Pilot) was shipwrecked off the Coromandel coast near a place called Bimlipatam. I have a letter from him in which he says that they are expecting daily the BI steamer Baltic which is to take them to Calcutta. Followed by a note to say they arrived in Calcutta 13th July 1861. Does anybody know any more about the Baltic or have a picture even. I note it was lost a couple of years later, 1863. [A most interesting ship, Baltic was BI's very first vessel, acquired in the company's founding year of 1856. She was bought while under construction at Tullock & Denny's yard in Dumbarton and entered BI's first mail service, between Calcutta and Rangoon, Burma, in July 1857. The vessel remained on the run until wrecked on the Alguada Reef, Burma on Oct 10, 1863 - Editor]
Sudha Vinjamuri, UK - Tuesday, February 17, 2009 at 23:45:57
This is for Andrea Mascis, Canada [re log entry Oct 27, 2000]: Could you please share the pic of RMS Coconada
Sudha Vinjamuri, UK - Tuesday, February 17, 2009 at 20:59:51
Dear friends, Could anyone give me some infos on the BI ships operated from southern coast of Inda (Cocanada, Vizagapatnam, Bimiipatnam etc, falling in today's Andhra Pradesh) to Burma carrying many immigrant workers? I am working on a diaspora article on South Indian ethnic groups that migrated to Burma and any help in the direction will be highly appreciated. Names, pictures, years of operation....anything should do, please? Thanks in advance.
James Gray, UK - Monday, February 16, 2009 at 15:21:04


Anyone know anything about a large marquetry map of the world (13 x 8 which was said to have been on a BI liner until she was scrapped, after which it was hung in the reception area of Navigation House, Aldgate London for many years and is now in my possession. I wonder which ship it was on? And when? All information greatfully received.
Moody Tang, Hong Kong Maritime Museum, China - Sunday, February 15, 2009 at 08:59:03


I am searching information about the Chinese sailors in London 18th-20th centuries. Since much archives contain only the records of the higher rank staff instead of low rank staff especially the Chinese. If you have any information, would you please contact me? I will be in London from 26/2/09 to 05/3/2009. Cheers.
Peggy Gray Haddaway, UK - Thursday, February 12, 2009 at 12:43:53


Found this wonderful site, it's wonderful, I am trying to trace my grandfather who sailed to Calcutta in 1905 on the ss Matiana. He was involved in building a steelworks, I have some wonderful pictures of construction.
Charles Le Boutillier, UK - Tuesday, February 10, 2009 at 23:31:06
My grandfather was an apprentice with BI from the age of 18 until he retired, his last ship was the ss Nevasa his name was George Melville Barker, any records much appreciated. [There were three ships named Nevasa in BI's history. You would need to give some precise detail for an accurate response - Editor]
Aileen Farlam, UK - Monday, February 9, 2009 at 17:51:17
I came across this we have a Joyce Farlam in our family and Snelleksz was her mother's maiden name. Ito am trying to find out more of my husband's family they came from india then came to england.
John Danziger - Mon, 9 Feb 2009 14:23:08
My grandmother arrived on the Dorunda in Brisbane 16/01/1886. Although I find the date I cannot find any information on your website where the Dorunda was built. Can you help me. [Dorunda was built by William Denny & Bros, Dumbarton, launched Oct 4, 1875 and delivered some time after Nov 19 of the same year - Editor]
John Sheppard, Australia - Monday, February 9, 2009 at 04:51:59
My great uncle was was born at sea on 14-5-1882 on the vessel Camorta on route to Queensland, he was given the middle name Camorta full name John Comorta Blaney, is it possible to get a copy of the ships log about that time. best wishes. [Try the Public Record Office at Kew for the logbook - Editor]
Paul Mann, UK - Sunday, February 8, 2009 at 10:33:43


On 7th May 2002 Phil Incledon was enquiring about a brief history of the ship Ionian. In my garden shed (which acts as a storage space) I have an old book about Canadian Pacific and in it is the following entry:
Ionian (1915 - 1917) 113989, 8265g, 470 x 57 x 37ft. Engine: builders, T 6cy 2S 14k
12.9.1901 launched by Workman Clark & Co Belfast, y. no 127
1.10.1915 to Canadian Pacific.
20.10.1917 wrecked by mine two miles W of St Gowans Head. Laid by UC51 14.10.1917
Bit late in the day and sparse. Any use?
Arthur Wood, UK - Friday, February 6, 2009 at 18:05:12


With reference to the SS Tairea. I read with great interest the log entry from David Humphreys, US, Sat, Nov, 15 2008. At the time the photograph of ss Tairea was taken in 1951 Penang harbour I was one of the fifth engineers, on board CEO N Woods, 2nd Eng J Dougthwaite 3rd, P Allen 4th Eng S Grewer, 5th Engs P Gray W, Guild, I Bealle, and myself A, Wood. The Tairea was twin screw 4 cylinder reciprocating engines, 7 oil fired boilers situated 3 3 1 forward. I can remember 2 cadets that were on board, one of the cadets had a collection of Billy Eckstein and Sarah Vaughan records, the other cadet was about 6ft tall, names I can't recall, I think the 3rd mate was? Wright from Harrogate, N Yorks. You are perfectly right the Tairea, was a great ship to sail on, I was transferred just before she was due be scrapped at Blyth UK. Fortunately the ship I was transferred to was another great ship mv Sangola, on the same run. Also some great times in the Pig and Whistle. Salaams
...sign the logbook

Barry (Malcolm) MacGregor, Australia - Thursday, February 5, 2009 at 02:41:41
Joined Chantala 4/52 as Cadet. Also my last B.I. ship as 2/0 1/61 Went coastal for a few years and ended up as TugMaster in Port Hedland for 27yrs. Now retired as small hobby farmer near Dongara WA.
John Tilling, UK - Wednesday, February 4, 2009 at 01:43:24


In response to Peter Hackling, July 29th, 2007 ss T P Tilling (510 tons) was one of the ships owned by John S Monks Ltd, of Liverpool. It was launched at Saltney, near Chester on the River Dee in 1920/21 and named in memory of Capt.Thomas Porter Tilling who was lost when the BI Ship Abhona sank in 1910. John S Monks was a family business founded by members of the Monks, Pierpoint, Tanner and Tilling families. The ss T.P.Tilling did survive the war. Indeed it was able to rescue the nine members of the crew of a Halifax bomber which crashed into the sea off Milford Haven.
Alan Hirst, Australia - Saturday, January 31, 2009 at 05:38:10
I sailed on the ss Rajula from Madras to Penang in 1968, had a great trip, have been on many ships over the past 40 years and this trip was no 1.
| | |
| --- | --- |
| | |
| | Talma - BI 1923-1949 |
Josephine Zandona (nee O'Sullivan), UK - Wednesday, January 28, 2009 at 19:17:30


I am researching the history of my grandfather John Robert O'Sullivan who was the Commander of the Talma in 1924. He died 10/12 years later when my father was a child. Now that my father is dead we have no record of his father and are trying to find more about him. There is some scandal about his ship going down - can anyone let me know what did happen. My mother has said that he was charged with being drunk in charge of a vessel but that he was suffering from early altzimers, which was the cause of his early death.
Charles Mackay - Wednesday, January 28, 2009 at 18:44:45


My grandfather Charles Lockhart Mackay was a marine engineer in the merchant service. He named his house Mashobra after the ship he sailed in. I do not know whether it was the early built 1914 or the later built in 1920, this is all word of mouth history. He was born in 1866 so he could have served on either or both. How do I get crew records to confirm this bit of family history? Are company records available if so where and are they on line. The house was still standing and occupied the last time I was there. Thank you
Lesley Dacey, Australia - Wednesday, January 28, 2009 at 07:12:04
I just discovered this site and I am looking for records of my grandfather coming over on the ss Gracchus as a boy in 1906. I have a photo of the ships' staff and him holding an albatross with its wings spanned.
| | |
| --- | --- |
| | |
| | Gracchus 1906 - on passage to Australia |
| | |
Michael Pratt, Australia - Monday, January 26, 2009 at 22:18:52
Joined the BI site after the Penang reunion and it has been a brilliant association with input from around the globe
Kenneth Jones, UK - Sunday, January 25, 2009 at 23:55:02
Most enjoyable chit chat. Have met many of the crew I sailed with and keep in touch on the phone.
Andy Monks, UK - Saturday, January 24, 2009 at 13:58:42
Joined BI as Junior Engineer in 1965, worked on cargo, educational cruise and LSLs. Worked 19 years with BI/P&O before moving to gas tankers. Presently working on Shetland Islands Ferries.
Anne Linington (nee King), UK - Saturday, January 24, 2009 at 10:28:55
My great-uncle Osborne King sailed to war in Europe on the HMAT Surada in 1916. He was killed in action six months later.
Brian Warburton, UK - Monday, January 19, 2009 at 08:38:07


I joined BI in Feburary 1958 and met up with a BI Engineer called John Mackay. We sailed a coastal vouage and then went our seperate ways. He originated from Tounge, Northern Scotland. Maybe the chap you seek.
Jim Moon, UK - Sunday, January 18, 2009 at 21:20:14


Sailed in the dying days of the BI ships onboard three Mulbera (Strathmay) and the two that became Vendee and Vosges? Between 1976 & 1985 met many BI people and normally good crowd. [This message has been edited. Zaida became Vendee and Zira became Vosges under P&O ownership - Editor]
| | |
| --- | --- |
| | |
| | Garbeta - BI 1948-1963 |
Jane Bateman, Australiua - Sunday, January 18, 2009 at 14:04:53


Wondering if anyone knows Micheal Cullerne (not sure if I remember the spelling correctly). He was 3rd Officer on the Garbeta in the early 1960's
James Bennett, UK - Sunday, January 18, 2009 at 11:06:39


Ref Tim Comyn living in France. I was 4th Engineer on the Galahad and was based in Singapore for about 1 year. I may have served with you, I think you were 3rd officer at the time on the Chakla. I remember another 3rd officer called Mike Bellamy. I think the Captain on the Chakla was Henry Severs.
Greg Briers, UK - Sunday, January 18, 2009 at 00:34:34


I sailed on ss Uganda on an educational cruise on 11th May 1969 to Andalsnes, Copenhagen & Amsterdam. Memories that have never left me. I'm sad the ship is no longer with us. I remember a matron on board by the name of Susan May that all us 10 year old boys had a crush on, she even signed my Uganda hat which I still have somewhere. [Correspondent supplied pictures of his school party: the school was Southfields Junior School, Stanground, Peterborough. The shame is the teacher is no longer with us, and the rest of us are 49-51 now.]
Michael King, N Cyprus - Thursday, January 15, 2009 at 09:04:40


Served my time with BI 66-70 then went all over the shop. Saw comment from David Bell - would you have been 3rd of the Bamora in 66/67? I was Waroonga, Bamora, Kenya, Uganda and would like to hear if any of me old shipmates are still around (alive?) especially one rogue called Peter Brown!
...sign the Logbook

Mike Coates - Tuesday, January 13, 2009 at 07:46:43
I sailed in the Devonia as a pupil on a school cruise to Madeira, Lisbon and Tangier from Avonmouth Docks in 1965. This was perhaps the biggest influence in my life so far. Many many happy memories.
Ash Davies, South Africa - Sunday, January 11, 2009 at 20:14:50
This log book is a great find and good to see the traditions carry on.
I sailed with William Shields and remember his leaving the Carpentaria in Perth in 1966. I stayed on till May 1967 and ended up in South Africa. Hey Bill, drop me an e-mail.
Garrett Murphy, Ireland - Thursday, January 8, 2009 at 23:39:13
First trip on ss Woodarra, London Australian coast. Well built ships & an excellent company, although not appreciated at the time. I was also on ss Megna and Ellenga or Ellora with Trident tankers. Lots of good memories.
Chris Shelbourn, UK - Thursday, January 8, 2009 at 18:17:25
Chatting with some new friends in India remembered sharing a cabin as a Cadet with
Bobby Vaid, doing well as a surveyor in India
Ean Pugh - Wed, 7 Jan 2009 19:59:56


My wife's father Lancelot Dare Edwards was an Engineer on your ship after the First World War on the run up the East Africa coast. He told us many tales of his adventures and we wonder if there are any references to the ship in your archives for the period about 1920. I think my brother in law in Australia has many photos of the ship and the scene of the period. Can you assist in any way Please? (for Teressa Dare Edwards) [Could you name the ship(s), please. With that detail it might be possible to get you more information - Editor]
Edward Corrigan, UK - Wednesday, January 7, 2009 at 15:10:31
Great site I would be grateful for any information on any of the lst fleet particularly Peter(nosher) davis & john appleby
Douglas Daniel, UK - Friday, January 2, 2009 at 19:39:17


Sorry to hear that Lewis has passed over. I sailed with him on the Dumra and the Pundua and have very pleasant memories of him. My condolencies to Niloufa who I also met on several occasions.