...sign the Logbook anywhere you see the

icon
Richard Holmes, UK - Tuesday, December 31, 2013 at 17:07:50
I served on board ss Kampala, and ss Nowshera between 1970 and 1973. a marvellous 2.1/2 years.
Alec Matthews, UK - Monday, December 30, 2013 at 13:58:43
I find I am no longer able to login to this site. Is it something I said? Just heard today with great sadness that my old friend Terry Gardner, (Marconi Sahib in Okhla 1958) had crossed the bar. Have sent condolences to his wife in Canada.
Ernest Barrett, Australia - Thursday, December 26, 2013 at 05:22:13
Sailed as R/O on Palamcotta, Dara, Karanja, Itaura and Orna. Received the BI Centenary Medallion in 1956 whilst Orna was in Adelaide. Wish I had kept the BI Centenary Magazine as it was the best ever printed. Joined AWA in Australia and left last ship in Feb 1992 after 45 years plus at sea
Colin Brittain, UK - Saturday, December 21, 2013 at 09:54:32
As a member of the Rohilla Centenary Team, responsible for planning next year's centenary of the Rohilla's loss I would like to extend an open invitation to anyone to contact me if they have anything we may be interested in be it research or personal history. I am well into revising my book "Into the Maelstrom - The Wreck of HMHS Rohilla" and looking forward to the centenary. More details of the Rohilla tragedy can be found on my website www.rohilla.co.uk
Robert Maughan, UK - Thursday, December 12, 2013 at 10:18:10
Recently learned that I travelled on ss Barpeta Bombay to Karachi 1943 with my mother with the aim of flying out to Blighty. Prevailing circumstances meant we were sent back to Bombay (My father was in some kind of hush hush job seconded to Admiralty). We were sent to Bangalore, an RAF Training Station for safekeeping, returning home at end of hostilities. Would like to hear from anyone with connection to Barpeta as Dad and mates, and Mum, come to that, were not inclined to talk about wartime experiences.
Keith Walker, UK - Friday, December 6, 2013 at 15:53:12
Would like to make contact with Brian Maskell R/O on Carpentaria re his April entry about cricket training and match as I was a team member
Jose Jeronimo Fernandes, Idia - Tuesday, December 3, 2013 at 08:07:06
I was a passenger in ss Karanja in 1973 sailing Mozambique to Bombay
John Engel, South Africa - Saturday, November 30, 2013 at 18:33:25
I would like to make contact with Vren Humphris, Alasdair Duthie, Catherine Morris, Myra Davies, Rosalie Enstrom. They commented on my entry. I have photos taken abroad the Amra hospital ship that they may be interested in. I can be contacted via e-mail
Tony Plackett, UK - Thursday, November 28, 2013 at 15:49:57
I have found among family papers a Christmas Day Menu for the ms Sangola; Capt. Fred Mears, Commander, dated 20th Dec 1957. It lists the officers, Petty Officers and Steward-in-Charge, some Autographs and drawings of some crew members, menus, route details (Kobe, Hong Kong, Penang & Calcutta), and the ship's particulars. If anyone is interested I have it scanned as .jpg files per page (x16) and will be happy to send copies by email or answer any questions. Regards Capt. Fred Mears' nephew.
John Engel, South Africa - Wednesday, November 20, 2013 at 10:54:22
Hi Vren Humphris. Your entry on 23 Feb 2013 refers. My father also served on the Amra. I would like to make contact with you.
Lesley Heard, Australia - Wednesday, November 20, 2013 at 01:20:43
My father Frank Heard sailed with BI for many years. We lived in Bombay for some years then moved to Perth Western Australia. Although dad passed away 1991 my mum is still alive & remembers lots about the BI days.
Bill Swan, Argentina - Monday, November 18, 2013 at 16:04:45
Some time ago there was a project to compile a book on the Nevasa similar to the book written on the Uganda. Was this ever accomplished?
John Alder, US - Monday, November 18, 2013 at 03:34:51
I am looking for Mike King. We were cadets together on the Bamora in about 1966 and I was best man at his wedding.
Mika Mason, UK - Sunday, November 17, 2013 at 17:42:23
Travelled several times from Mombasa to UK, in the 60s, and once from Mombasa to Durban via Zanzibar. Fond memories except for the dragonlike matron in the children's nursery.
Alan Sutton, UK - Saturday, November 16, 2013 at 15:28:00
My Uncle was Albert Edward Carter, ships Master from 1922 to 1946 of Durenda, Mundra, Ozarda, Chakdara, Chantala, Egra, Ellenga, Ellora, Varela, Khandalla, Takliwa, Karagola, Sir Harvey Adamson, Juna, Chakdina, Amra, Talma, Shirala, & Galana. Born in 1891, master in 1917 until he died in 1946 (I believe he was buried on Karachi)
Sally Wells - Thursday, November 14, 2013 at 15:54:24
My Grandfather was the fourth engineer officer of the ss Baroda mentioned in your article. Rowland Hill.
Ernest Barrett, Australia - Tuesday, November 12, 2013 at 06:36:40
Now retired, left Marconi 1961, joined AWA in Sydney NSW 1961 left last ship mt Seakap February 1992. List of BI ships, being Palamcotta Dara Karanja Itaura Orna
Durairajoo T, Singapore - Saturday, November 9, 2013 at 13:45:57
I am doing research on ss Rajula which plied the route between Madras (Chennai) and Singapore.
Colin Govier, UK - Wednesday, November 6, 2013 at 22:17:40
I'm looking for pictures or anything to do with cruise 57 in 1967 on the ship ms Devonia. It was a school trip to Spain, Portugal and France. Anyone from the junior school, Street, Somerset.
John Engel, South Africa - Wednesday, November 6, 2013 at 11:51:07
Dear Ann Lovina Gates. I see you tried to make contact with me. My father who served on the Amra is still alive and we would like to see the photo. My father has a photo of the rugby team but he can't remember the names of the people. You can contact me by email or by telephone. I hope you get this message.
John Engel, South Africa - Tuesday, November 5, 2013 at 19:34:28
My father Josias Engel who is still alive served as an orderly on the Amra. He would like to know if there is others from South Africa who served on the ship still alive. He is especially interested to make contact with someone from East London who slept in the bunk above him and used to keep a diary every day. He was hoping that maybe the diary was used to publish a book. He has a lot of photos taken abroad the Amra.
Brian Maskell, UK - Saturday, November 2, 2013 at 19:10:49
To Keith walker re aug 23rd, yes remember Scottish camping trip after far east finished, Carpentatia gave us memories so did that trip. Remember us thinking Glasgow smelt bad, but it was battery heating up. Would like to contact you again, think you lived in routh Cardif. Find me on fb. Salaams
Derek Hargreaves, UK - Friday, November 1, 2013 at 15:50:05
For Pamela Burke, Australia (August 31, 2013). There is no reference to the Waroonga ever being in the Arctic during WW2. With a large refrigerated space, cargo and considerable passenger capabilities she was employed almost exclusively on UK to Australia / New Zealand routes both east and west bound on voyages lasting about six months. The most northerly latitudes she reached would be during convoys to and from the US east coast via the Panama Canal trying to avoid U boat attacks. This failed on her last attempt to reach Liverpool in Convoy HX231 when she was sunk in 57 degrees North carrying 2000 tons of meat and 5000 tons of butter.
Derek Hargreaves, UK - Friday, November 1, 2013 at 15:03:19
For Umbereen Rahman (29 September 2013). You may be interested to read "Lest I Forget" an autobiography by Khwaja Sayeed Shahabuddin who was a Cadet in Chilka and imprisoned with your Uncle by the Japanese. It is printed entirely on the Internet.
Jack Bradley, South Africa - Thursday, October 31, 2013 at 14:46:48
Just checking my discharge (seamans record) book & today is the 50th anniversary of signing on Devonia in Liverpool for transfer to Eastern Service. 31 Oct.1963. A few officers were also aboard for the same purpose & I wondered if there's anyone out there who was with me?
Hamid Mahmood, US - Sunday, October 20, 2013 at 19:35:58
To whom it may concern respect staff of BI. I am the victim of mv Dara 1961. At that time i were at the age of 41 days and all my family were with me in that ship. I born in Kuwait Feb 1861 [1961 ?]. I were smallest passenger of the ship at that time. Also I have original police prof. we were traveling from Kuwait to Karachi Pakistan. I' m wondering the details of that ship so that is why kindly give me its passenger list at my email id I will be very thank full for you.
Nanette Reid, Australia - Friday, October 18, 2013 at 10:12:41
My grandfather served on the Banfora in KMF26, when the Rohna was sunk. Armand Di Rienzo, Could you provide me with further details of this - I saw that you mentioned this event in earlier entries. If anyone else has information, would love to hear from you as well!
Iman Ali, Australia - Wednesday, October 16, 2013 at 00:55:58
Where can I get a picture of ss Virawa.
Angelina Amaladoss, Malaysia - Tuesday, October 15, 2013 at 14:09:03
I am tracing a relative, Grace Paul who travelled from Colombo to Malacca between 1915-1919. What ships plied this route and are the ship's manifests from that time period available and if so, how do I access this information? What were the other ports, besides Colombo from which ships left, then Ceylon (now Sri Lanka)
Patrick Wild, UK - Monday, October 14, 2013 at 09:23:22
I am looking for further information about two brothers who were marine engineers on BISNC ships from 1916 to 1931. The older brother, Walter William Wild was on a variety of ships: Morca, Margha, Manela, Dumana, Mantola, Merkara. the younger brother Gerald Claude Wild was on ss Margha in 1921. Many Thanks for any info.
Katrina Wheelans, UK - Monday, October 14, 2013 at 08:04:21
Spoke to Stan Summerfield in Melbourne Australia he was B I Engineer he is well and living in Australia have contact addresses if anyone interested
Andrew Parker, UK - Monday, October 14, 2013 at 03:52:52
My grandfather was in the Royal Horse Artillery and embarked on the Neuralia in January 1930 to India where he was posted for six years. Do you have any information about the Neuralia's movements of that time? This information may also tell me which unit he was in, his service record gives just the bare details and I would like to know more. Many thanks.
Michael Cocker, Australia - Wednesday, October 9, 2013 at 08:29:58
i would like info on any part of the engine room inc boilers on th C class ships
Jacqueline Thomas, Malaysia - Monday, October 7, 2013 at 05:50:16
I am looking for the ship that my great great grand father. Captain C. Antony from Malaya was in charge. It was a passenger ship around 19th century.
Cameron Fyfe, UK - Tuesday, October 1, 2013 at 18:29:40


My uncle James C Fyfe was an engineering officer with the British India company from 1936-48 in the far east. Could anyone advise where I could find out more about his service?
| | |
| --- | --- |
| | |
| | Chilka (BI 1922-1942) was attacked by a Japanese submarine on March 11, 1942 and eventually sank in 00° 30'S, 95° 50'E |
| | |
Umbereen Rahman, Dubai - Sunday, September 29, 2013 at 12:58:43


My Uncle had served in ss Chilka of the British India Steam Navigation company in 1942 and was on board when the Japanese bombed and destroyed the ship.He was a prisoner of war under the Japanese for 3 yesrs. He is going to celebrate his 90th. birthday and i thought i would give him a picture of the Chilka before and after it was bombed. If anyone has or can tell me where i can find pictures of the ship after it was bombed i would greatly appreciate it. yours sincerely. [Reports vary; five or seven lives were lost in Chilka during the action with Japanese submarine 1-2, in the vicinity of Padang, from where the ship had beenordered to evacuate personnel ahead of advancing Japanese forces. In the action, Chilka's Cadet Shahabuddin, though wounded, attempted to put out a fire with his bare hands, for which he was later awarded the BEM and Lloyd's War Medal. Survivors reached land and a number, including the commander Captain Walter Bird (see ref Logbook Jun 11, 2010), set sail for Ceylon (again, reports vary). Some were only found after 35 days at sea, off Madras (Chennai). (Sources: L&P British India S N; Valiant Voyaging; P&O Heritage website). It seems unlikely - though not impossible - that photos of the damaged vessel exist - Editor]
...sign the logbook

J Michael Fullingim, US - Friday, September 27, 2013 at 05:07:03


My second cousin twice-removed and her husband, Mr. and Mrs. Roy (Vala née Fullingim) Dorsch, were the only Americans aboard the Dara when disaster struck the BI liner on 8 April 1961, and they were tragically lost at sea along with many of their fellow passengers.
David Turton, UK - Monday, September 23, 2013 at 09:12:41


Re the Nowshera. Came across this site while trying to find information on the Nowshera. My hobby is Family History and for some years have been cooperating with a couple of families in Australia. Their ancestors travelled on the Nowshera on its first voyage. Thanks Denis Matthews for mentioning the newspapers,Trove. I had not heard of that source, wrong side of the world. Me, that is, not you. Anyway. Brisbane Courier 26 th October. "The Nowshera had a narrow escape, having only passed through the Straits of Sunda some few hours previously". That and the other details in the papers have helped put meat on the bones. Thanks
David Henderson, UK - Sunday, September 22, 2013 at 14:46:23


Served on Socotra, Rajula and Chandpara
Anila (Baby) Kadwar, UK - Sunday, September 22, 2013 at 11:57:16
Passenger list and name of ship sailed from Porbander to Dar es saalam today (tanganyika) in the years possibly 1964 to 1969 ss Kampala, and ss Karanja.
Lorna Whitmore, UK - Thursday, September 12, 2013 at 12:17:45


I am searching for any information about Archibald Gilchrist MacTavish who I believe travelled on the Manora to Calcutta in 1903 and died in Rangoon June 1914. I have seen other entries regarding A G MacTavish and I wonder if we are researching the same person.
John Leeson, UK - Thursday, September 5, 2013 at 14:53:55


I have spent many a happy time reflecting through this website / log book. Childhood memories to numerous to mention, either at the Docks (usually the Royal Docks)or on the ships with my late Father (Barney). What is outstanding and a true reflection of the company BI is the pride and dedication of the retired staff who continue to devote so much of their time and resources in keeping BI very much alive today. I and on behalf of all participants that enjoy this site, would like to express gratitude and thanks all of which is highly appreciated. Past Seafarers, Deskbound Shore Staff and others may be interested in "Classic Ship Models" Web address www.classicshipmodels.co.uk There is a lovely model of the Rajula.
Liz Evans, UK - Thursday, September 5, 2013 at 11:46:55


Excellent site - found a reference to a BISN vessel Kangra in FO 248/819 at The National Archives (an arms smuggling incident) and wanted to check it out. Thank you.
Pamela Burke, Australia - Saturday, August 31, 2013 at 01:19:45


I am trying to trace the ship Waroonga's involvement in Arctic convoy work 1940-42 because my father served on her.
Joe Pegg, UK - Sunday, August 25, 2013 at 20:43:20


Only recently discovered this site and the message from Mike Small of New Zealand about his uncle Harry and the Karapara dated Friday August 23, 2002. We are also researching Harry and have some photos of Harry, taken on the Karapara in the 1920s including the one in Dry dock at Bombay. We would be greatful for Mike to contact us.
Keith Walker, UK - Friday, August 23, 2013 at 00:49:43


message to Brain Maskell on April 6th. Hi Brian I scan the messages I the hope of finding a familiar name. I was a Panch number on the Carp and well remember the Air Force cricket match in Colombo, the match was far from memorable but the return in the bar was a Carpentaria success story. Do you remember the Scotland trip after eastern service? would like to make contact again. Regards
Malcolm Monteiro, Kuwait - Thursday, August 22, 2013 at 06:12:39


My grandfather was the local agent for BI in Kuwait from 1930 up to the early 60's. Prior to coming to Kuwait he was in Tehran, Basrah and Bahrain. Do you have any records of when he left India and the timeline of his assignments prior to coming to Kuwait? Any information that is forthcoming would be appreciated.
...sign the logbook

Harry Ludgate, UK - Wednesday, August 14, 2013 at 15:33:04


Hello! My father...Basil [Ludgate] was in command of his ship when he died in Calcutta harbour. Are there any records of his career with BI that I can access? I would be very grateful for any help you can give me. Many thanks. [The company archive of personnel records is held at National Maritime Museum, Greenwich and available on personal visit and request. The Public Record Office at Kew holds the records of the Registrar General of Shipping and Seamen, which would undoutedly contain documents of the death of a seaman (master in this case) during the currency of a ship's articles - Editor]
Shahid Khan, Australia - Wednesday, August 14, 2013 at 06:17:40


Looking for passenger lists for the Karanja and Kampala between 1935 and 1941.
Doing some research on my family tree to trace my grandparent's migration from India to South Africa.
Daphne Painting, New Zealand - Saturday, August 10, 2013 at 08:12:41


Interested to find name of ship my father, Ralph Hubert Colins, sailed from Tilbury to Calcutta on or about 25 July 1931, calling at Aden, Karachi and Colombo. Also, I would like to discover the ship that Ada Florence Collins and Daphne Joy Collins(child) travelled on several months later, most likely at the onset of winter 1931. They used to erect very small canvas swimming-pools by one of the forward holds once past the Red Sea. I wrote to you a year or so ago about the Modasa, Domala, Santhia and Shirala. Unfortunately I have no decent photos - just parts of ships - as either my Dad or I were photographing something else usually on land. The menus, with potted details of the ports to come, have long since disappeared.
Phillip Larnach, Australia - Sunday, August 4, 2013 at 12:10:16


I am looking for any information regarding my grandfather, Walter R Larnach, from Melbourne, Australia. I understand that he joined BI as an apprentice engineer around 1896 and retired sometime after WW1. He was recalled, voluntarily, during WW2 and his ship was sunk, he survived but was permanently disabled due to his injuries. He lived in Bombay, Calcutta and Rangoon for at least 20 years with his family. He passed away in mid 1960's. I would appreciate any assistance in finding more detail about his time in BI.
Tom Kelso, UK - Saturday, August 3, 2013 at 20:32:58


My regards to Alec Mathews (02/02/13), Bryan Long (21/01/13), John Page (15/07/13) : all Chantala, and Steven Heeps (30/05/13), Tairea. If you have not already done so, I recommend you join the BIship group, for many more contacts. Bot salaams
Bryan Long, UK - Thursday, August 1, 2013 at 20:16:39


Hello to John Page and Stan Mathews 1954 seems a long time ago. Please let either have my email address.
| | |
| --- | --- |
| | |
| | Tairea (BI 1970-1973) pictured as the former Salsette (P&O), built in 1956 |
| | |
Maara Tairea, New Zealand - Wednesday, July 31, 2013 at 12:04:43


Kia orana. I am rapt to see that our family name Tairea has been taken to other parts of the world. We the Taireas originate from the island of Mauke in the Cook Islands. Can you tell me how the boat Tairea IMO:5308017 get it's name? Is there any Tairea living on that side of the world? I'll be happy to hear from you. Kia orana and thank you. [BI's two vessels named Tairea - a passengership of 1924 and a cargoship of 1970 (ex Salsette, ex Aradina) - are believed to have been named for two towns in Japan (one on the east coast of Honshu, now spelled Taira), and a village in Uttar Pradesh, India. Information from Laxon & Perry British India Steam Navigation Co - Editor]
Sheena Henderson, New Zealand - Saturday, July 27, 2013 at 22:12:40


My Father, Ron Moore, was a Passenger Manager with BI in Glasgow at the start of the school ships. Although I travelled with the family each summer until I was 5 when my father moved company, I never travelled on the Uganda by the time I was of age to do so. Memories include Dad running the daily competition for how far we had travelled each day, being well looked after and eating duck for the first time interspersed with recollections of countries visted, Pompeii, Etna's fireworks, guns in Tangiers, being told about wanting to go on a small fishing boat in Bergen, having disembarked after a stormy North Sea crossing and the crew laughing, when I was but a toddler.
John St Andrews, UK - Saturday, July 27, 2013 at 14:08:17


Very interested in any information on BISNCo ships lost coastal waters NE England, Grateful Regards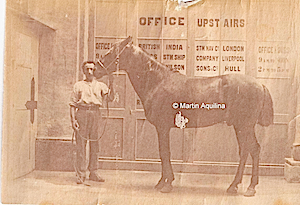 Martin Aquilina, Malta - Saturday, Jul 20, 2013, 13:15


I have in hand a photo dating to the 1890s which has been reversed to be able to read the names on the glass of a large door. The names showing are: British India Stm Nav Co. London, ? Stm Ship Co. Liverpool and ?ilson Sons & Co. Hull. Would you be able to tell me if there was an agent in Malta for the above mentioned companies and the office address. [Other Logbook readers may be able to help with the location of this photo. It is known that BI's Malta agent in 1904 was Mr T E Smith. The agency was later to become Thos E Smith & Son and Thos C Smith & Son, although BI did not always keep that company as its Malta agent (at times in the 20th century, agency passed a Mr Burt and a Mr Messenger but eventually came back to the Smith family). Latterly, Thos C Smith was at 12 St Christopher Street, Valletta. The third company named on the door is almost certainly Thomas Wilson and Sons Co, a Hull shipowner. Part of that company later became Ellerman Wilson Line. From dates of incorporation and operation of BI and TW&S the photo is probably from between 1862 and 1916 - Editor]
...sign the logbook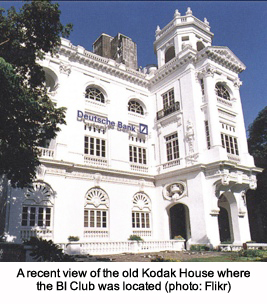 John Davison, New Zealand - Thursday, July 18, 2013 at 13:55


Re Rachel Dwyer's question [Logbook Jun 16, 2013: BI Club] I stayed at the BI Club several times between 59 and 62. The address then was top floor of Kodak House, Hornby Road, in the Fort District of Bombay. The road name has changed to Dr Dadabhai Naoroji Road, referred to now as Dr DN Road, and the building now houses Deutche Bank's India headquarters. I went to the club in 1983. It was called Mackinnon Club, owned by the guy who bought M and M, the Dubash familyy. The club was very run down and I had tears in my eyes when I recalled how it was before. However, there was a picture of the queen there and at the entrance, the large brass sign British India Steam Nav Deck Officers Club.
John Page, Australia - Monday, July 15, 2013 at 02:02:34


Re Alec Mathews contribution, sailed with him Chantala /Aronda would like to contact him could you forward my email address. Thanks
Denis Matthews, Australia - Thursday, July 11, 2013 at 00:18:15


Thanks for comments on Anglo Indian. I have followed its voyage to Australia in 1883 in contemporary newspapers (Trove)and discovered it was travelling in tandem with the Nowshera. The Anglo Indian passed through the Straits of Sunda under the erupting Krakatoa less than a week before the island exploded, so the Nowshera which was following must have had a very close shave, but the Nowshera arrived in Brisbane first because the other ship had to off load immigrants and cargo at each Qld port including Railway locos and rolling stock in Townsville. By the time the other ship arrived in Brisbane a migration enquiry had been completed into the voyage of the Nowshera. Interesting reading!
Terry Gardner, Canada - Wednesday, July 10, 2013 at 22:24:15


Re the messages from Alec Matthews. He was 2nd Officer on Okhla with me, and I would sure like to contact him again. Please fwd my e-mail address to him
Roy Harvey, Australia - Wednesday, July 10, 2013 at 22:13:38
My great grand father William Gardner ( known as gruffy Gardner) was the labour master (stevedores) in the London docks, (Royal Albert dock) I understand he was was not the most popular of men hence the nickname gruffy. Three of his sons worked for B.I. as stevedores, his son Walter my grand father was killed falling into the hold of the ss Chantala in 19015
Christine Jagger, US - Wednesday, July 10, 2013 at 02:53:17
Reference the attack on and sinking of Devon in the Pacific on August 19, 1941, the German raider Komet started on her homeward journey via Cape Horn At the end of September 1941. She arrived at Hamburg (via Cuxhaven) on 30th November 1941 after a cruise of 515 days. Komet's prisoners of war who were merchant seamen, and included Devon's crew, were sent to Milag Nord camp near Bremen, where they remained the rest of the War, until the liberation of the camp on 28th January 1945.
Having started on a second cruise, Komet was sunk by British destroyers off Cap de La Hague, in the English Channel. [According to Wikipedia, Komet was attacked by British motor torpedo boats on Oct 14, 1942 near Cap de la Hague and hit by a torpedo from MTB 236, and sank. On her one successful raiding voyage, Komet sank seven merchantmen, including NZSC's Rangitane (jointly with raider Orion), and Devon - Editor]
David Young, Australia - Sunday, June 30, 2013 at 05:56:50


My father sailed as a passenger down the East African coast, boarding at Mombasa on 15th July 1931. The vessel visiting Zanzibar 17th, Dar-es-Salaam 18th, Mozambique 22nd, Lourenco Marques 27th, arriving Durban at daybreak 29th July 1931. As he had sailed from Bombay to Mombasa six weeks earlier on the BI vessel Karagola, I imagine his onward journey down the EA coast was also by BI vessel. From the supplied dates, is it possible to identify the name of the ship my father travelled on?
Rachel Dwyer, UK - Sunday, June 16, 2013 at 23:05:07


I wondered where the BI Club was in Bombay?
Carl Toomey, Australia - Sunday, June 16, 2013 at 10:22:23


Cadet 1962-65 Carpentaria Bamora Woodarra Kenya Chakla Chakdina Dwarka. Have just retired after a 51 year seagoing career, the past 20 years as a Torres Strait Pilot.
John Westbury, UK - Thursday, June 13, 2013 at 07:14:25


I served on the Chakla from 1967 to 1969 and have fond memories of the ship.
...sign the logbook

Zul Khoja, Canada - Saturday, June 8, 2013 at 17:14:35


At age 8, I travelled with the family from Lourenco Marques to Dar es Salaam in 1946. We were in Dar to celebrate the Diamond Jubilee of the late Aga Khan III.
Any information would be helpful on this memorable trip on the ss Khandalla. I slept under the stars for a few nights.
Marina Loudon, UK - Tuesday, June 4, 2013 at 20:01:40


One of my male relatives was awarded the King's Medal for his work with the BI, does anyone have any idea where I can find out what he did please? He was an engineer called Loudon.
Marty Stewart, Northern Ireland - Friday, May 31, 2013 at 20:03:47


I would like to make my grandfathers (Chief Engineer William Martin Foster from South Shields) collection of ships he served on complete. I am needing pictures of Garada (laid down as War Bat) 1919, Homefield (launched as War Balsam) 1919 and Warina (ex War Loch) 1918. Any help will greatly be appreciated.
Nigel William Morgan, Germany - Friday, May 31, 2013 at 09:53:27


Dear Mr. Bracher. As requested in your message of 09.04.2011, my e-mail address. Many thanks in advance.
Steven Heeps, Singapore - Thursday, May 30, 2013 at 17:07:25


I joined Tairea in September 1972 as first trip junior engineer in Avonmouth. Had a really good trip out to India and returned to Avonmouth in May 1973. Master was Tom Kelso and C/E Gordon Simpson. Happy days. Now working as class surveyor in Singapore.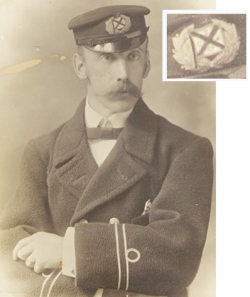 Fae Bolton, Australia - Wednesday, May 22, 2013 at 19:57:15
I am trying to locate my grandfather, Arthur Richard Bolton. The badge on the front of his cap is what seems to be a white base with a darker coloured cross over
it and surrounded by what appears to be gold surrounding the whole badge.
The cap has a seemingly plastic type peak. The tie he wears appears to be
like a bow tie. The coat is a really nice looking wool with the double
banding on the sleeve I explained to you about. [The houseflag in the cap badge looks almost identical to that of NISM, the Dutch company owned by BI, but the letters in the quadrants do not match. The flag is also close to that of the Chilean company Companía Sud Americana de Vapores (CSAV). Ideas anyone? - Editor]
Kenneth Miln, UK - Sunday, May 19, 2013 at 17:44:35


I am keen to know about the BI Karagola - routes she sailed during the 1930/1940's. As a retired jute wallah (Calcutta) and son of jute wallah parents I sailed at least once on the Karagola. We also sailed on the BI Aronda - Bombay/Durban I seem to recall. I believe that Jim Corbett (Maneaters of Kumaon fame) sailed on the B.I. Aronda around that time: Is there any possibility of obtaining Jim's sailing dates? Thank you.
Fiona Whitehurst, UK - Friday, May 10, 2013 at 02:45:29


Philip Evans was my great uncle. He sadly died in 1990 but I'll never forget him telling me about his experiences with BI especially crossing occupied Greece and being torpedoed.
Susan Handley, UK - Wednesday, May 8, 2013 at 22:35:40
I would like to find out about my father, Frank Denton Beal, who died on ss Pundua on 14 May 1955? He was chief officer.
Rajan Murugan, US - Sunday, May 5, 2013 at 20:20:08


I enjoyed this site very well. My great grand parents were passengers on the ss Bhundara that arrived in Mauritius in 1900. I am hoping someone can help me find a picture of the ss Bhundara. Thanks for your help.
| | |
| --- | --- |
| | |
| | Captain Peter Wright, appointed BI fleet commodore, 1955 |
| | from BI News, issue 18, Jan 1956 |
Peter Wright, UK - Tuesday, April 23, 2013 at 21:19:19


My grandfather was Commodore Peter Wright 1955. My childhood was full of stories of the BI be interested to hear of any history anyone has of him. Regards [Peter Wright joint BI as 3rd Officer in July 1919. Ships included Coconada, Cooeyana, Margha, Warora, Amra (troopship then hospital ship, WW2), Orna, Shirala, Daressa, Kampala and Karanja. He was in command of Cap St Jacques when in March 1944 the ship evacuated 600 French women and children from Tourane (now Da Nang) when the province was overun by Chinese communists - Editor]
Garrett Murphy, Ireland - Wednesday, April 17, 2013 at 16:35:13


v.g.site, well presented. Would it be a good idea to have a list of ex BI seagoing personnel, with service details & perhaps email addresses. It would enable people to renew old friendships. i was a panch sahib on the Woodarra before joining Trident. Kind regards. [Thanks for your comments. You are eligible to join the associated online BI staff group. For details see the application form page. Contact with shipmates old and new can be made via the group - Editor]
Ian Hendry, Australia - Tuesday, April 16, 2013 at 14:02:54


Am interested in finding the fare we paid on the Karanja 01 April 1971 from Mombassa to Bombay in 3rd Class
Alex Barclay, UK - Saturday, April 13, 2013 at 01:00:28


I am the son of T.H Barclay, Superintending Engineer at Bombay and Calcutta 1949 - 53. Thank you so much for your well documented site. I remember many of the names of my father's colleagues listed.
...sign the logbook

Brian Maskell, UK - Saturday, April 6, 2013 at 15:57:45


Was on Dwarka Barpeta Chakrata and Carpentaria does anyone remember cricket match against Sri Lankan airforce in Colombo and Sunday net practice outside the bar?
Bronwyn Lane, Australia - Thursday, April 4, 2013 at 22:22:38


My Father's parents came to Australia on the Torilla. Which departed London on 11 August, 2011 to Townsville, Queendland and settled in Sydney, NSW. All the evidence I have is a copy of the passenger list. Does anyone else have family who sailed on this ship at the same time? I would be interested to hear from you. Regards.
David Worsfold, UK - Thursday, April 4, 2013 at 14:54:22


I am researching a book on my wife's grandfather Thomas Bernard Kelly (1870-1949) who, after serving 30 years in India, Persia, the NW Frontier and Mesopotamia as a doctor in the IMS, served as a ship's surgeon through WW2 (in his 70s!). One ship we know he was on was the Madura during the evacuation from Bordeaux in 1940 and would be interested in any information, cuttings etc from then. Everything will be fully credited.
Stewart Douglas, UK - Tuesday, April 2, 2013 at 15:03:44


My father John Leslie Gilmour Douglas was 3rd engineer with BI & I know he sailed on the Dunera among others. He was born in Kirkcaldy in 1930. I believe he left BI and the merchant navy around 1960-62. I would be happy to scan some photos of himself, friends & ships and send them in if you wish
| | |
| --- | --- |
| | |
| | Madura was well-known as the ship which lifted a large number of passengers from southwest France in 1940 in the face of the advancing German occupation |
| | |
Philip Emerson, UK - Sunday, March 31, 2013 at 18:34:25


Hello. I'm looking for any information regarding the ss Madura (BI 1921-1953) that sailed from Le Verdon at the mouth of the river Gironde in France on 18 June 1940 with about 1,800 British and other refugees on board, bound for Falmouth. She arrived there safely about two days later. There were members of my extended family on board. Does anyone know where I could find the passenger list and photographs? [What were their names? A passenger list of those who joined the ship in East Africa, in April 1940 (Voyage 1055 Home), does exist but does not include the passengers embarked on the Gironde - Editor]
Ross Scott, Australia - Sunday, March 31, 2013 at 06:42:13


My question is my grt grand parents came out aboard the ss Merkara arriving Brisabne 25th June 1889.What i would like to is know. What route did they come by and ports etc did the vessel stop at and the time it took to arrive in Brisbane? Would appreciate your input, Thanking you
Brian Warburton, UK - Thursday, March 28, 2013 at 08:21:01


For Sue Morgan, I sailed with your dad in 1959 on Woodarra, He was on his way home after 2 years on the Indian coast. Had some great times in Australia. did not hear from him after we arrived back in UK. Heard from this site that he had passed away, not sure when.
Gerald O'Hara, US - Monday, March 25, 2013 at 22:54:32
Would like to contact Christina Brodie-Jagger or anyone with information on the last voyage of the ss Devon, August 1941. My grand uncle Gerald O'Hara was ship's RO.
Gillian Wright, India - Tuesday, March 26, 2013 at 17:54:02


I am looking for passenger lists of ships sailing Bombay-Mombasa in 1924, and also routes and ships and passenger lists relating to Indian indentured labour being sent out to work on the Kenyan railways. Any help appreciated
Ed Matkin, New Zealand - Monday, March 25, 2013 at 17:41:49


My father, William Pennington, sailed to Calcutta on the Manela in 1922 and returned to England aboard the Nirvana in 1929. I have a photo of the Manela but would like one of the Nirvana if some some kind person could provide one please.
| | |
| --- | --- |
| | |
| | Nardana (BI 1919-1941) BI cadetship from 1929 to 1939 |
| | |
Derek Hargreaves, UK - Monday, March 11, 2013 at 15:51:18


For Janice Levinge's question of 10 December 2012. During the period of your Uncle's training with BI there were two active Cadetships, namely Nardana and Devon manned with 39 and 38 Cadets respectively which traded mainly on the UK/Australia route. It is reasonable to assume that he sailed in one or both of these ships but further precision would need research at the National Maritime Museum or the National Records Office.
You will be aware that he attended Pangbourne Nautical College prior to joining BI which would see him completing his service in August 1939 before Certification and volunteering for RNR as a Midshipman. According to the 'London Gazette' of 22 March 1940, he was promoted from Midshipman to Sub Lieutenant from January 1940 before dying in the extremely violent encounter of HMS Glowworm with the heavily armed German Cruiser Hipper in April. A very brave man.
...sign the logbook

Joe Mascarenhas, India - Thursday, March 7, 2013 at 12:37:16


Please help me to find my grandfather info, i heard he was working as barman on ss Tilawa during 2nd world war, his name was Anton Xavier Fernandes from india, coz his daughters are still alive but never saw their father, if you can help me to find a picture of Mr Fernandes, thank you.
Nigel Morgan, Germany - Monday, February 25, 2013 at 17:45:54


For Richard Bracher, Re your message October 10 2011, I would be very interested in information which you may have regarding our convoy. I look forward to hearing from you.
Vren Humphris, South Africa - Saturday, February 23, 2013 at 19:46:19


My father, Erny Ender, served on the Amra during WW2. I am currently working through his diaries and it seems there is one, the last one, missing. I would like to know the date of the Amra's last duty voyage as a hospital ship.
Barry Fraser, UK - Friday, February 22, 2013 at 12:45:05


I left a log entry on august 31st 2012 talking about my lovely painting of the Amra that was presented to me upon my retirement. I had no direct connection with BI but a business association with P&O cargo division at that time. When I was a schoolboy my yearning to become a cadet with BI was confirmed by an educational cruise on Dunera. My careers master at my school supported my wish and arranged a visit to Chantala and a short interview at BI through a friend of his at the London office. Despite these best efforts I was just not educationally good enough to get a cadetship and the dream was shattered. Went on to good things though so no matter. I would still love to know more about my Amra painting which I was told was one of a series that did appear on various marketing art in the early sixties . Its a bit of a big beast for the average home and its gonna have to find a suitable place to reside very soon.
John (Jack) Bradley, South Africa - Tuesday, February 19, 2013 at 18:32:59


Have just been given an iPad and have found this site! Fascinating as I am ex BI engineer 1963 to 1966. [Thanks for taking such an interest, Jack. You are eligible to join the associated online BI staff group. For details see the application form page.]
Kevin Gomm, Australia - Friday, February 15, 2013 at 04:44:12


Am writing book on the sinking of US T2 tanker SS Fort Lee torpedoed by German U-boat U-181 on November 2 1944 in Indian Ocean. However a little earlier this same U-boat sank the Dutch ss Garoet whilst en route from Bombay to Durban. 88 perished including one Australian merchant sailor, 21 year old Ronald Jacka who was the 2nd Radio Officer on board. Only 10 survived, whereuon 5 were rescued by British India vessel ss Nirvana and taken to Mauritius. Would be very grateful for any information on the Nirvana herself and this particular incident. The U-181 also sank the ss Tanda [not the BI ship of this name] and King Frederick off India. Please feel free to go our website as well at: www.diggerpress.com Thank you
Alec Matthews, UK - Tuesday, February 12, 2013 at 10:54:23


When I joined my first BI ship, Chantala, as cadet in 1952, I had the nickname "Stan" bestowed upon me by the CPO Spike Taylor, whose name I have just come across on this site. Also Barry McGregor, who taught me my first words of Hindi at dinner my first evening aboard: "sub chis!"!! I couldn't see any cheese of that name on the menu, but Mac (Barry) said just say it! So the kharna just kept coming!! Hi, Mac, how's it going down there in Oz? See also Tom Kelso still going strong, you were Cadet Instruction Officer in Chantala when I was xtra3/O. John Page (Paddy?) was cadet then and was 3/o with me when I was 2/o in Aronda, to & from Karachi - Chittagong via Colombo. Still trawling thro this site, happily discovering more names of former ship mates, but not so happy to note how many have 'crossed the bar!'
Alec Matthews, UK - Monday, February 11, 2013 at 13:36:50


Recently found the site and working my way thro' finding many familiar names. Great memories!!
Alec Matthews, UK - Tuesday, February 5, 2013 at 16:25:06


Just found this site with names bringing back such memories! One name in particular caught my eye in this first day of browsing. Terry Gardner, R/o ss Okhla, (Log Nov 25 2002 and Sept 7 2011). Terry, if you are still reading this, I remember you and those happy (and sad) days well. Trying to recall the name of 4e/o lost o'board up at Basrah. I lost many of my records and photos in the explosion and fire on board mv Heythrop [Trident Tankers/P&O Bulk Shipping] in 1971. You paid tribute to the cricketing prowess of Ken, 2e/o. But I recall he was more than matched by one Terry G!! Love to hear more from you.
Gian Gopal, UK - Monday, February 4, 2013 at 19:28:28


I believe I travelled as a 10 year old in September 1953 from Bombay to Mombasa on ss Kampala with my parents and younger sister. Would it be possible to get the exact date of departure from Bombay and confirmation of travel with my family ?
Bob Harvey, Australia - Sunday, February 3, 2013 at 11:53:32


Do you have any information on William Gardner (gruffly) labour master London docks, and his son Walter killed by falling down the hold on the ss Chantala in 1915, in the Albert dock?
Linda Coombs, Australia - Saturday, February 2, 2013 at 10:40:54


My father was David Smith Wood, from Scotland, and he was an engineer with BI from about 1936. I believe he sailed on the Modasa, the Chyebassa and the Chupra. I can find no records of his time with BI and would be grateful if anyone remembers him or these ships could give me some information about him or his service. Thank you.
Jeff Stewart, Australia - Friday, February 1, 2013 at 06:18:53
Can Jon Laird please contact me. He is a researcher in Australia
Ken Donoghue, UK - Monday, January 28, 2013 at 18:32:09
As always, great reading for an ex BI Engineer.
Deba Kantha Roy, Germany - Saturday, January 26, 2013 at 12:45:14
I was a Trainee in B.I at One Aldgate in 1959 sponsored by late Sir William Currie and under Mr Pakes, Deputy Chairman. I do cherish with pride my time with B.I in London. I lost contact of a collegue who joined Mackinnons in Colombo Mr. Malin Abhayratna. I would be happy to meet him if his contact address is available this February. If possible please let me know. Thank you.
Mal Cooper, US - Friday, January 25, 2013 at 17:55:26


Looking for crew/passenger list for the Dorunda on her last trip, 1894, that ended on the rocks off Portugal. My Grandfather was a crew member.
Linda Franks, Australia - Tuesday, January 22, 2013 at 03:03:42


Info wanted on Anna Bella Moore, 10 years, sailed with cousin Maria Kennedy on the Waipara 26/11/1910 arrived Brisbane 22/1/1911. Thanks.
...sign the logbook

Bryan Long, UK - Monday, January 21, 2013 at 12:27:58
Joined Chantala 1954. Last ship Dwarka 1968
Robert Jellicoe, UK - Monday, January 21, 2013 at 10:59:37


Do you have anything on my great Uncle- Thomas Buxton Jellicoe. He was chief officer in the ss Umeta and escaped from her when she was hit by U-Boat 33 off Malta in december 1915/ Also he was on ss Mercara and ran a gauntlet of uboats in 1916. I have his BI buttons.
Linda Coombs, Australia - Monday, January 21, 2013 at 07:14:14


I really hope one of your members can help me. My father served with BI from about 1934/5 but my info is scarce. His name was David S Wood, born in Scotland 1916. He was an engineer, poss 3rd or 2nd Class. He served on ss Ethiopia and possibly Modasa, Chupra and Chyebassa. I am hoping someone can help me find records or info of his service. Much appreciated.
Philip Braithwaite, UK - Sunday, January 20, 2013 at 14:09:04


A good school friend of mine served as Radio officer on the ss Nowshera, we last met in Hong Kong harbour in 1968, I was Electrical Engineer aboard mv Glenearn an A/H [Alfred Holt] ship. I went on board the ss Nowshera and met Dave Langham. i wrote to him over the years, but now have no idea what ever happened to him. Any information would be gratefully received.
| | |
| --- | --- |
| | |
| | Umeta, Port Said for Marseilles, was sunk by U-33 112 miles east of Malta on Dec 1, 1915, the first company ship to be lost by submarine action |
| | |
Robert Jellicoe, UK - Monday, January 21, 2013 at 10:59:51


Hello. Do you have anything on my great uncle Thomas Buxton Jellicoe. He was chief officer in the ss Umeta and escaped from her when she was hit by U-Boat 33 off Malta in December 1915/ Also he was on ss Mercara (Merkara ?)and ran a gauntlet of U-Boats in 1916. I have his BI buttons. Thank you.
Paul Letham, UK - Saturday, January 19, 2013 at 23:09:22
Trying to trace history of an ancestor. Charles Sutherland sailed with his family on a merchant ship The Lady Julia. He joined the Indian Steam Navigation Company as a marine engineer.... Would you have any records or history on Charles etc. Regards
Christopher Sayers, UK - Wednesday, January 16, 2013 at 10:34:43


I have been seeking information on my father, Herbert John Sayers, who I knew to have left the BI sometime in the late 1930's. This website has given me much information to expand on his Seamans Record.
Jeff Stewart, Australia - Saturday, January 12, 2013 at 00:08:07
MMS 35 and MMS 1584 in 1951-1952. Does anyone know anything about them?
Denis Matthews, Australia - Friday, January 11, 2013 at 23:28:08
My father travelled with his sister and parents on the Anglo Indian Greenoch to Brisbane July to October 1883. What was a supplementary steamer? [Only in BI's sphere for three years, Anglo Indian was, as Laxon & Perry describes her, "an oddity", in that she was built for a competitor owner for the Liverpool-Calcutta trade, and bought in 1884 by BI interests (Gray, Dawes & Co) probably to remove a source of competition. She retained her original (non-BI) name until after being sold on in 1887. The July 1883 trip to Calcutta was almost certainly the ship's maiden voyage, after being launched by Campbell, McIntosh & Bowstead, Newcastle in April that year - Editor]
Mac Henderson, UK - Wednesday, January 9, 2013 at 15:23:19


To John Robertson: Yes I sailed with you on the Dara in 1952/53, happy days, I hope you and the family are well, I see now in the US.
Ian Gay, UK - Sunday, January 6, 2013 at 21:46:06


I am researching my family tree and I am trying to learn something about my Great Grandfather, George Seton, born in Edinburgh, Scotland 26.03.1822, went to India about 1861 for eight years with his wife Louisa, was editor of the Calcutta Times. Do you have any passenger lists for that time? Any information you might have about him would be greatly appreciated. Your website is excellent and very informative. Regards.
Carole Powell, UK - Thursday, January 3, 2013 at 21:39:57


V. interesting site. Have you any info on the Australia involved in a collision (21 Jan 1923) with General Steam Navigation's Nautilus with the loss of three lives. The incident took place on the River Scheldt near Antwerp. [The collision was off the Royers Lock at Antwerp on Jan 20, 1923. Nautilus sank immediately, while Australia sustained only superficial damage. An account of Australia's career appears in Laxon & Perry, British India Steam Navigation - Editor]
Trevor Biggs, UK - Wednesday, January 2, 2013 at 00:56:55
My Father was in 3RD RHA in the 50's and 60's. I have 2 photo's one of the Nevasa and one of Port Said. I am told by my Mother that we sailed from the UK to Africa because my fathers regiment was posted to Gil Gil in Kenya. I would have been 2 or 3 years old. I had 3 older sisters plus Mum and Dad. I do not know whether we came back to the UK on the same ship or not. I am researching my dad's army history for my sisters and myself so if you can give me any information, we would be in your debt. Many thanks for having been a part of your Companies/Ships history. Kind regards.
...sign the logbook